CASE STUDIES & TUTORIALS
Case Studies
Matte Lamination
Adding a lamination process to printed output has a large influence on the resultant color.
It is often desired to have the resultant lamination match to your desired Printing Aim values
(Solids, Gray Balance and TVI), not the printed sheet before lamination. But back engineering it can be a challenge. This challenge is minimized by using ChromaChecker and our steps that we have outlined here.


Conditions:
Chart: Idealliance TC1617
Scanning device xRite eXact Scan/ Alwan Print Verifier
Lamination film: Impress Mat Film
Substrate: NeoBoard HB zing
Press: KBA 74
Target: ISO Coated v2

Test form includes the following: TC-1617, TVI-11 (4 instances) TVI-6 (6 instances)
and set of ChromaChecker images ("split" version) (2 instances)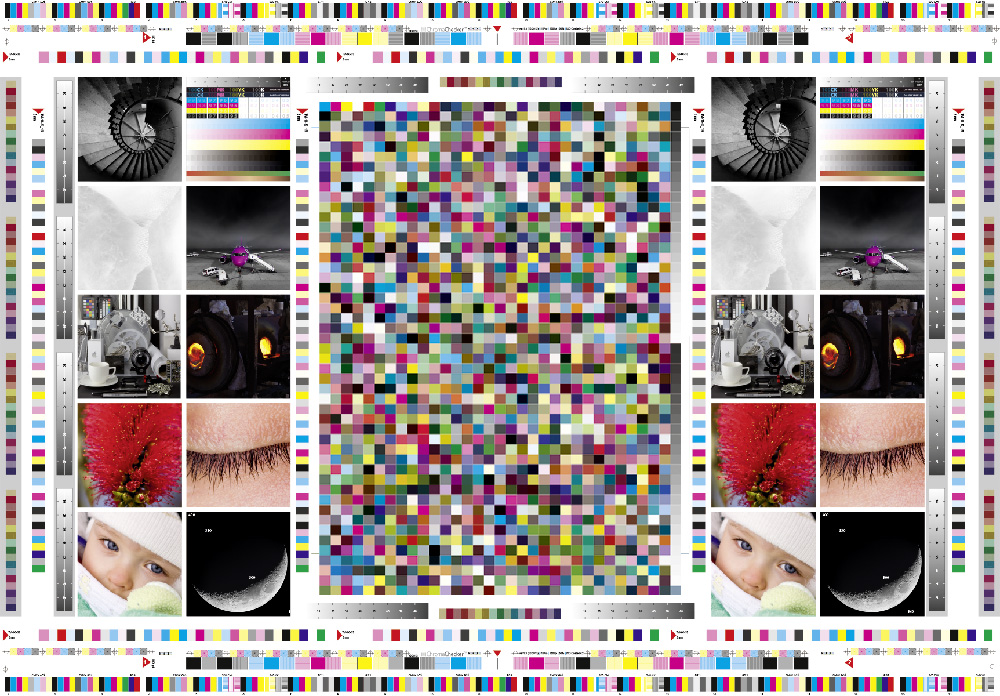 Procedure:
1. First step - press calibration (TVI Curve Inspector)
The customer chose to perform a dedicated print run and start from linear plate curves.
For this purpose, during the run, multiple (10) sheets were pulled every 100 sheets apart
and have been measured. The TVI-11 control strips enabled additional within-page variation analysis.
Measurements have been grouped and analyzed.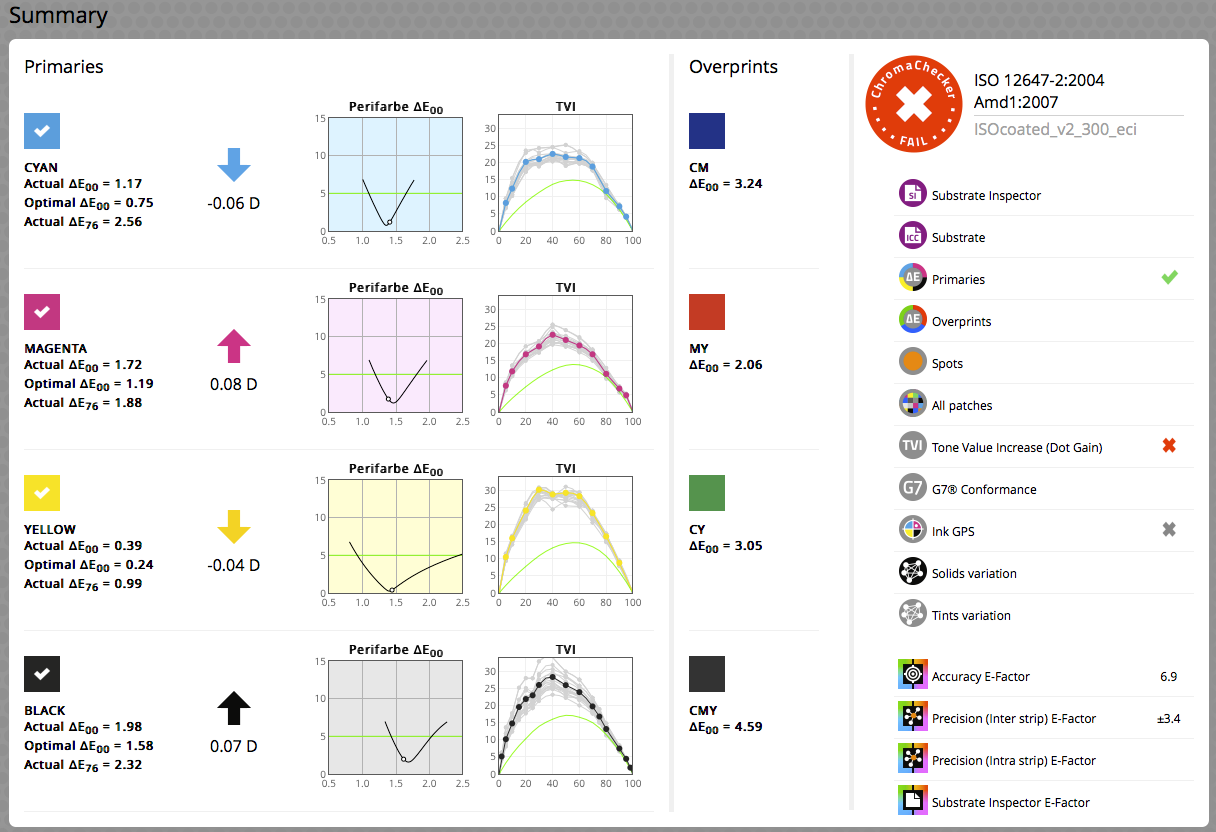 We can see that solids are printed accurately to ISO Coated, and dot gain curves shows medium variations,
Variation E-Factor (delta E 95%) is 3.4 but the press is in not perfect condition
and the customer has no desire to improve press to reduce this number.
This is the limitation in a precision of this press, can't expect better precision
or accuracy until mechanics of press are improved.
ChromaChecker TVI Curve Inspector generated new Tone Reproduction curves (TRCA),
and curves were applied on the Platesetter RIP (via Alwan Color Hub .plist file format)
2. Print run to ISO12647-2 Standard
The new set of plates for the same test form were used for the second print run.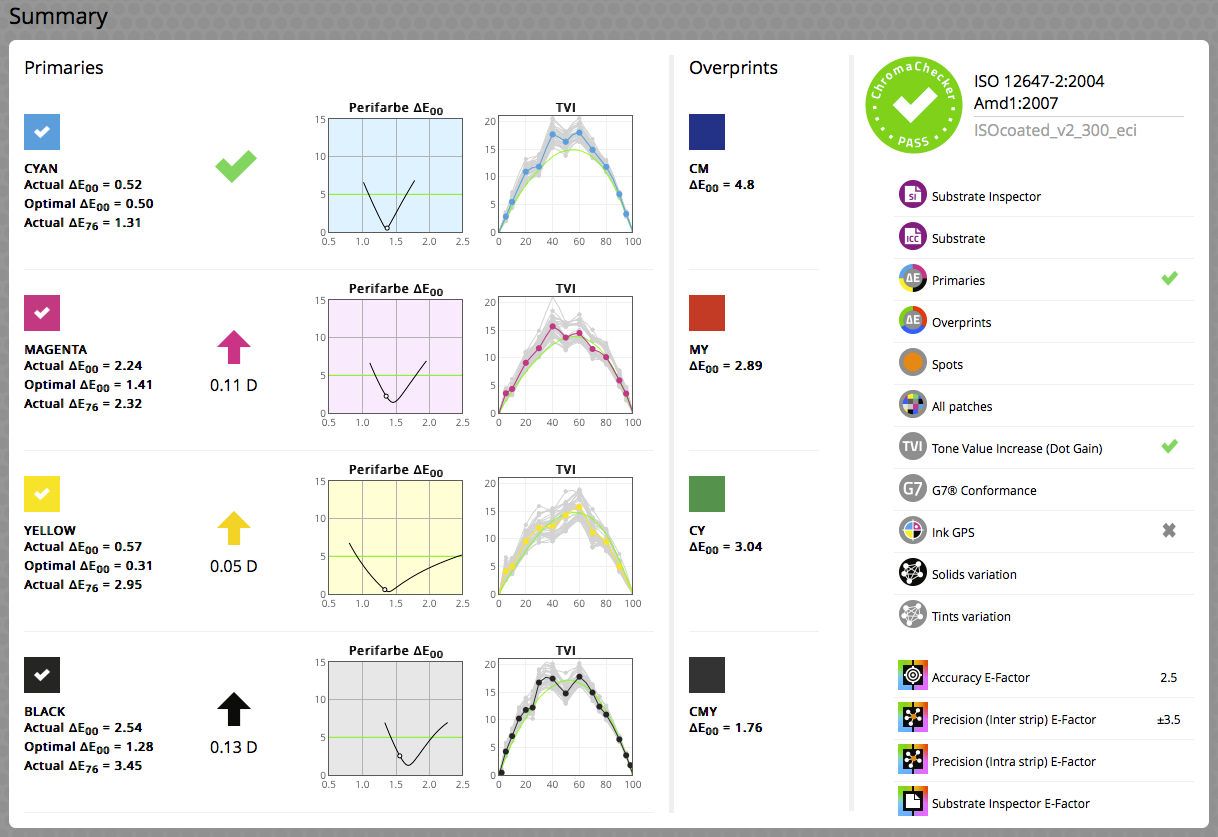 Now the Press production passes ISO 12647-2.
Accuracy E-Factor is 2.5 (for averaged data), but Variations are still on the same level of 3.5 (due to the press limitations)
Based on the TVI variation, we can tell that the press has Slurring and Doubling issue which has to be corrected in order to reduce the within page variation of 3.5 E-Factor. Upon learning about this limitation, management has decided to resolve this problem in the future, understanding that the best they can do until then is maintain an overall E-Factor of 3.5
For this second verification run, the press operator finished make ready and printed 500 sheets "verification pages." From this run: 3 sheets were pulled for every 50 printed have been selected, so 30 sheets in total. For each pull- one for measurement as it is, one for archival purpose and one for the lamination.
3. Post-production: Matte Lamination
The 10 sheets from the production run were laminated and the laminated sheets were measured and grouped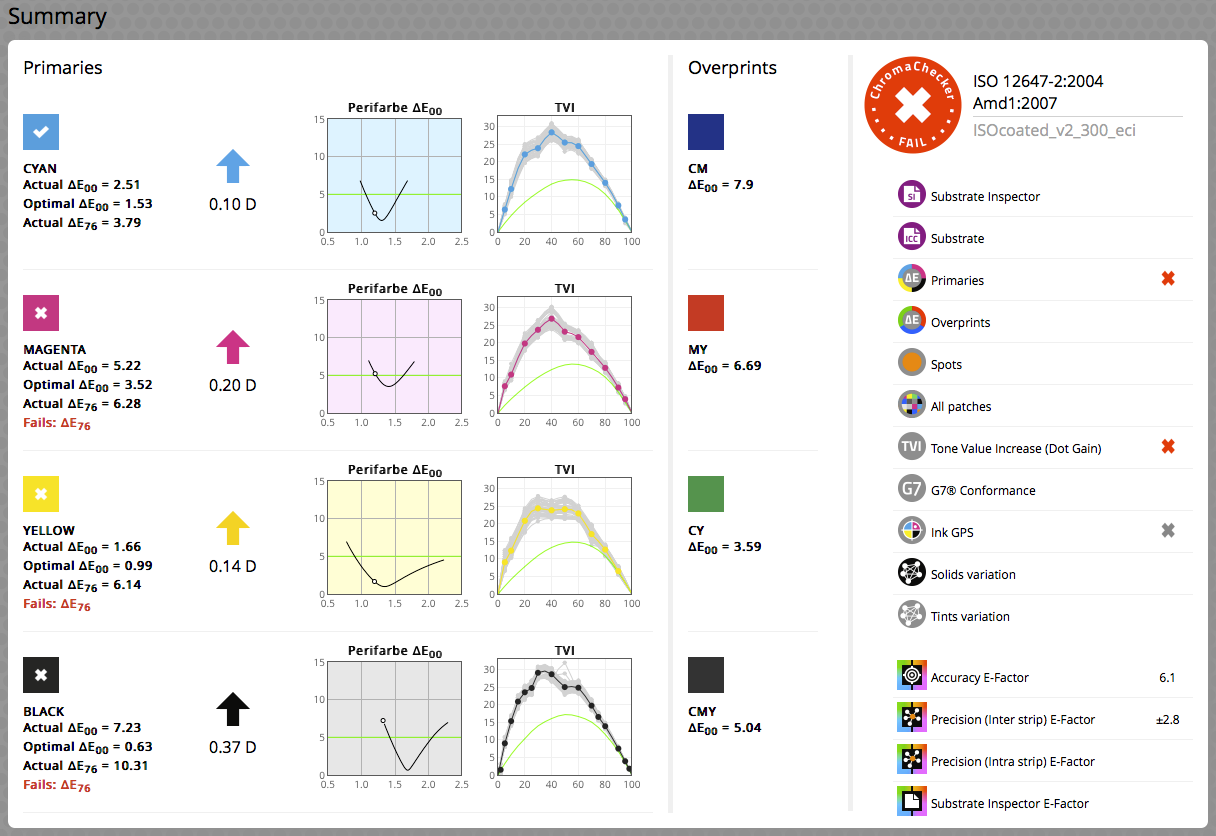 Above we can see that lamination greatly changed both solids and tints, causing them to fail ISO 12647-2 conformance. Due to the matte lamination process, the density has been decreased, and it is reflected in numbers.
4. ICC Profiles creation (before and after lamination)
Multiple pages pulled from the production run were measured and used to generate an ICC profiles for the press both before and after the lamination process.

The gamut comparison (ICC Profile Inspector) graphically shows how much the matte lamination reduced solids, especially black and overprints.


Green: before lamination, Black: after lamination
Max Delta E = 8.40,
E-Factor = 6 (95% percentile)
and average = 3.4
5. Proof (simulation profile: After-lamination)
The "After-lamination" ICC profile was used for a Proof simulation resulting in a visual match which was very good in customers perception and customer was very satisfied with achieved appearance. Unfortunately, the final gamut was reduced, but due to the matte lamination film used, that was the actual result.
6. Production procedure
These are the steps to achieve customer expectations using the data collected and color management tools
Here are the workflow steps using Color Server like Alwan ColorHub (ACH):
Original Artwork is in ISO Coated v.2 color space.

The proofing queue is configured in ACH to perform a DeviceLink conversion from oryginal artwork profile to "Proofer profile" using Relative Colorimetric with BPC. The output file is printed on Proofer.

input settings:



output setting > printing proof with after-lamination simulation:





A second ACH queue is configured to overwrite profile (assign)

input settings


Files come into the Color Hub with an After-Lamination profile but the system is treating them like Before-Lamination. Embedded profiles are ignored! Next DeviceLink convesrsion is applied.



a second proof - for press operator only can be printed




Make plates using current plate (TRCA) curves. This customer is applying TRCA curves using 3rd ACH queue - dedicated for this purpose only. Input profile is the same as output.



Additionally, a corrected TAC / black generation settings can be applied to save inks and make grays more stable.



TRCA curves for press dot gain compensation:





Make two tracks in Chromachecker Print Inspector. One for the press operator, and one for the final post laminated product. For press operator use "Before-Lamination" profile as a target OK Sheet for ChromaChecker Print Inspector track to help the press operator make the press hit this expected target. Use a proofing tolerance for this queue, because TVI and Gray balance will not be correct until the lamination process is applied.

Print trying to match conditions described by "Before-Lamination" profile- ChromaChecker will guide an operator to press condition that represents this profiled condition which will allow "After lamination" profile to accurately reprint laminated result. Make sure Press matches "Before Lamination" track in ChromaChecker

Laminate production

Measure control strip of laminated production and upload data to "After Lamination" track in ChromaChecker which will confirm G7 or ISO Conformance of the laminated product.

If necessary two proofs may help:
one for end-user simulating the final result – with simulation to "After-Lamination" profile (shows final, laminated product)

one for press operator only – simulation of how the press needs to print in order to get the customer result ("Before-Lamination" profile – lighter tints and much stronger solids).

Future lamination process will increase dot gain and reduce the density of the solids – but press operator does not need to understand this.
Simulation:
1. Original artwork (ISO coated V.2)

2. Converted to "After-Lamination" Profile (Simulates the effect of lamination) to be used in Proofer as Source or Input profile



3. Assigned to "Before-Lamination Profile (Simulates how the print on press should appear before lamination)





4. Actual Laminated result:

For easier comparison purpose bellow "Before-Lamination" and "After-Lamination" pictures diagonally split to show differences:

We can observe color hue shift and post production dot gain issue visually.
Conclusion
Lamination is a process that has a huge influence on the color reproduction process. Lamination affects all color aspects of a print, not just density.
Overprints are affected more than primaries - we can observe higher deviation with overprints - and we have to take into account that most images are built from overprints. Lamination causes post production dot-gain (in this case it was about 11%) and it means that all tints may become fuller and darker, causing shadow details to disappear.
ChromaChecker makes it possible to create ICC profiles from small control strips and perform profiling and calibration from production prints. Print Inspector, Curve Inspector, and ICC Profile Inspector make this tough process predictable and manageable while eliminating dedicated press runs.