SUPPORT - MANUALS & DOWNLOADS
CC Capture
Capture Instruments Plugins
ChromaChecker™ developed Capture — user-friendly, easy-to-operate application that enables fast efficient capturing data from various Instruments. Generally, the application is web-based but it requires small system plugin that will establish a fast and safe connection between your Instrument and ChromaChecker server. Every instrument needs dedicated Plugin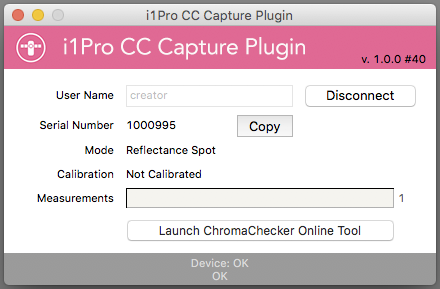 Plugin requirements
We are offering both Mac and PC versions for both 32 and 64 -bit operating systems. Select proper one.
System requirements are minimal, but the computer must have effective and stable access to the Internet. Basic www ports require being opened (ports: 80 and 443).
Ensure that the USB socket has enough power for the Instrument, and the connection cable was of high quality.
Multilingual support
Our plugins will automatically choose a language compatible with the computer's operating system if such a location exists. If a specific language is not currently supported, please contact us - we are ready to cooperate.
Download Plugins
Go to Software section on our Download page and find Plugin dedicated to your Instrument.
Launching app
This is very simple - one window app. Launch it, connect Instrument to the computer. Make sure that no other application is using Instrument already. Enter your ChromaChecker Account name (User Name) and click on connect. If Instrument —Computer and Computer —ChromaChecker connections are ok Instrument's serial number will be displayed and "Launch ChromaChecker Online tool " button active. By clicking on it your default web browser will open Capture Online.
Status Bar / Hide option
An active Plugin will display Instrument Status
Black Icon - the instrument is disconnected
Red Icon - the Instrument is connected but not calibrated
Green Icon - The instrument is ready to work
Additionally, when the connection is established correctly the user may want to hide Plugin window - it will still work
Troubleshooting