SUPPORT - MANUALS & DOWNLOADS
ChromaChecker™ DataCollector

Basic features:
The DataCollector application can monitor specific folders.
Only files with defined extension ( .xml .txt. svf .csv, cxf .mxf .lxf) will be uploaded
Files will be renamed with a current timestamp plus additional prefix if defined.
Files from an Input Folder can be copied and or moved (DEL option) to local Output Folder.
This will happen if the Local checkbox is selected.
At the same time, files can be transmitted using SOAP protocol to ChromaChecker server (SOAP enabled checkbox selected).
Each task has to be Active in order to operate (Active checkbox)

To establish SOAP connection a valid SOAP login and password are required. To receive it, go to "SOAP account" while logged into your ChromaChecker account (available from the top menu bar).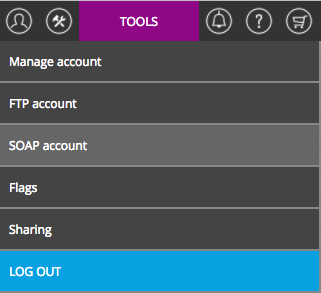 When SOAP connection is active and OK, the actual list of tracks will be available. Select the desired track to drop measurements into.
System requirements:
Win XP or above.
Mac version will be available in the future.
Installation Procedure:
1. Download and Install the Data Collector software.
All required system components:
Microsoft .NET Framework 4 Client Profile
Microsoft .NET Framework 4 Extended
Microsoft SQL Server 2008 R2
if necessary will be installed automatically by the Installer.
2. Launch Installer, follow on display instructions
3. Set up at least one task.
Remember - to use SOAP protocol you need to have active SOAP account!
How to Setup:
Name the task
Enter "SOAP login" and "SOAP password —> if you have an active Internet connection, DataCollector will list your track automatically (Track column) - if not listed then check your credentials and Internet access.
To establish SOAP connection and list your track ( you need to have them already defined) neither Active nor SOAP checkboxes have to be checked.
Define either File Name or the extension for all files of that kind to be transmitted (e.g. .txt — type .xxx)
Select input folder – location on your hard drive or local network where measurement files will me stored
Save your task
Ones it is saved you may set up specific features
if you need to store a local copy of the files (for archive purpose) select output folder and activate "Local" check box.
You may want to add timestamp to filename —> check "Date" checkbox
Yoy may want to move files instead of copying them —> use "Del" checkbox
Yoy may want to add prefix to grabbed files —> define it in "Prefix" column
Remember:
Task to run have to be activated - "Active" checkbox
To activate local copy a "Local" checkbox has to be checked
SOAP transmission require "SOAP" checkbox to be enabled


Backup
If you want to backup task settings click on "Save Setting" button. The file name settings.txt will be stored in the program folder. To restore setting from this file click on "Load Settings" button. The file is readable and editable - but very basic knowledge is required to do that.
Lock
You may want to lock interface (GUI) to protect from accidental changes.
Click on the Lock icon to change the status.