SUPPORT - MANUALS & DOWNLOADS
Instrument Inspector Targets
X-42, B-42, I-42 Targets
There are three different versions of Instrument Inspector Targets, but all of them are based on the same list of key patches.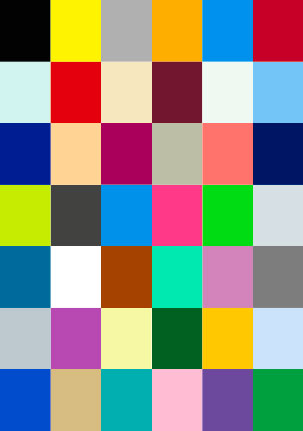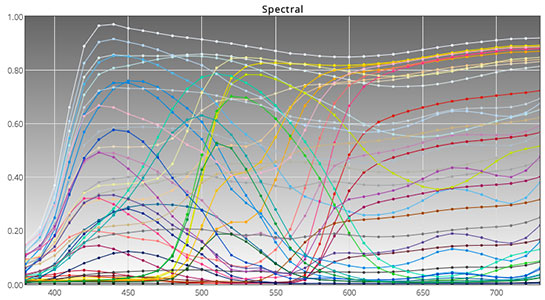 Set of 42 patches is build as a spectrally designed selection of:
vivid, saturated colors representing spot colors
colors from typical CMYK offset production gamut
near neutral gray
Spectrally designed set to get an optimal distribution throughout the visible spectrum (at least 90% of visible spectrum in 5% steps)

On the Target, there are a lot of patches, signs, and marks for different automatic scanning systems. But the core of it is an array of patches 6X7 in the center of the Target. The first patch is a black one, then yellow, grey, orange up to green patch number 42. This order is used to present data in reports.





Patch order for manual mode




(handheld instruments unless




otherwise directed)




Corner patches




(important for proper position)




---
Versions comparison:
X-42

B-42

I-42

Patch size:

12,8 x 15,6 mm

Patch size:

14 x 18 mm

Patch size:

6mm x 6mm

Target size:

130 x 210 mm
Thickness: 0,43 mm

Target size:

130 x 210 mm


Thickness: 0,43 mm

Target size:

291mm x 70 mm


Thickness: 0,43 mm

Designed for most instruments on the matket , focused on X-Rite instruments (iSis, i1Pro, i1IO, DTP-70, eXact, 530...)

Designed for Barbieri Instruments

Designed for press-side instruments (Intellitrax, Exact Scan, Techkon SpectraDrive....)

Opacity >99,8%
include a metalized internal layer

Opacity >99,8%


include a metalized internal layer

Opacity >99,8%


include a metalized internal layer
Why 42 patches?
There is a compromise between how much time we want to spend on scanning data for instrument validation, and how much data is necessary for a faithful statistical analysis. For some tests, we need more data - but increasing number of patches will increase also a price and time in terms of manual measurement.
Why printed, not ceramic or metal?
Printed version makes it possible that the same target can be easily used by a variety of different instruments including scanning devices (press console). Many shops have a variety of instruments that need to be compared to one another to check for accuracy. We focused on a universal solution for all measurement devices used in everyday production.
We use spectrophotometers for different graphics technologies - including inkjet. We expect a high degree of accuracy when assessing inkjet output. Ceramic tiles (e.g. BRCA tiles) are very different from what we measure in our day to day operations - but we are offering Ceramic Target as well - but the product is much more expensive.
When comparing different technologies, ink-jet is stable enough to produce repeatable printouts - production variations can be reduced and controlled much better than other output technology.
But it is also true that most of the production is discarded from quality control - about 40% of the prints are processed for further processing.
Ceramic tiles are expensive and for many scanning devices, they can be used only in a laboratory environment, in a very manual mode, where the instrument is disassembled by high-level trained lab technicians.
Target Life Span
Printed target is not as stable as ceramic one. Real Target's lifetime depends on several factors:
Use of Instrument Inspector Target:
Some instruments can destroy the surface of the Target when measured multiple times. In some case, the rollers transporting target, or moving head can cause scratches on the target. To avoid target destruction, double check for that kind of issue before use. Ensure rollers are clean, and all mechanical parts in proper condition. Even if you are careful, hundreds of measurements can make visible changes on the laminated surface. This can cause deviations in data readings. Evaluate the surface conditions of the target carefully.
Storage of Instrument Inspector Target:
Target is sensitive to light, especially UV components. We strongly recommend avoiding any unnecessary exposure. Keep the Target in black,light-proof envelope when not in use.
Maintenance of Instrument Inspector Target:
Keep it completely clean. If necessary clean it gently with soft textile. It should be almost dry - just a few drops of water can be used. Whenever cleaned with water wait at least two hours before use. Never use solvents or any aggressive materials for cleaning purposes.
Ageing of Instrument Inspector Target:
Every year some patches can change due to aging, even though the substrate and inks are extremely stable and tested for colorfastness. Typical color change due to normal usage is 3∆E (00). It can dramatically increase when Target is not properly maintained or the surface is damaged, or dirty.
Spot patches instead of CMYK
Instrument Inspector Target is based on spot colors, not a typical CMYK. About 50% of patches are out of typical offset printing gamut (GRACol2006_Coated1v2):
However, for evaluating different software programs, all patches have virtual CMYK values.
To read more about Targets click on: