Automatic uploading color data using existing infrastructure.
If you have automated measurement devices that can export color data automatically (like X-Rite Intellitrax), ChromaChecker Uploader creates a "bridge" between your existing software and the ChromaChecker server. In this scenario, there no need for Internet access for any computers in the production area. The exported color files are sent to directories where ChromaChecker uploader installed on an office computer has HTTP access. ChromaChecker Uploader will securely upload the file using the SOAP protocol.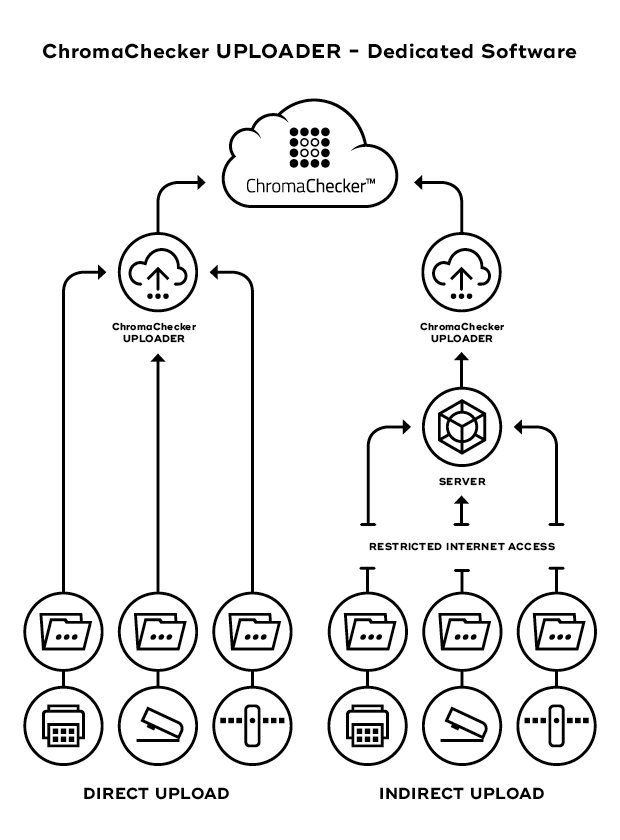 Data uploading takes place in the background without operator intervention.
For locations with limited access to the Internet, the application allows for a configuration using an intermediary server.

ChromaChecker Uploader basic features
The ChromaChecker Uploader application can monitor specific folders.
Only files with defined extension (.xml .txt. svf .csv, cxf .mxf .lxf) or with specific permanent name will be uploaded (select one method per task)
Files can be renamed with a current timestamp plus additional prefix if defined.
Files from an Input Folder can be copied and or moved to local Output Folder — this function creates a local backup for the measurements files. Remember ChromaChecker does not store original measurements files in native format - but extract most data to keep in the database. Not all information from the original file is there. Local backup might be very useful for the user, therefore.
To activate select Output Folder.
At the same time, files will be transmitted using SOAP protocol to ChromaChecker server
Each task has to be Active in order to operate (Active checkbox).
The application has an auto-mount feature that will re-establish network connection to remote hosts (if remote folders are defined).
Local IT Administrator may want to lock interface to prevent unauthorized modification.
The application has Automount feature that can reestablish local network connection for both Input and Backup Folders.
The proxy connection is supported.
Auto recognition can use "press name" and "substrate name" for selecting a proper destination for files (Note: this feature is not recommended as is slowed down by system crone)
The user may select Inspector to send data to. He can choose Print Inspector or Instrument Inspector today.