SUPPORT - MANUALS & DOWNLOADS
Supported Instruments
Barbieri instruments
Barbieri Gateway is a free software delivered with all Barbieri Instruments. To download the most recent version of BarbieriGateway visit vendors website.
Instrument Inspector Procedure
1. Download settings files for Gateway (click here to go to DOWNLOADS section)
Zip file contains following subfolders and files: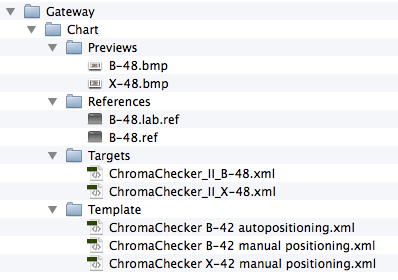 Go to .. /Gateway/Chart/ subfolder (default location in user's Documents folder) and copy all downloaded files into the corresponding subfolders.
2. Connect your instrument and Launch Barbieri Gateway
next go to Chart Measurement Tab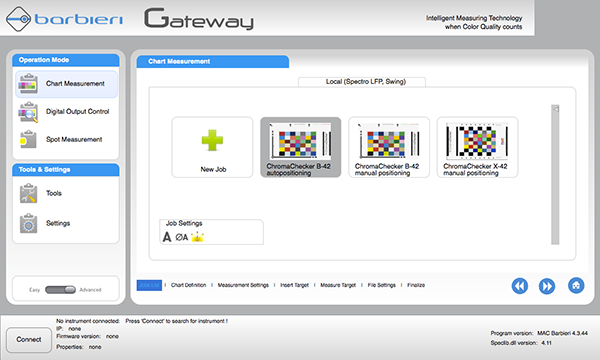 Before using Spectrophotometer check if the optical path is free of dust and the instrument in good mechanical condition.
3. Depending on Target and positioning mode select one of Jobs:
All: Chart Definitions, Measurements Settings, and File Settings are defined there.
4. Place Instrument Inspector Target B-42 (optionally X-42) in your instrument. Depending on Instrument/chart holder you can use electrostatic mate or tape to mount it.


For autopositioning option following margins should be set.: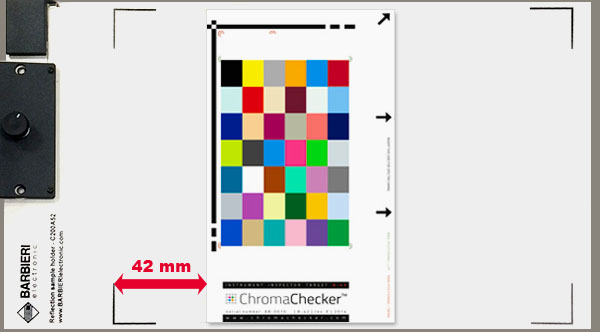 ---
B-42 Target - autopositioning mode
5. For manual positioning additional procedure has to be performed
B-42 Target - manual positioning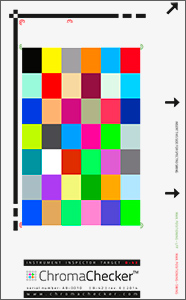 B-42 target has two sets of markers:
red - for Beriberi Swing
green fo Barbieri LFP
Follow on-screen instruction for proper positioning.
X-42 Target - manual positioning mode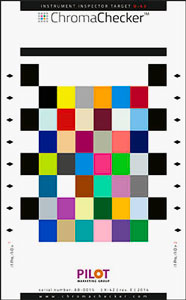 As X-42 is not a dedicated target for Barbieri Instruments it has no markers for manual positioning, however it possible to scan it with Barbieri Gateway software. Virtual or hand drawn point has to be added in order to perform data capturing.
Barbieri Gateway software is expecting to capture data set which counts 48 patches, not 42. Six white patches on the top of the main chart must be included!
Markers location for X-42 Target: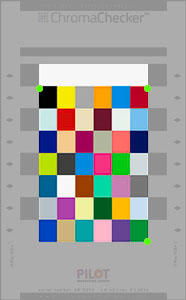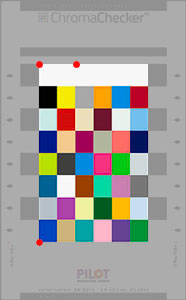 Barbieri LFP Barbieri Swing
For precision marker location please download 1:1 image file

6. Perform scanning by pressing "Next" arrow.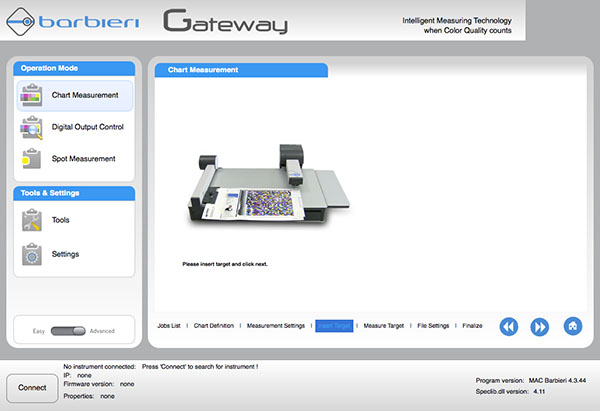 7. Save data and upload .mxf files to ChromaChecker account. Use naming convention with target serial number.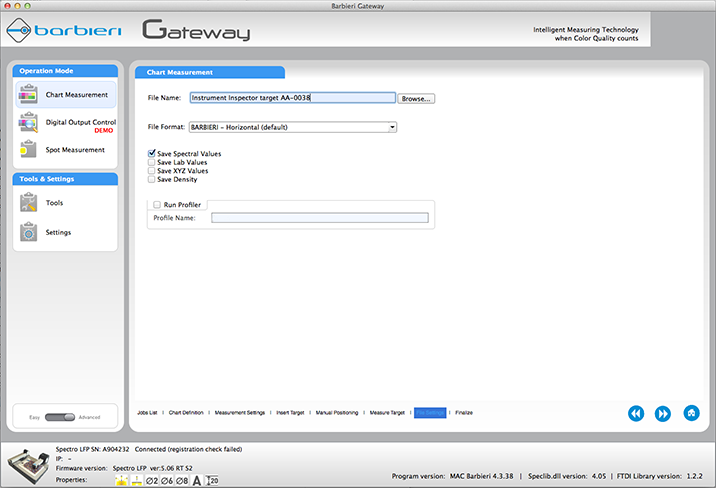 ---

Additional information:
Chart Measurement - settings:
Chart definition:
Reference file: B-48.ref
Number of Patches X = 6
Number of Patches Y = 8
Number of pages: 1
Number of Patches 48
Chart size:
| | | |
| --- | --- | --- |
| | B-42 | X-42 |
| Target size X= | 84 | 77 |
| Target size Y= | 144 | 125 |

Multiple measurements per patch
Number of measurements = 1-10 (higher recommended)
Distance of measurements per patch 10
Average method =1
To learn more how to create Gateway Chart from ChromaChecker Control strip click here.