SUPPORT - MANUALS & DOWNLOADS
Test Forms and Audits
Digital Press Benchmark
Download complete Digital Benchmark Test Form Set
Digital Benchmark Test Form Set
The scope of the test:
Test forms:
1. Addressability Test (single printout)
The goal is to check how printing device can address data. Numerous parameters will be evaluated by the visual inspection. A microscope or magnifying glass helps to perform the evaluation.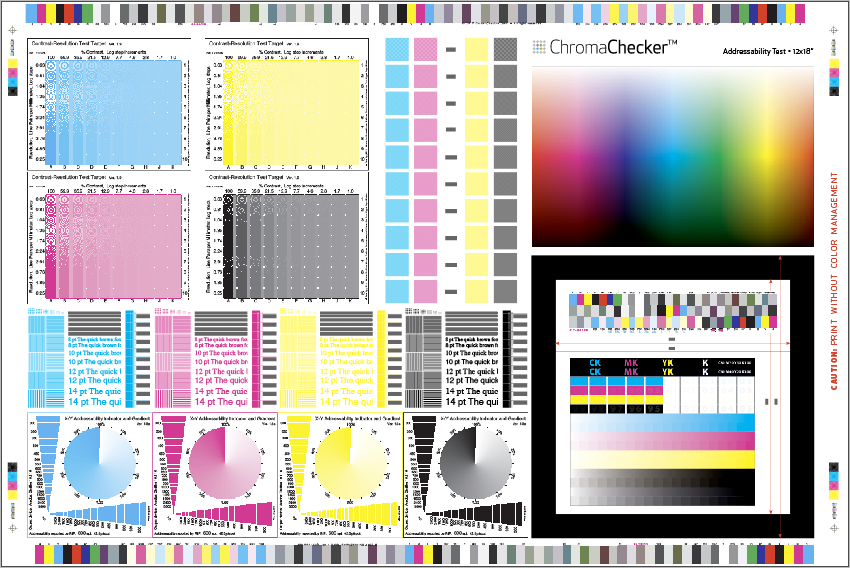 Please note that this form contains elements created, copyrighted and licensed by Franz Sigg.



This test form is intended to be printed without color management!
2. Gamut/ Profile Calculation Test
Idealliance TC-1617 test form is used for output device gamut evaluation. An ICC profile / or G7 calibration may be performed to examine real color space that device is able to print.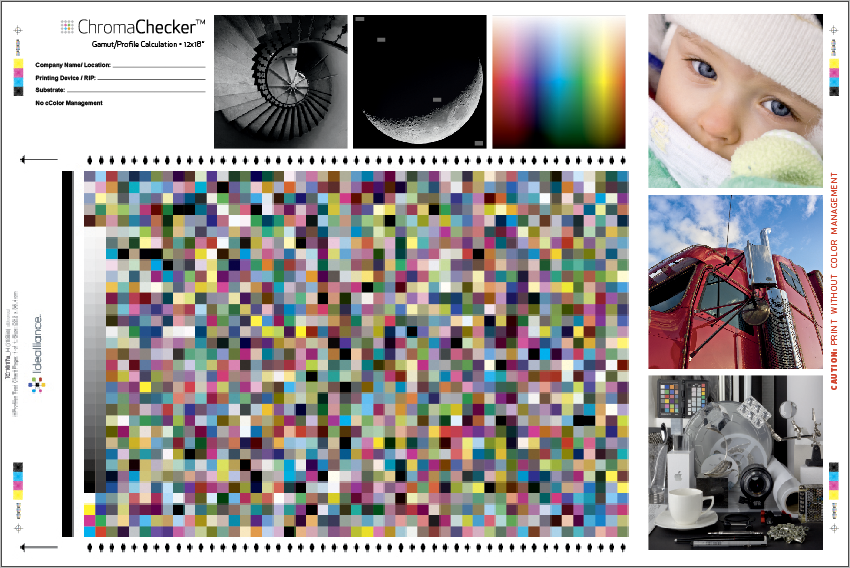 Pictures:
Staircase — this picture is CMY addressed — if a device is G7 calibrated even without color management picture should be neutral.
Moon - it is manipulated picture to check Total Ink Limit (Total Area coverage) - description on the picture shows current TAC value.
Spectrum — a synthetic picture that visually shows colorspace continuity
Baby — G7 calibrated device should keep skin looking natural
Track — A sky and well-recognized red (very popular soft drink) is a sample of memory colors
Still-life — a lot of near to be neutral, grey objects made of various well-recognized materials: porcelain, paper, metal tin, an aluminum film, glass, various metals — most of the objects are well-known, so it is easy to judge if reproduction match expectations.
This test form is intended to be printed without color management!
3. Accuracy Benchmark Test
The test consist of both metrological and visual part. A unique (note: it is quarterly updates) Idealliance QR code is applied to the form - printout may be used for Idealliance G7 Conformance!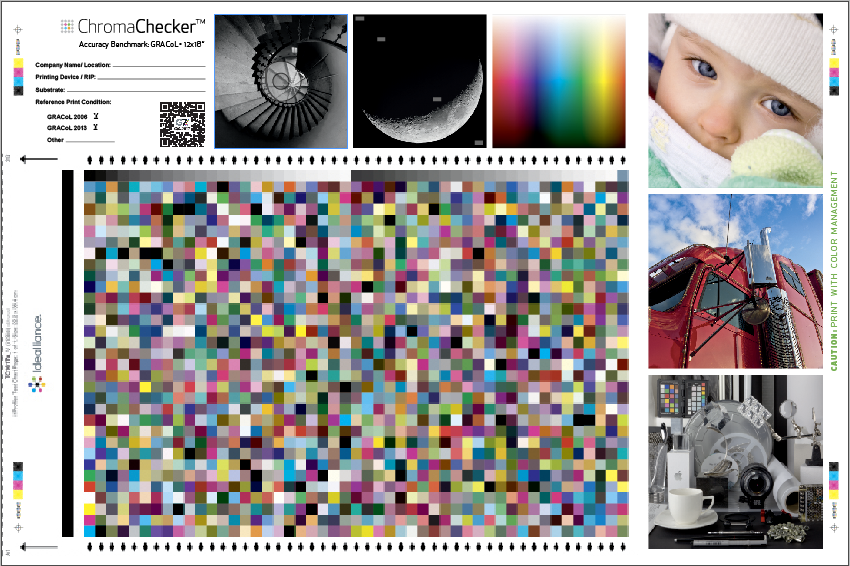 This test form is very similar to the previous one but all pictures and TC-1617 are color managed. An Idealliance QR code is placed.
As color management is on - we expect a perfect match to source images.
This test form is intended to be printed with color management!
4. Variation Test / 1000 sheets print-run.
This test form contains 1000 numbered pages to be printed in a continuous print-run. Sheet number 1 is marked with cyan bar, pages 100, 200, 300 ... 900 with green bars and sheet number 1000 with the red bar, however, we may select randomly any page from the print-run.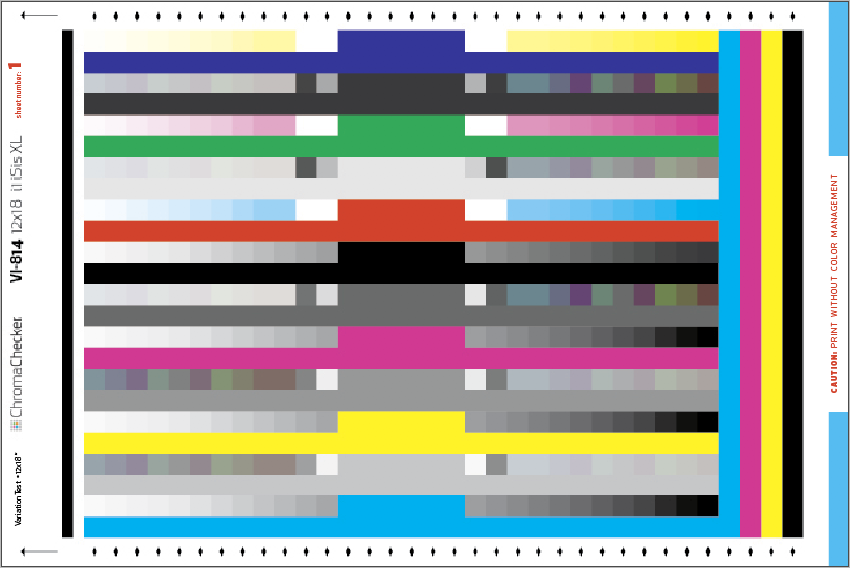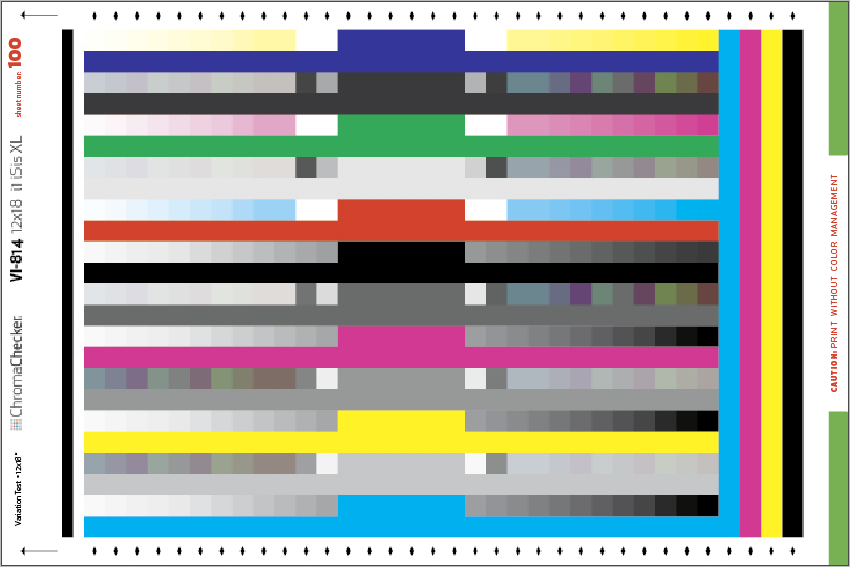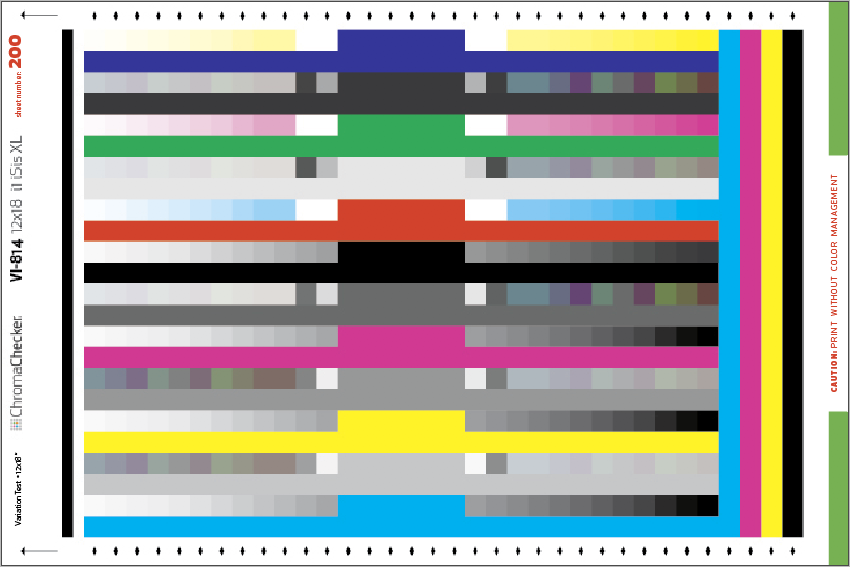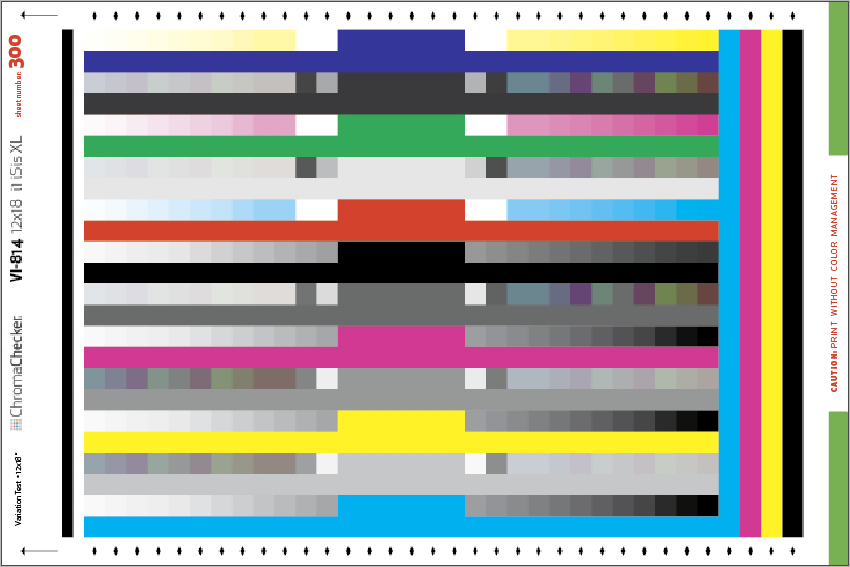 ...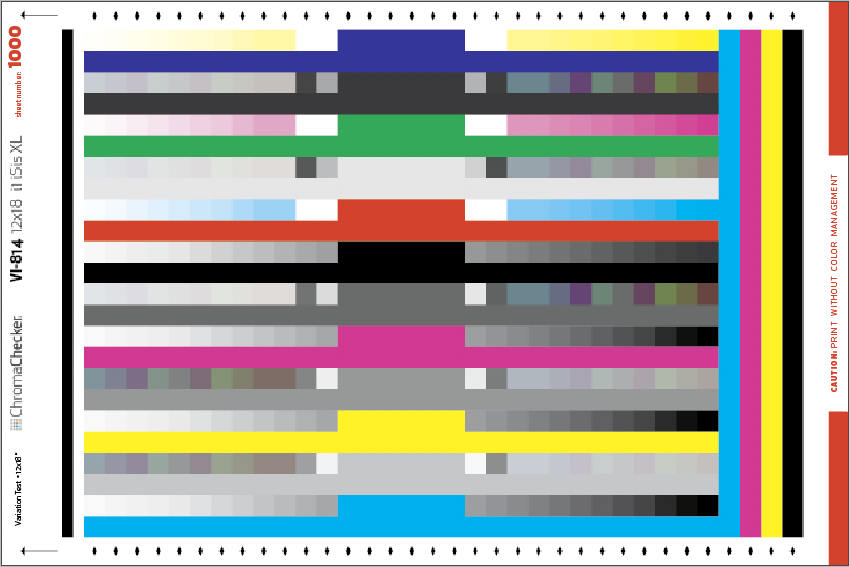 Each sheet is based on ChromaChecker VI-816 test form dedicated to intra-page variation. Sheets picked from production plot the picture of inter-page analysis, describing output device precision.
This test form is intended to be printed without color management!