Specification
| | |
| --- | --- |
| parameter | Spectro 1 PRO |
| Repeatability (Short Term) | 0.05 ∆E00 |
| Inter-Instrument Agreement (32 Ceramic Tiles) | 0.3 ∆E00 Average / 0.5 ∆E00 Max |
| Optical Geometry (Specular Excluded) | Diffused / 0 |
| Aperture | 8mm Diameter |
| Spectral Range | 400 - 700 nm |
| Spectral Interval | 10 nm |
| Light Source | Full Spectrum LEDs |
| Battery Capacity | 200 mAh (-250 Scans) Per Recharge |
| Measurement Time | 1.5 Seconds |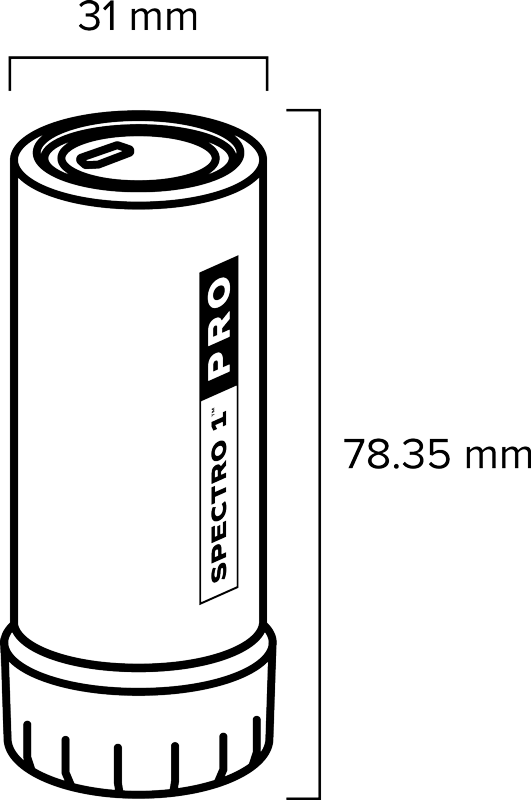 True spherical spectrophotometer (PRO version only)
Aligns to paint standards from laboratory D/8° instruments
The Spectro 1 Pro identifies the true color regardless of the surface appearance of gloss.
Spectro 1 vs. Spectro 1 Pro • Standard and Bridge versions
Spectro 1 vs. Spectro1 Pro
Spectro 1

Spectro 1 PRO

Geometry
D/0°
D/0°
Gloss Observation

SPEX/SCE

SPIN/SCI

Inter-instrument agreement

0.3 ∆E

0.3 ∆E
Measurement Conditions

M2

M2
Sheen affects measurement

YES

NO

Most Closely Mimics
Appearance (Visual) Color

Pure (Actual) Color

Areas of the application

Manufacturing
Print
Packaging
Graphic Arts
Plastics
Quality Control
Visual Inspections

Paint and Coatings

Compare paint colors

(non-metallic)*

Textiles
Mirror or Near Mirror Surfaces
Tinting Machines
Plastic
* metallic paints are usually to be measured at multiple angles, but conditionally it is possible to use such measurements (subject to the non-interchangeability of data)

Learn more: Paint & Coatings Industry Technical Article
Unique Spectro 1 Geometry
Please note that Variable Spectro instruments use non-common geometry D/0°.
D - means Diffusion and describes how the specimen is illuminated during measurement. Most of the spectrophotometers in the print industry are 45/0 what means that light comes from a 45° angle, and measurement is taken from a 0° angle.
In a Diffusion scenario, a special chamber mixes light rays reflected at different angles.
Most of the color manufacture industry uses spherical Instruments where the chamber has a shape of a sphere, but the difference is measurement angle which for spherical instruments is typically 8° - so instruments are marked as D/8°.

Data collected with different geometry/gloss observation/M-conditions are non-comparable. Don't expect SPIN and SPEX to be identical on the same principle why M1 and M2 are not equal. The difference is smaller for uniform, flat, and matt-finished objects, but hi-glossy, textured surfaces may bring huge differences.
Spectro 1 and Spectro 1 PRO has different shape of the chamber which is a sphere for the PRO version.
SPEX/SPIN
Spectrophotometers with mixing chamber can provide reflectance measurements in two ways: specular included (SPIN) and specular excluded (SPEX). In the case of Spectro 1, it is a different technical solution that is not user-switchable. Before ordering a proper version has to be selected.
Read more about SPIN vs. SPEX
Standard/Bridge version
Please note that Spectro 1/ Spectro 1 PRO has a basic version that can be used with Spectro Application only and Bridge version that comes with dedicated USB hardware that enables connection with PC or Mac computers
Standard

Bridge

Product
PC
No PC
connectivity!

CC Capture (Mac, Win 10)

iOS

(iPhone/iPad)


Spectro by Variable

Spectro by Variable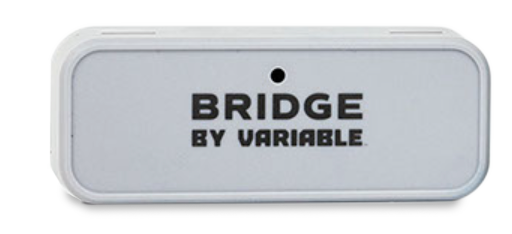 Note:
The Bridge has a Bluetooth range of 25 feet (7.5 meters), meaning there is built-in flexibility when it comes to scanning colors within your PC software. This device comes with a unique license file required, therefore it has to be ordered with the instrument. Without a license file, it is impossible to establish communication.
| | | |
| --- | --- | --- |
| | Spectro by Variable mobile application | |
Spectro by Variable offers built-in data export to ChromaChecker Cloud. Please note that this support is limited to Color Inspector Tracking option only. The user may collect data for QC tasks using the existing database, but not create new tracks.
The operator needs to enter credentials (Organization Name, Operator Name, and Password) To obtain register Operator in Accountability Inspector and assign privileges.
Working with Color Inspector
launch app,
select menu

select ChromaChecker

enter Operator's credentials
(first time only)

select track,




scan sample

upload

the system confirms data,
scan next sample or quit
| | |
| --- | --- |
| | CC Capture |
With CC Capture, Spectro 1 Bridge by Variable (Standard or PRO) instruments get incredible functionality. The user can select one of the following tools:
PRINT INSPECTOR
Read ControlStrips based on CMYK, RGB, ECG, Lab, Named (Spot) color space patches including placeholders and special patches
Verify printing process
Create ICC profile
Create G7 calibration curves
a much more (consult Print Inspector capabilities)
INSTRUMENT INSPECTOR
Track your Instrument stability
Compare to another
Calculate Instrument harmonization
COLOR INSPECTOR
Create Color Library including Advanced CxF/X-4 Standard
Export Color Library - CXF
Track samples with auto-recognition feature
Auto averaging with sample consistency analysis
SUBSTRATE INSPECTOR
Create entry to Substrate Library (including measurement on BW backer)
Track Substrate
Auto averaging with sample consistency analysis
and more
Sample Application
Conclusion
Unique geometry makes all those features extremely unique, as a lot of objects and substrates are hard to measure properly with traditional 0/45 or 45/0 geometry. Spectro 1 by Variable (Standard/PRO) with CC Capture offers features that were not available before.
When ordered from the chromachecker.com site instruments comes with "Entry120" Color Inspector 90-days Subscription Plan included (free of charge).
Related Products