CASE STUDIES & TUTORIALS
Case Studies
Spotlight on Spots - ChromaChecker complete solution.
1. Committing to Manufacture Brand Colors Accurately:
The printing house has committed to print for Best Buy, which means they have to qualify that they can print Best Buy colors within Best Buy expectations and meet the parameters of the Printer Color Quality Program.
In short, they have three attempts to print Program Test Form (contains 18 spot color samples - critical corporate brand colors plus P2P) within Best Buy expectations. Best Buy expectations are that the spots will be manufactured within a 2 ∆E tolerance and process colors will be G7 conforming. With a limited number of attempts, and a large number of brand colors, with tight tolerances, it makes this a demanding and time consuming task.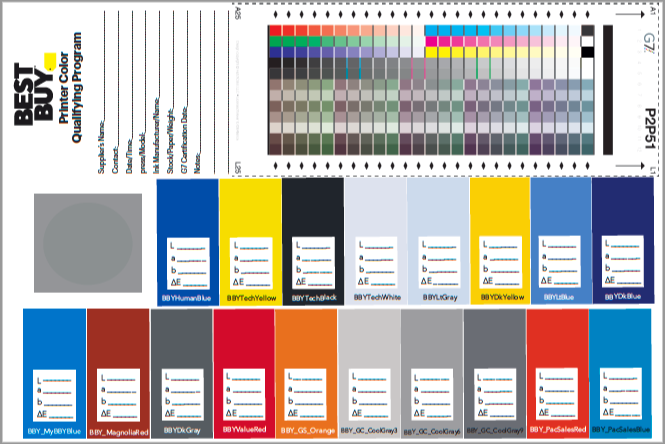 The original test form is 12x18"
Test form comes with colorimetric values for each brand color. Additional supplement document defines Best Buy requirements including tolerances.
2. Color Inspector – Custom Library Creation
There are several options to create a Color Library. For this situation since we have a list of M0 L*a*b* values, the fastest way is create it directly in the Color Inspector. Ideally, the Brand Company should provide their colors in a .CxF/X-4 (Color Exchange Format) which saves the printer from having to re-type the numbers which could result in errors. CxF/X-4 is the only way to predict tints values for spot colors, and spot color overprints.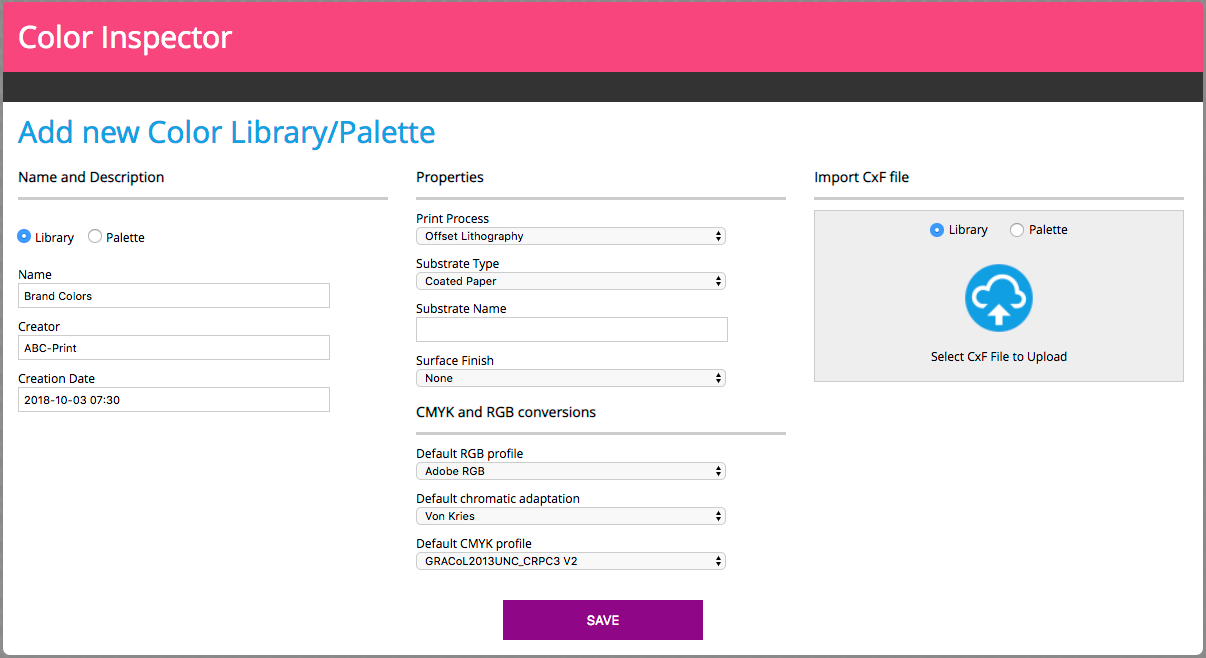 Note that ChromaChecker Color Inspector Library has all elements required by the newest ISO-17972 standard.
First step is to create and name a new Library, next the user has to define each color (enter color name and colorimetrical data- be sure to name the color exactly like the customers name because this will be used as a color library for your workflow later and the naming has to be identical to get the automatic lookup table to work).
Enter brand color names, and values (sample fragment of Best Buy specification):

New sample entry (Color Inspector):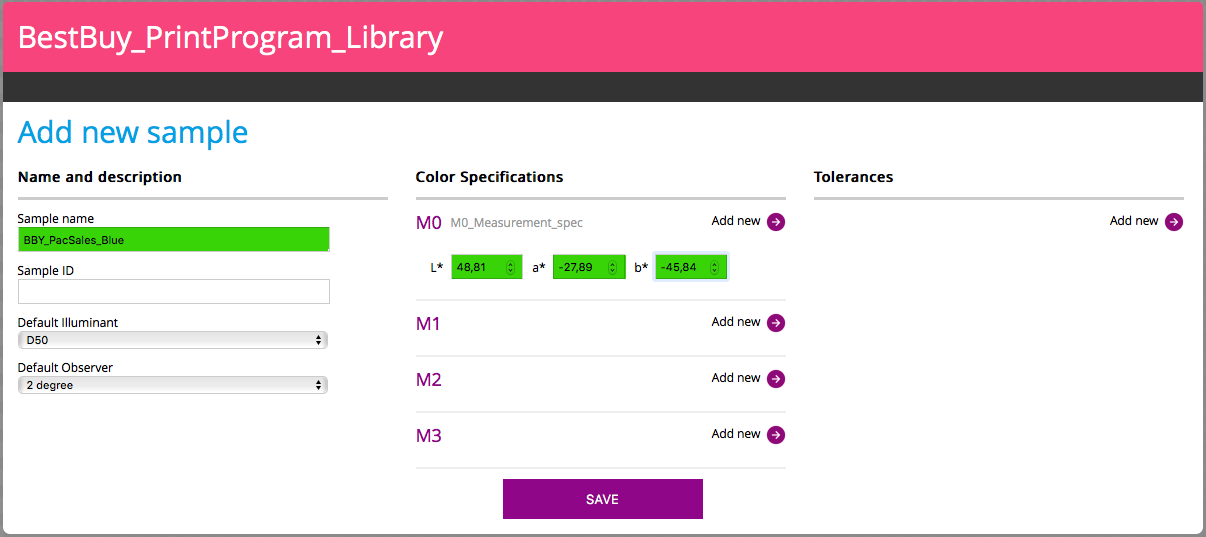 In this case, the total library has 18 colors: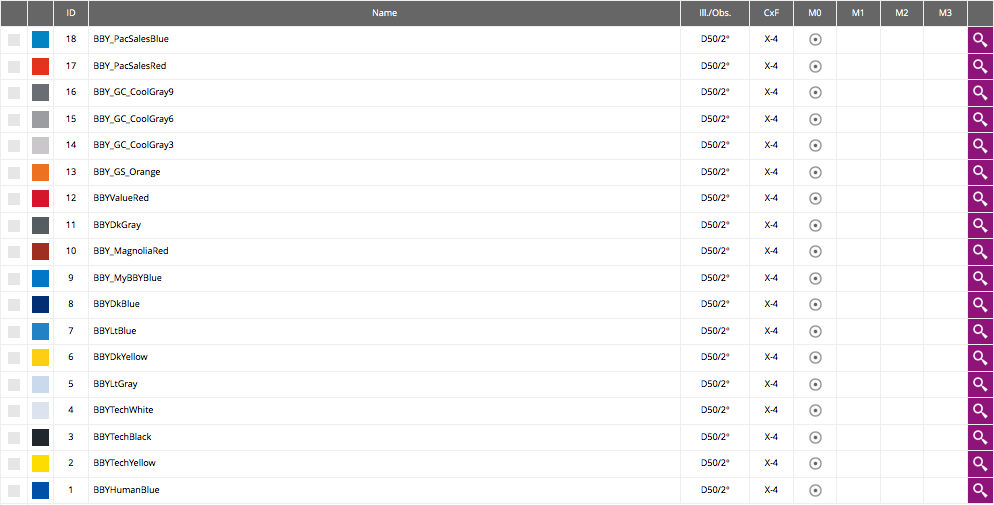 You will want to design color control strip for your measurement device so being able to export a color palette for use with Adobe InDesign, Illustrator or Affinity Designer will be useful. Click the check box next to your desired library to export and click "Export (.ase)." Configure the L*a*b Color Space (Device Independent).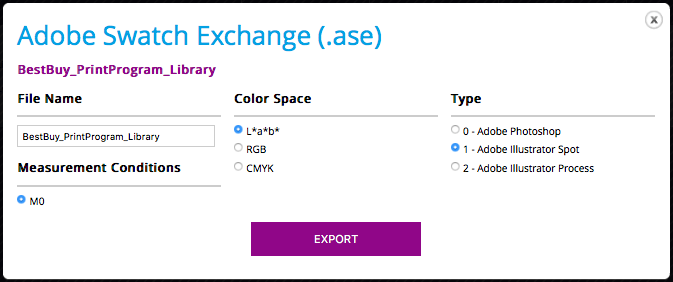 3. Tolerance Set
The user may create the tolerance settings from scratch or duplicate any existing set, and then modify according to requirements. In this case, duplicating the existing G7 tolerance set requires the additional of defining the Spot Color tolerances, in this case set to 2 ∆E 2000.
Tolerance for Spot Solids can be defined in multiple ways. The easiest way is to establish one value in Print Inspector Tolerance set, where the tolerance schema is globally applied for all spot colors.

This method is fast, but there are two limitations: first, it assumes you only need one delta E for all brand colors, and secondly, it assumes that all colors are requiring the same delta E formula. If either of these parameters are different for the colors, then you will want to build the tolerance for this library differently.

When simple is not enough...
Another way to set tolerances for brand colors is found within the Color Library within Color Inspector. This tool allows for custom configuration of the tolerance for any color, which provides an intelligent, multi-level system for defining tolerances for the brand colors.
Additionally, ChromaChecker Color Inspector supports multiple tolerances for each color! Values can be different for each Color Specification (M-conditions, Observers, Illuminant...) and may have more than one condition based on various formulas. This feature is available for the high end user.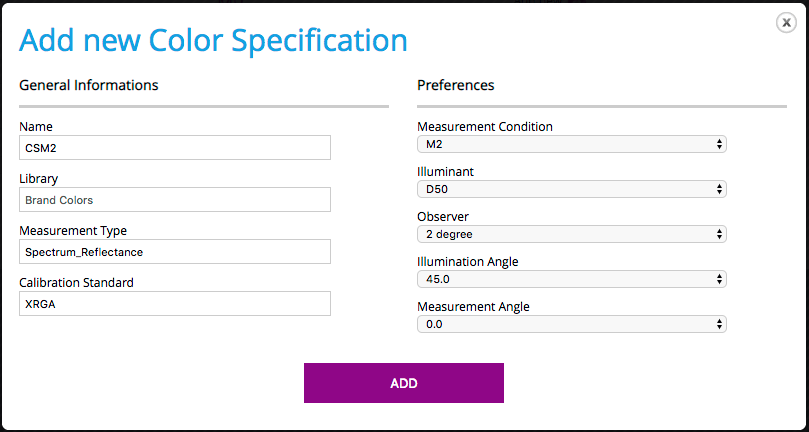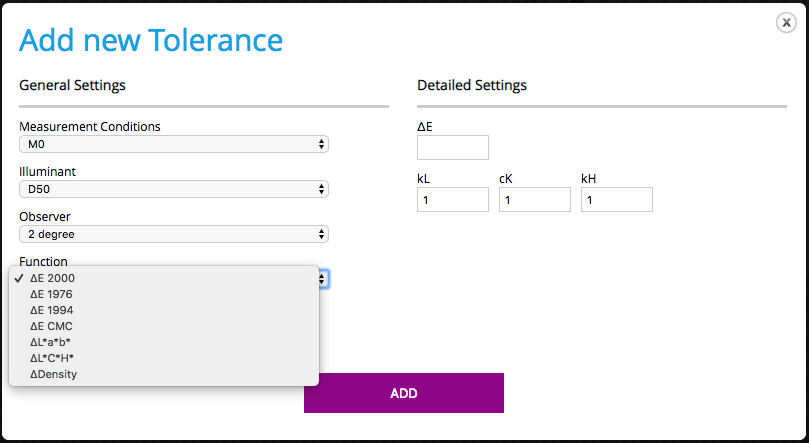 As ChromaChecker Color Inspector is ISO-17972-4 compatible, the user may define spot colors based on CxF/X-4 characterization – the most advanced method as of 2019.
4. Custom brand control strips
When manufacturing brand colors it is critical to provide a fast and efficient process to evaluate the print manufacturing during production, any idle time costs the printer money. For this reason, we recommend that you create a custom brand control strip. Again, it would be beneficial for the brand company to supply this, but every measurement instrument and software requires a different configuration, so you will create your own, based on your needs.
When defining the custom brand control strip, you need to consider what patch values are required. Since G7 compliance is required we recommend adapting the ChromaChecker CC-84 control strip and we will add the 18 brand colors. This control strip enables G7 evaluation including curve creation/iteration as it has gray finder patches included (it is like a mini P2P). Original CC-84 has several duplicated patches to assess variation which is less important for this scenario.
In the second step, we will add the Best Buy brand color library (solids)
This results in a 90 patch control strip which needs to be adapted to the desired measurement device. Depending upon the device, we will need to adapt the layout, in this case the instrument is the i1IO, so we will create 2 rows with 45 patches each.
Using scramble function Capture Inspector will reorder patches to ensure high-contrast patch recognition – no separation bar will be required (which is better, faster, more accurate).
For flexibility we created three different control strips:
A. BB-90

BB90 for the i1iO which includes G7 gray finders, and G7 compliance patches with 18 Best Buy brand colors
B. BB-22

BB22 includes the 18 Best Buy brand colors and substrate, provides faster measurement when 18 brand color conformance is the only requirement.
C. BB-38

BB38- Includes all BB-22 patches and adds 50% tints of the brand colors to report dot gain values (this is not required in the current BestBuy specification). For companies that design with tints of brand colors, this becomes critical to understand the conformance of the print.
5. Test Form
Test form needs to be designed which includes the desired targets that we developed in step 4.
It is important to use a measurement device currently supported by ChromaChecker Capture software- since we have developed a strip that includes both CMYK + Spot patches, no other software today can measure this type of target (as of 10/1/18).
Principles of Test Form:
Made to work with i1iO2, provides fast, accurate, automated measurements
Control strip is longer than original iO table size, so it is critical to use ChromaChecker 11x17" Backer under the test form. This backer standardizes measurement according to latest ISO standard update, and extends measurement area available with i1iO.
To provide faster measurements, the right-bottom corner of the table is to be used for mechanical positioning. A process to stop the paper in bottom left corner is require, we use magnets (see video).
Patch size should be medium size (9 x9 mm) - that increases accuracy and prevents the instrument from going into spot measurement mode (slower)
Scanning templates defined with in Capture can be configured with predefined positioning (very safe with 9x9 mm patches)
For additional visual assessment, we included a set of images which will make the evaluation more complete. One image includes a G7/TVI sensitive split-image plus generic spectrum will help visual analysis.
Additionally, H-100 target allows printer to align their measurement device up with Best Buys master instrument which helps eliminate up to 80% of between instrument variation, which provides for more printing/manufacturing variation.
The final test form: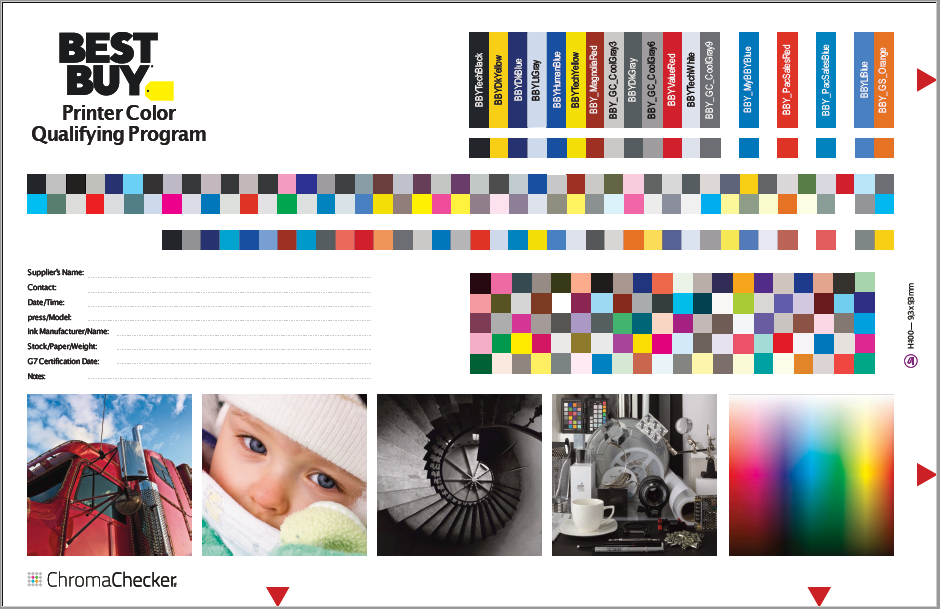 For potential manual reading a captioned list has been added:

The G7/TVI split-picture will indicate improper G7 curves, if the split is seen visually, then the print is not G7: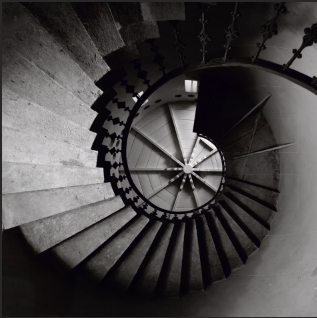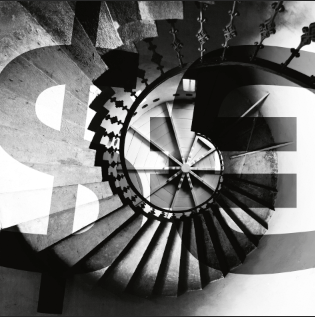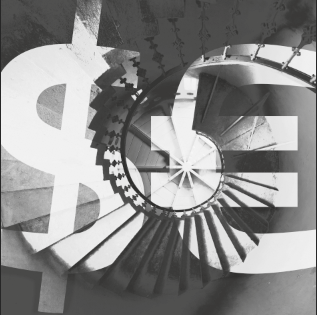 In fact, it is a composition of two images that will look like one - only with good G7 curves.
6. Configuring output device and track in ChromaChecker cloud
User will want to configure the printing device and substrate condtion in order to assess and track the production manufacturing of the Best Buy colors using ChromaChecker Capture. Capture pulls all assessment criteria from the ChromaChecker cloud.
User will choose the custom tolerance previously defined to get reports that correspond to specs.
User will configure M0 measurements (Best Buy requirement) - as the track's default M-condition
Ideally a specific measurement instrument should be associated with the track if harmonization is desired, this is not required by Best Buy yet, but it is in the printers best interest to harmonize to Best Buy's instrument. This requires the user create a baseline in Instrument Inspector before harmonizing.
User should color manage (create an ICC Profile) the desired manufacturing that defines the actual print condition (substrate).
7. Configuring ChromaChecker Capture Scanning Templates
A. Manual Positioning (slower)
Within ChromaChecker Capture Inspector on the ChromaChecker cloud, user will create scanning templates which associate the control strip ( e.g. BB-90) with measurement instrument (e.g. i1iO) and define the patch dimensions (e.g. 9 x 9mm)
B. Prepositioned Mode (faster)
The fastest and easiest way is:
Position Test Form on i1iO table in the permanent spot (stopped on bottom and right side of iO table)
Using Capture, manually position the i1io on the three corner coordinates
Edit scanning template by entering coordinates defined above for each corner
Now, the i1iO will automatically measure the target bypassing the need to set the three corners which saves at least 50% of time, plus potential operator errors for choosing corners.
8. Operator's account
Using Accountability Inspector, assign Output device and Instrument to the operator's account. Operators credentials will be required for ChromaChecker Capture App.
9. Full G7/Spot report (BB-90) in 30 seconds (view video)
Prepare limiters for mechanical bottom-right positioning on the table
Place ChromaChecker Measurement Backer on the iO table
Place printout on the Backer
Connect iO table to computer
Launch Capture Application
Enter Account Name and select i1iO2 from the list of supported instruments
Select Printing device ( if more than one)
Select scanning template - e.g. BB-90
Optionally use additional description to the measurement (Job Name, Customer)
Click on the "Measure" button
A operators report will be displayed within two seconds after the measurement is complete. For BB-90 it takes a total of 30 seconds including instrument calibration (will be executed automatically).
To improve accuracy, additional measurements may be captured.
ChromaChecker will generate a report based on the predefined tolerances for the manufacturing process.

If Colors can be improved, ChromaChecker will indicate that further improvements are possible via density corrections shown next to each solid patch.
10. Expert mode (for ChromaChecker Champion)
If you are an expert go to your ChromaChecker Champion cloud account to view complete report and all history for this manufacturing line. You may want to group measurements to check variation between measurements and prints, and create G7 compensation curves.
Need more?
Automate Scanning template selection with bar codes.
If you have multiple manufacturing processes and want to eliminate operator confustion between them, then you can make dedicated control strips for each process and associate unqiue bar codes for each process. In this way the operator can scan the bar code in ChromaChecker Capture app and the bar code will automatically load the correct process.
From the ChromaChecker.com account, choose Capture Inspector and select: Measurement Tasks. Filter list according to your needs (Instrument, operator, control-strip), then download barcode value or bitmap file. If required, enter alias to change the default value. Unwanted Measurement Tasks may be hidden to make it easier for the operator. This is an easy, fast and effective way to reduce the risk of operator error.


Now instead of relying on Operator making manual selection for Manufacturing print process, they just scan the barcode, and the correct process will be assigned.
• • •
Check the capability of your printing device to accurately reproduce the brand colors:
If you want to check your printers ability to simulate the brand (process printing CMYK or CMYK+n color) - use Virtual Spot Print feature (requires uploading device profile to ICC Profile Inspector first). It is easy - select Color Library, click the button, select corresponding ICC profile, threshold, and formula, and click SHOW: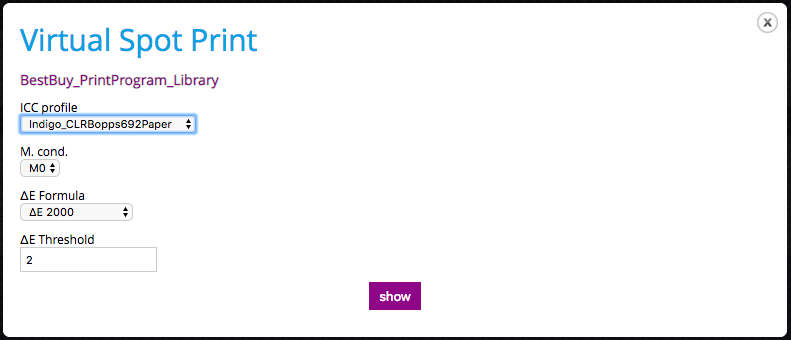 As a result, you will get a complete report with predicted error, plus detailed information (available to download - to use with some RIPs) listing color process build values. If your workflow is CXF compliant, it is better to export the brand colors as a CXF file and load the CXF file in the RIP as opposed to using the device colors.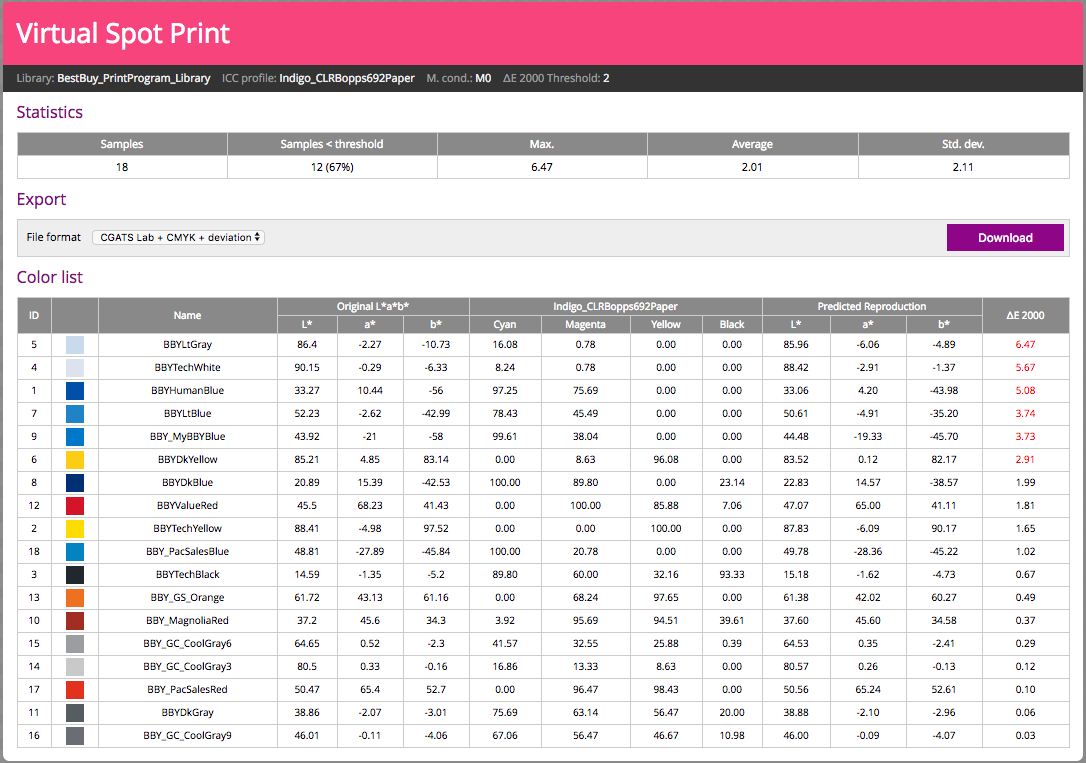 You don't need to print to know if spot color is in or out of your output device gamut, ChromaChecker will show you!!!
• • •
Improve positioning accuracy (i1iO only)
There is an alternative (motorized) way to control positioning corners accuracy. Instead of clicking the button on the instrument - the user may use a computer keyboard to tune and check positioning points.
Click on Enter - to move to next corner
Click on cursor arrow to adjust the position (observe cross-hair)
• • •