Anyone that has taught the G7 Experts course has stated that you should not build plate curves for your press with one press run, especially if you don't have a history of what the "normal" TVI/dot gain is for your press. It is like taking a shot at a target blindfolded and over your shoulder...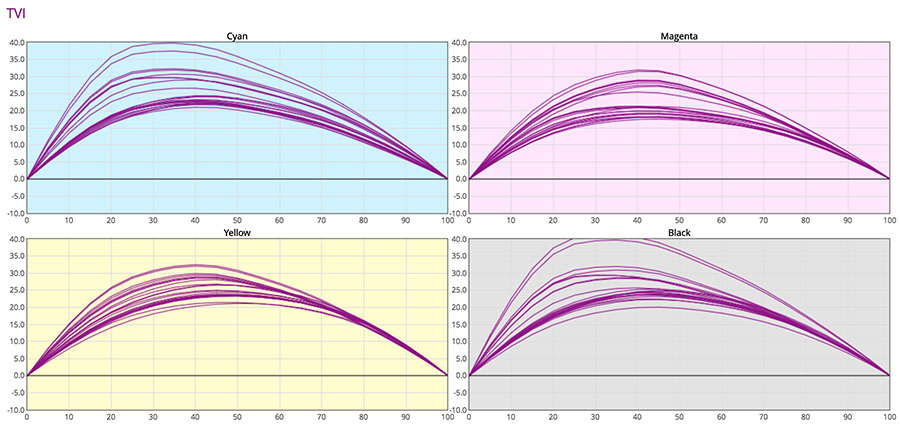 Picture of the variable TVI
Above is an actual ChromaChecker report showing 40+ measurements where the CMYK primaries were within 3.5 ∆E of GRACoL and the CM, MY, CY overprints were within 4.2 ∆E of GRACoL, and yet the TVI is extremely inconsistent: There is no way to build an accurate curve from this data, yes, the software will build an average, but the variation is so large, that when the follow up runs are more than 4% from the average, the result will fail G7, and the operators get frustrated. This is why you need to build a curve off of multiple jobs with consistent CMYK densities, and consistent CMYK dot gains/TVI.
But running multiple dedicated press runs with P2P targets is very expensive (industry average is $5000/substrate, and the average profitability of a North American printer is 3% margin on sales (PIA 2017 numbers), the new sales required to justify one press run is over $100,000. This is cost prohibitive for most printers. ChromaChecker has the solution, we have pioneered color bars that replace the existing color bar and it still has solids in every ink zone, and we include three color gray patches and TVI patches in the left over spaces within each zone. This works like a P2P to be able to iterate your existing plate curve from multiple printing jobs with the press running in its normal state. This provides not only a much more accurate result of "normal" press capabilities, but it educates the press operators that they need to control the CMYK densities and the CMYK dot gains (TVI) in order to get the press to print accurately.
---
Learning system
We have implemented a Training component inside ChromaChecker to educate the press operator on how to control both density and dot gain/TVI on the press and what variables affect TVI. Each section has a quiz to ensure the operator is understanding the content. In addition to tracking the operator's progress through the Course, ChromaChecker is also tracking the operator's performance on the press. ChromaChecker builds weekly and monthly Performance reports showing how well each operator is controlling the press to get it in G7 Compliance and E-Factor salability. This is great information to motivate the operators and reward them for improving the print which will improve the productivity of the company.