Now Color Inspector users can export Library or Palette. This allows these ChromaChecker CXF files to be implemented in multiple workflows that allow a more accurate look up table in your actual production. For instance, by adding a CXF library to a CXF compliant RIP like EFI, the RIP will use the CXF definition to convert named colors automatically to the specific device CMYK of the output device based on the relevant profile in the queue. This provides higher quality conversions automatically applied "on the fly." This also provides that custom libraries can be remotely loaded on compatible measurement devices like an Exact and the Exact will take advantage of the custom tolerances that ChromaChecker created in the CXF. Three variants of CxF file covers various extended data support.
An extended dialog box informs the user about limitations and enables select parameters of the output file:
1. Alwan Color Library compatible CxF.
This version that keeps all halftone samples organized according to ISO-17972 /CxF/X4 requirements.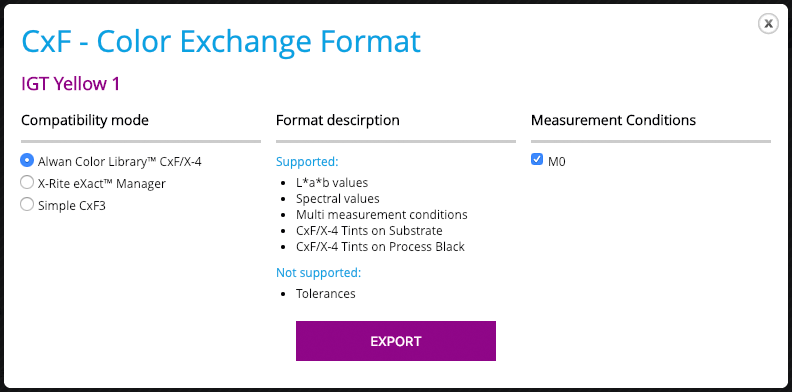 ---
2. X-Rite eXact compatibility.
This format covers all critical sample properties including multi-level tolerances, multi M-condition data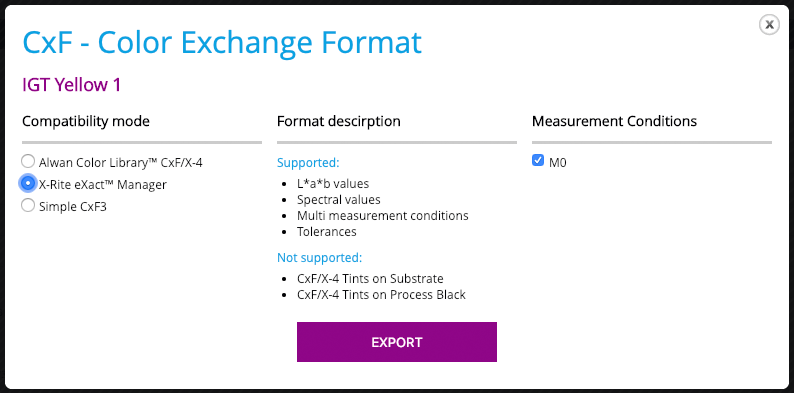 ---
3. Simple CxF3
This format is dedicated for basic compatibility data exchange purpose.