September 10, 2021
Full Size Offset Press Audit Test Form
Test Form Layout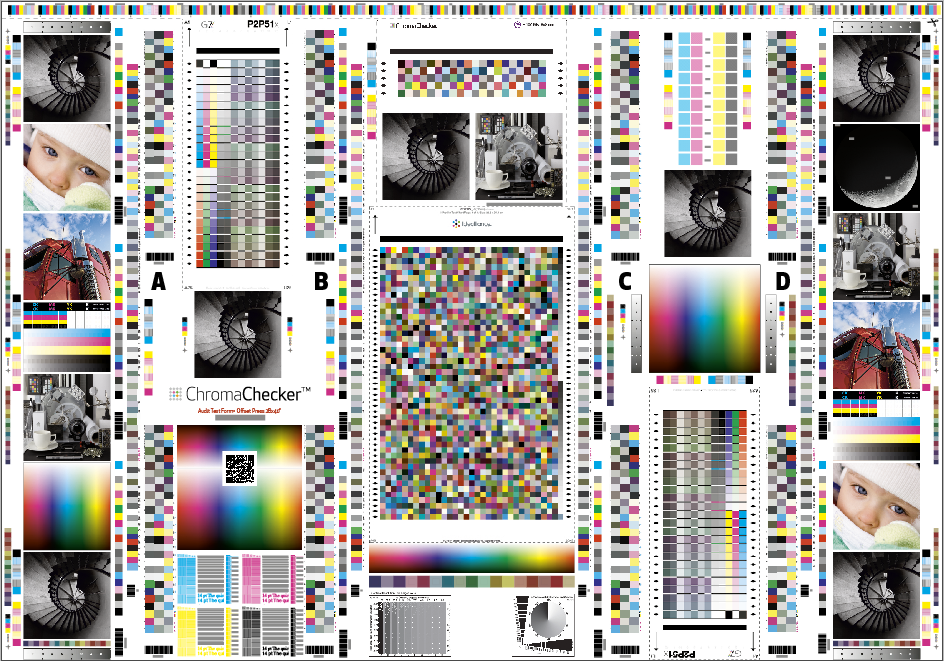 12 instances of "Minimal G7" control stips (3 rows x 4 columns)
ChromaChecker supports barcodes that define the position location on the press form. ChromaChecker Capture and Alwan Print Verifier support barcode descriptions.
Single control strip with barcode:

Sheet locations/descriptions: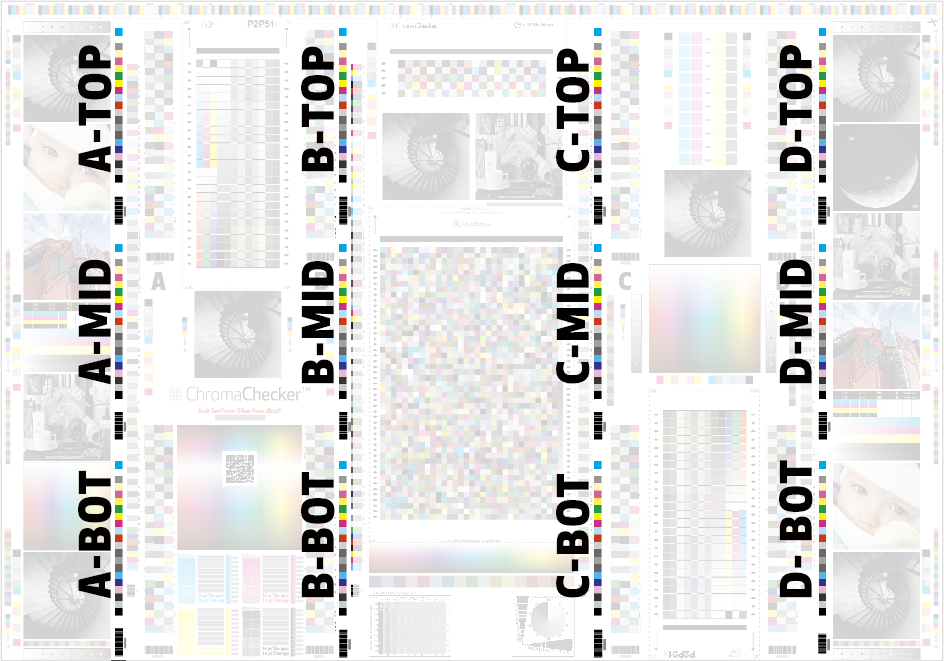 The naming convention is easy.
12 measurements taken from the single sheet make it easy to calculate within-sheet variations; one of the most strict parameters for press quality judgment. 12 instances make 66 pairs of every single patch (total of 1386 pairs on a single sheet).
An alternative to Minimal G7 — CC-84 test forms:
1. 4 x CC-84/1R - 12 sets of Primaries with limited on sheet location recognition
2. 4 x CC-84/3R - 24 sets of Primaries with limited on sheet location recognition
Idealliance P2P51 (x2) and TC1617 Testing Forms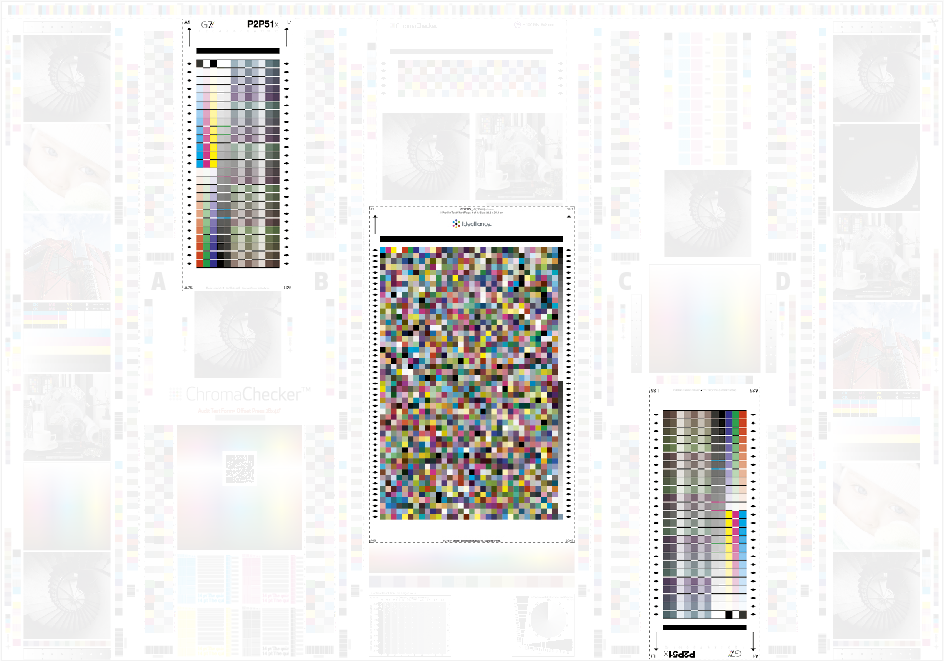 Addressability
The sheet provides a collection of various visual tests that helps to user to understand press limitations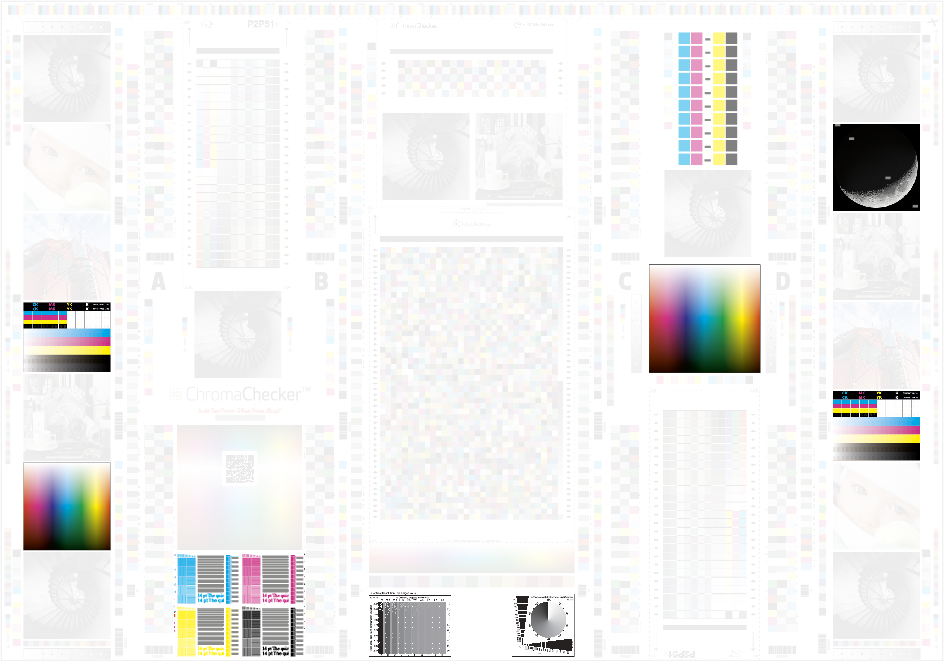 Registration Marks

The use of lines with designated thicknesses (0.02, 0.04, and 0.08 mm) makes that we can visually accurately estimate the amount of misregistration.
Gray Balance
Split Images created the part with CMY, and rest with Black only will visually show if calibration curves are correct.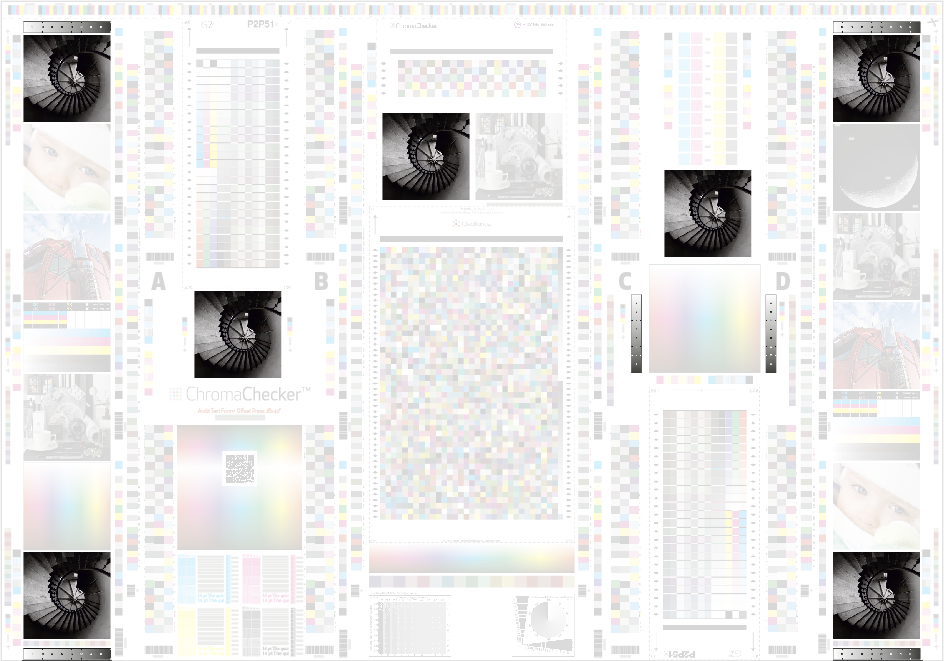 Grey Balance Test Picture:
Staircase split version — this picture is CMY addressed — if a device is G7 calibrated even without color management picture should be neutral.


CMYK K CMY
Moon - it is manipulated picture to check Total Ink Limit (Total Area coverage) - description on the picture shows current TAC value. Repeatedly repeating the image in different parts of the sheet allows visual evaluation of the variations.


Grey Balance Wedge

, K only:

An additional addition is a gray wedge with an ideal combination of gray with black and CMY colors. The values used do not come from G7 - where one of the scales is a bit darker than the other - we expect a full congregation of wedges.


Note: test images and gray balance wedges are dedicated to selected ICC profiles (eg GRACoL_2013) and will only work for the printing conditions described by the selected profile!
Other Pictures on Test Form
Spectrum — a synthetic picture that visually shows colorspace continuity (read here more)
Baby — G7 calibrated device should keep skin looking natural
Track — A sky and well-recognized red (very popular soft drink) is a sample of memory colors
Still-life — a lot of near-to-be neutral, grey objects made of various well-recognized materials: porcelain, paper, metal tin, an aluminum film, glass, various metals — most of the objects are well-known, so it is easy to judge if reproduction match expectations.
Curves and Registration control strip
We have developed a control strip that is very sensitive to both correct TVI curves and correct registration.
Here are examples of how it images in real production:
a. Perfect Registration, Perfect Curves

b. Perfect Registration, Wrong Curves

c. Wrong Registration, Perfect Curves (embossing effect)
close up ...

...
d. Wrong Registration, Wrong Curves

Target locations on press sheet: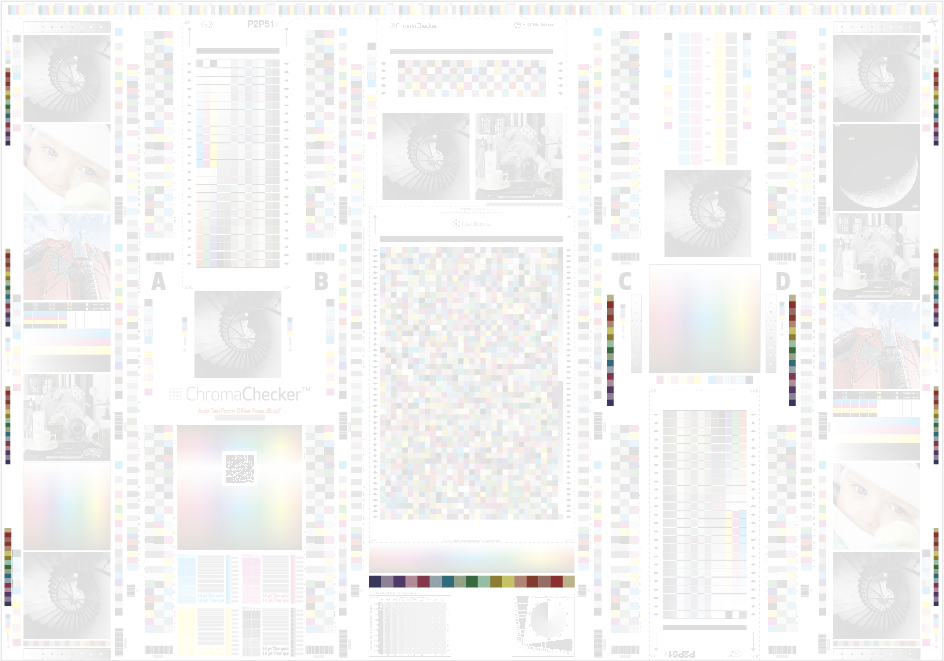 Slurring/Doubling Control Strip

S/D Control Strip is dedicated to measuring differences for vertical and horizontal patterns.
There are solids and substrates for density calculation.
microstrip = 0,4 mm (40 px when exposure on 2540 dpi) — equivalent of 31,75 lpi line shape screening


Target locations on press sheet: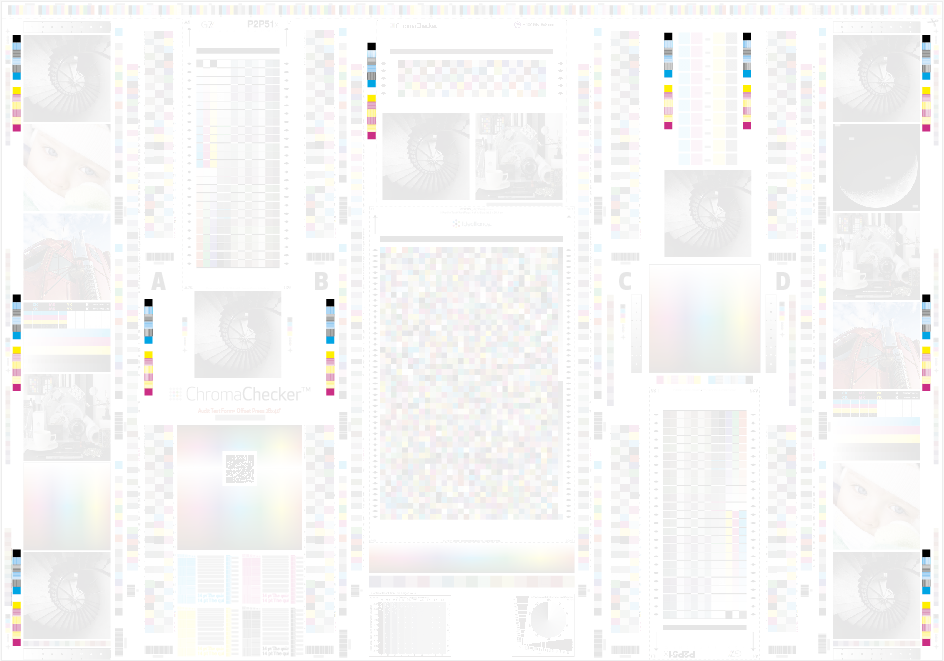 Additionally, a visual S/D test is printed at many locations on the press sheet:

H-100 iSis Harmonization Instrument Inspector Target
This Target can be read by most Instrument on the market. It enables Instrument Harmonization.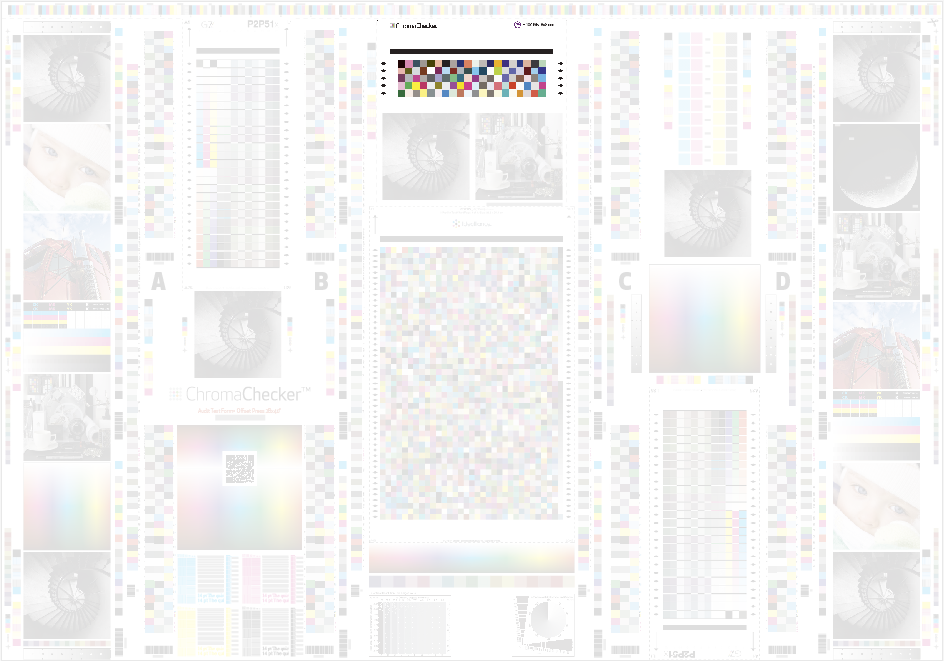 Contact ChromaChecker Support
Additional information and Support Form is available for logged users.