May 24, 2022
Quickstart — Display Inspector
You may want to start with some more information about Understanding Computer Displays
Important notes
Display Inspector requires a new M1-based MacBook Pro to have OS 12.3.1 or later when using XDR displays, earlier OS versions are not supported.
If using Catalina (OS 10) or Big Sur (OS11) we recommend updating to Monterey (OS12)
Before you start be sure that:
Your monitor can be calibrated.
Your measurement Instrument is supported
| | |
| --- | --- |
| | Quick Start — use Demonstration Account first |

You do not need to have a ChromaChecker Account to test the functionality of Display Inspector using this demonstration account. This account offers limited access to the software capabilities and is a good way to provide a general understanding of how the software works before you build your own configurations within your own ChromaChecker account.
Verify your hardware/software configuration - start with our demonstration credentials
Connect your monitor measurement device and launch CC Display software (link to download is #3 in the last section).
Go to the top menu, and select "ChromaChecker"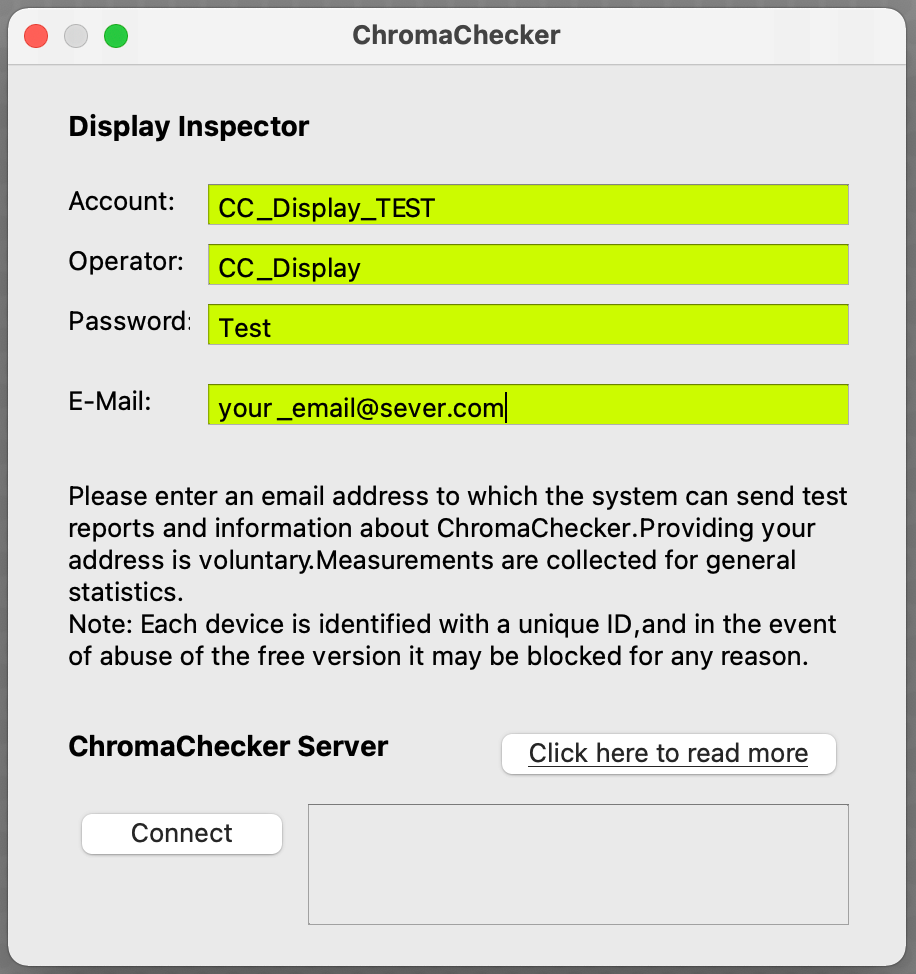 | | | |
| --- | --- | --- |
| | | |
| | Account: | CC_Display_TEST |
| | Operator: | CC_Display |
| | Password: | Test |

Please enter your e-mail address - this is not required but helps us to contact you and give you access to reports from your testing. Please note that we are not checking if the email address is valid - make sure you enter it accurately.
Test Account has multiple workflows available. The list may change over time. You can decide which workflows you want in your account after you have had time to explore these sample workflows.
If you have an instrument connected the list view will show workflows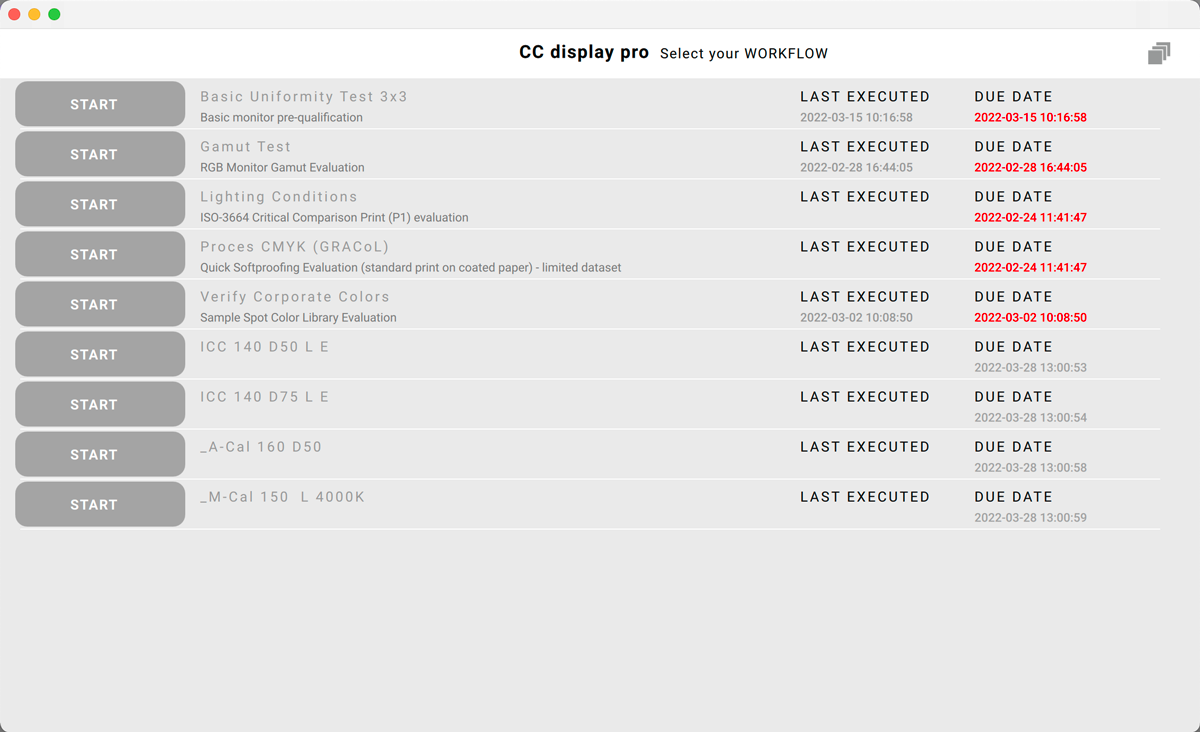 if the instrument is not connected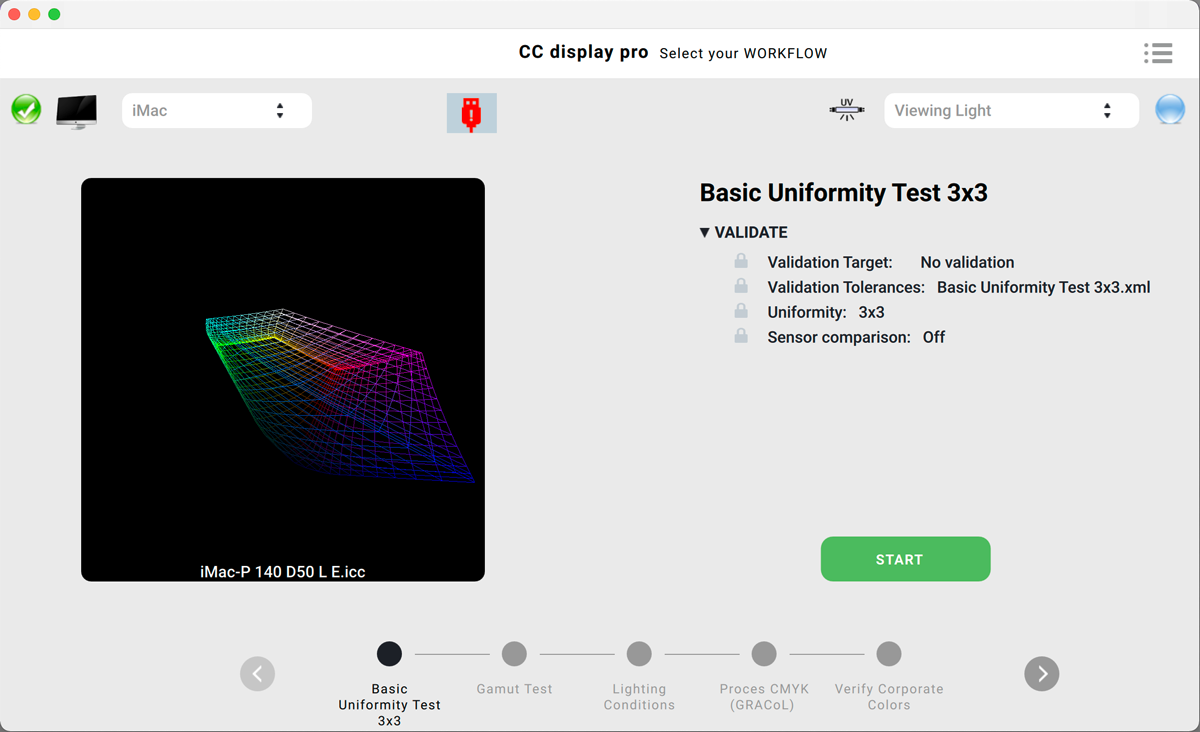 To connect the instrument click the icon

Please note that the same list now displays as a chain of bullets on the bottom. The advantage of the list view (switchable by clicking the top-right view icon is that the workflow can have some additional descriptions. Some workflows can have helper videos assigned to them.
Workflows
Click here to learn more about workflows available on the CC_Display_TEST account or just execute any workflow to see the results. To execute, select the workflow and click the Start button.
Please note that using our test credentials you don't have access to the server-side results. You may select one of the predefined workflows to perform general hardware/software/communication functions. This account is not intended to be used for experimental and learning purposes only.
Display Inspector offers a few tools at no charge, but this is for personal, non-commercial use only and free tools have limitations.
More information about your system
Hover mouse over your Monitor icon, Instrument icon, and Lighting Booth icon. Depending on your hardware configuration system will provide detailed information.
When you like the results, switch to your ChromaChecker account and configure your Display Inspector from the cloud via the Expert Log in.
Within CC Display, change the login credentials to your company's login credentials (Account name, operator name, and password). Create your own workflows based on your needs.
Ask for a trial or buy a license - you may select the Standard or Pro version. Users who have a trial version or fully-licensed version can create more operator's accounts or start with a "Default Operator" account created during the registration procedure. Then you may set the workflow according to your needs. Learn more about how to demo workflows are created by clicking any from the list. The easiest way is to modify existing samples and conduct your own test.
Please follow instructions on how to create your own workflows here.
Related Topics
Contact ChromaChecker Support
Additional information and Support Form is available for logged users.