SUPPORT - MANUALS & DOWNLOADS
Color Inspector
Tracking Brand Colors
ChromaChecker Print Inspector allows you to track the reproduction of critical corporate colors. Our tools allow you to define a color library. Another tool creates a Control Strip with colors defined in the library. Assignment to the measuring instrument creates a Measurement Template which in the next step becomes a Measurement Task. Dedicated Track along with the assigned Operator makes the ChromaChecker Capture software recognize the measurements tasks assigned to the Operator by limiting the list of choices to a minimum. The measurements made with the measuring instrument can be harmonized to obtain greater measurement accuracy.
Color Inspector offers additional features that increase productivity and facilitate work. Once configured, the system requires little skill from the operator providing very simple data collection for analysis of reproduction quality.
The Admin user can easily create his own templates - as a result of the uncomplicated configuration, operators will have simple tasks to do.
Automatic data transmission directly to the server and simple reporting for the operator make the system very easy to use. Configuring your own set of corporate colors takes a few minutes with a little practice.
The procedure below, based on the example of colors contained in the ChromaChecker logo describes step by step how to track them in the production.
Procedure
1. In Accountability Inspector enter Operator (making measurements)
– define login/password - those credentials will be required by ChromaChecker Capture Application.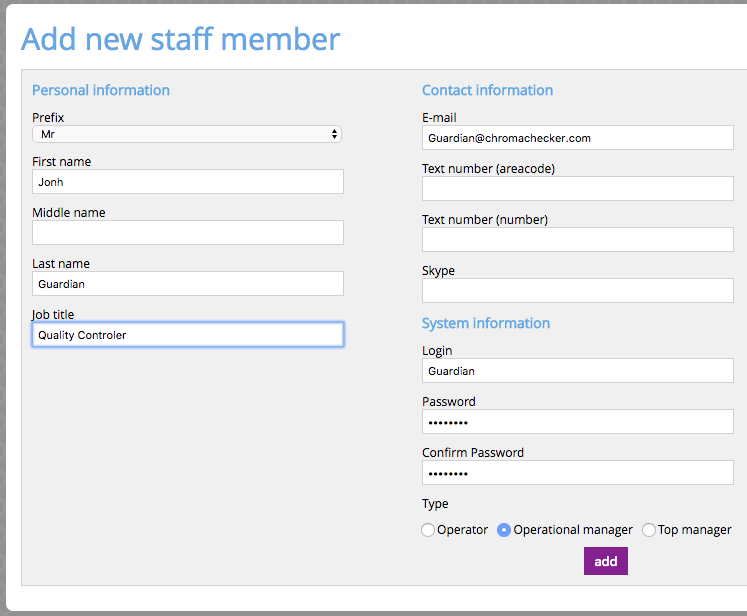 in our sample case, we have established one Operator for data capturing with ChromaChecker Capture Desktop Application.




2. Create Color Library by measuring samples or entering Lab values
Name all brand colors uniquely, specify additional information if necessary.





in our sample case, Color Library contains 6 ChromaChecker colors that exist in our logo.


—> read more how to create Color Library / Palette with the 3-rd party application here

3. Optionally enter substrate into Substrate Library
This feature can monitor if substrate used for production is in an expected range.


—> learn how to define your substrate entry in the Substrate Inspector here

4. Select existing or create Tolerances Set



In our sample case, we have decided to create a new custom set named CC QC
5. Create a dedicated Device/Track combination
all measurements will be stored there - connect. Remember to assign an Operator to Device, in Track preferences select Connected Color Library/Palette, Tolerance Set that specify Spot measurements defaults. Additionally, You may optionally set up Instrument Inspector options: validation and harmonization for more advanced system implementation.

To create "Add device wizard" may be useful (Top menu in System Overview)





We have created one additional device named: ChromaChecker Brand Color

After track creation, enter preferences and edit critical parameters:


Select ColorLibrary






and Torenances: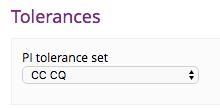 6. Create custom Control Strip (Capture Inspector)
It is very easy to create it from whole Library or just a portion of it. Add substrate if decided to track it too. Control strip is a list of patches plus very generic basic grid definition (rows, columns). The user may import existing control strip and add additional patches according to current requirements. Some type of patches require specific tools (For most users we strongly advise to use "Add Library", "Add CMYK", "Add Substrate" buttons only)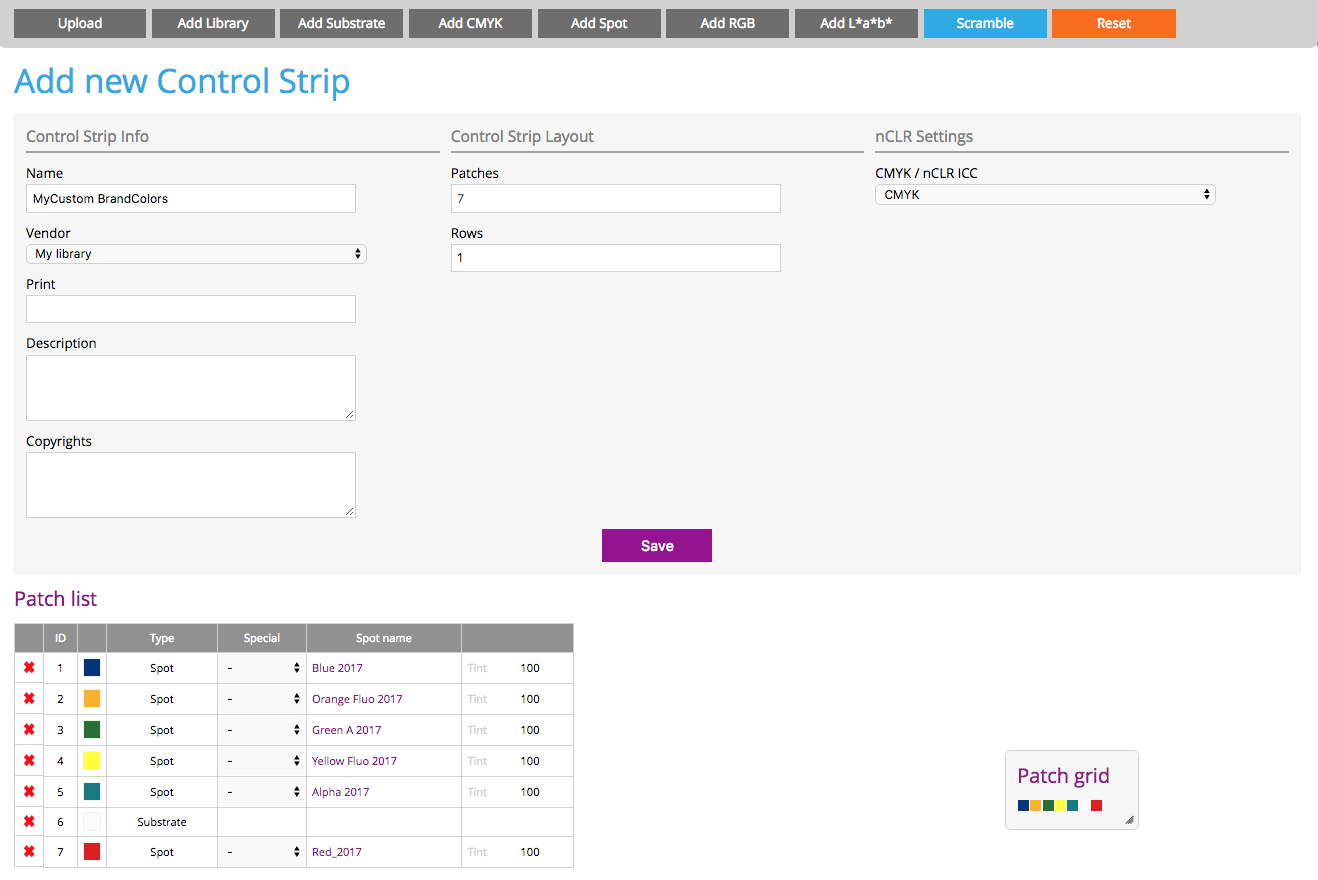 Add Library button will import whole list or just single color - additionally, the user may specify tint value.





If Substrate has to be tracked add it manually





"Scramble" Function can re-order patches to set high contrast (no additional separation bar are required)
FinalControl Strip


The final control strip was placed by the designer on the printing sheet. To draw it in the graphics program, a color library was exported to the page composing application in Adobe Swatch Exchange format (description in complementary procedures). The measuring strip placed on the sheet in a place that will not be visible on the finished product - eg on the box flap.

Note: There is an alternative solution – measurement in patch mode – instead of the control strip scanning, measurements are made a patch by patch from the predefined fields of the image (minimum required size). Strip then only determines the order of measurements.
7. Create a Scanning Template (Capture Inspector)
This step will make a link between control strip and type of measurement instrument that is going to be used. Depending on Instrument dialog box may be different as various instruments have different requirements. Scanning template adds physical dimensions to existing patch grid.


8. Manage Measurement Tasks (Capture Inspector)
Capture Inspector will create all possible combinations between Scanning Template and all tracks already defined in the system. The user may manage them to disable unwanted. By selecting operator Admin will see all active combination.

And after disabling selected:




Now the Operator will see only two tracks (all rest are disabled)

9. Set up SOAP credentials (perform this only once)
ChromaChecker Capture require SOAP credentials to get necessary information from the cloud – Admin has to activate it by creating and saving the SOAP password.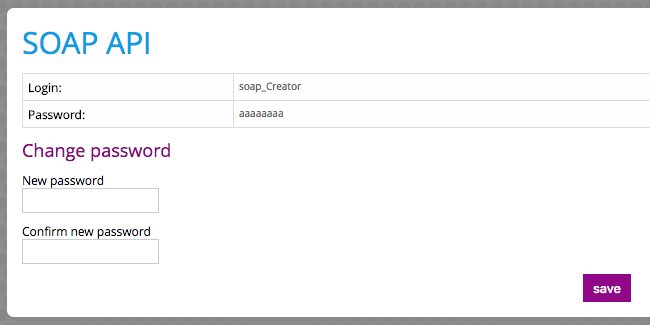 10. Launch CC Capture – measure and verify Brand Color reproduction.
Now, with defined SOAP and Operator credentials - Collect measurements. An easy report is displayed in the application, more advanced reporting is available via the iPad application or on the website (Print Inspector).
To learn how to operate ChromaChcker Capture - consult Application manual
Print Inspector Reporting
Track reporting with a timeline: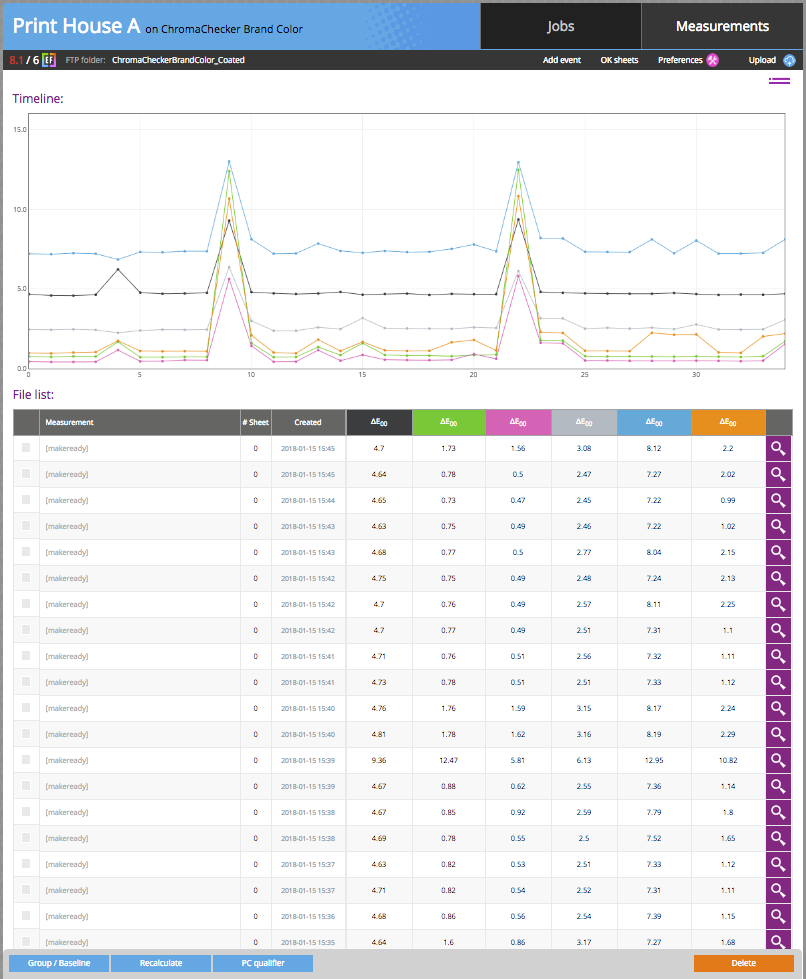 Expert mode reporting
Variation

This is a part of expert mode report. To generate Variation reporting a group of measurements has to be created first.
Supplementary procedures
1. Exporting Adobe Swatch Exchange (.ase)
Directly for Color Inspector, the user may export Adobe Swatch Exchange file (.ese) This feature is very useful for designers and pre-press operators that used to work with Adobe Creative Cloud Applications (In Design, Photoshop or Illustrator). Export dialog box makes possible to select color space (Lab, CMYK or RGB) and, measurement condition (M0, M1, M2) and type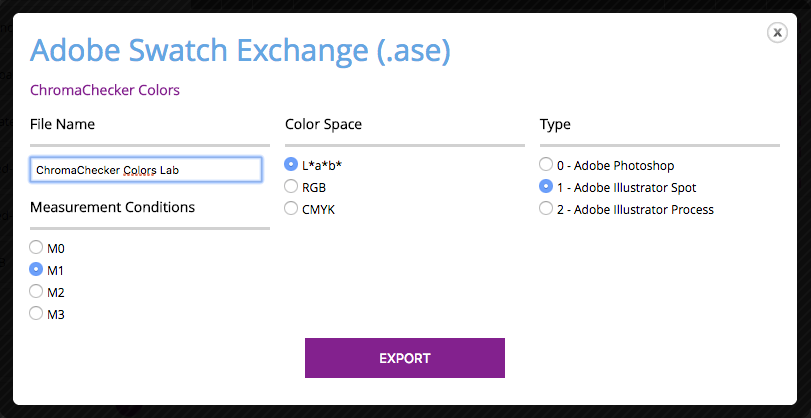 Now It is easy to import swatches into Adobe Application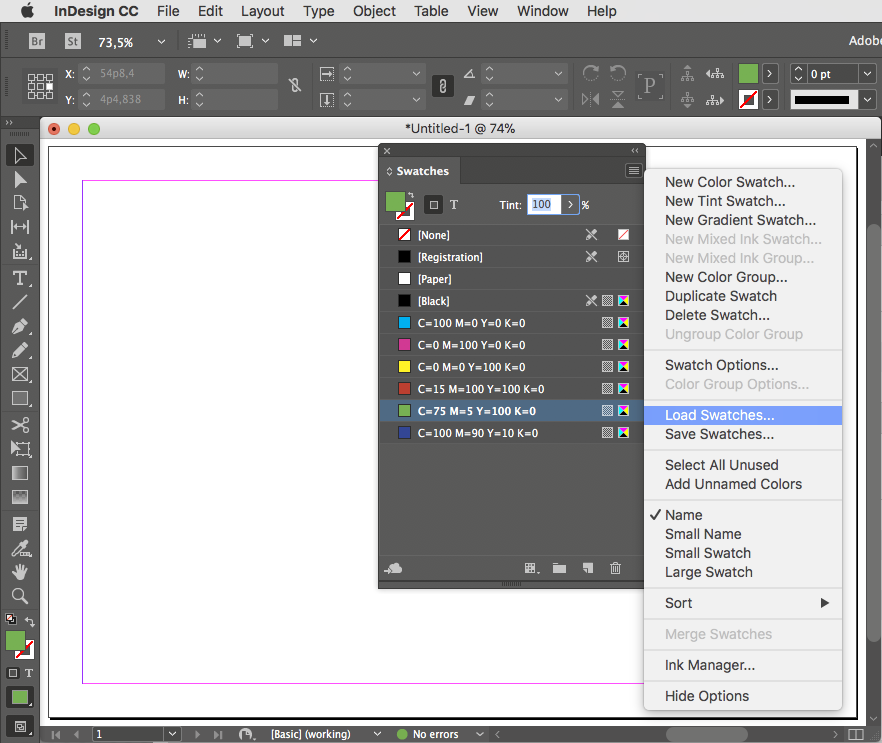 In your swatches, a separate list will be displayed: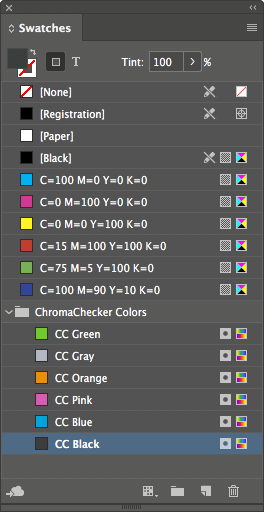 Depending on user's needs a Lab or CMYK .ese file may be useful.
2. Virtual Spot Print
You can predict how your Brand color can be reproduced in your device printing condition (Icc profile). You may be interested how precisely your proofer can render proofs and your production press/printer may simulate critical colors in process printing (CMYK, Hi-Fi, N-Color) ICC profiles defined in Color Inspector preferences will be applied to a calculation. Additionally, Delta E 2000 accuracy will be calculated: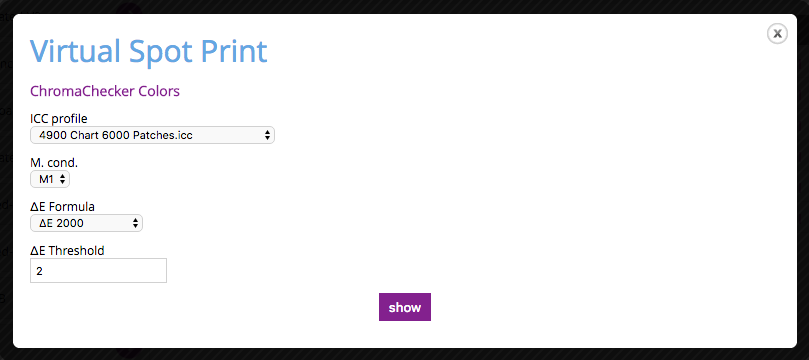 Proofer simulation (proofer device ICC profile):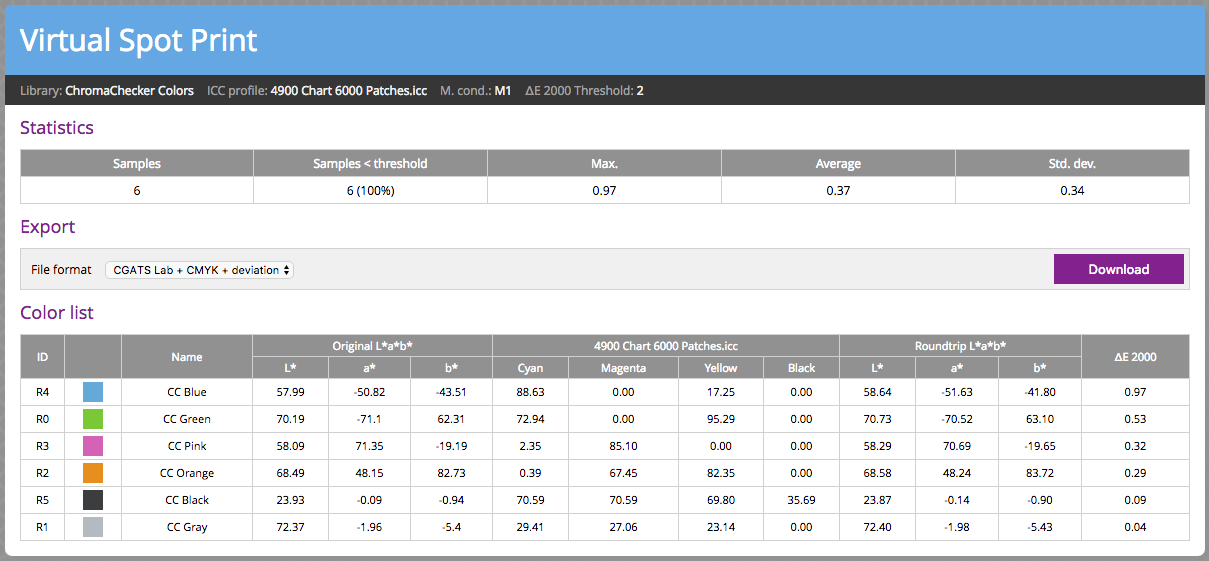 in sample case, proofer will reproduce "CC Blue" with about 1 ∆E error


On offset press (GRACoL 2013) when printing standard process predicted errors are up to 9.6 ∆E!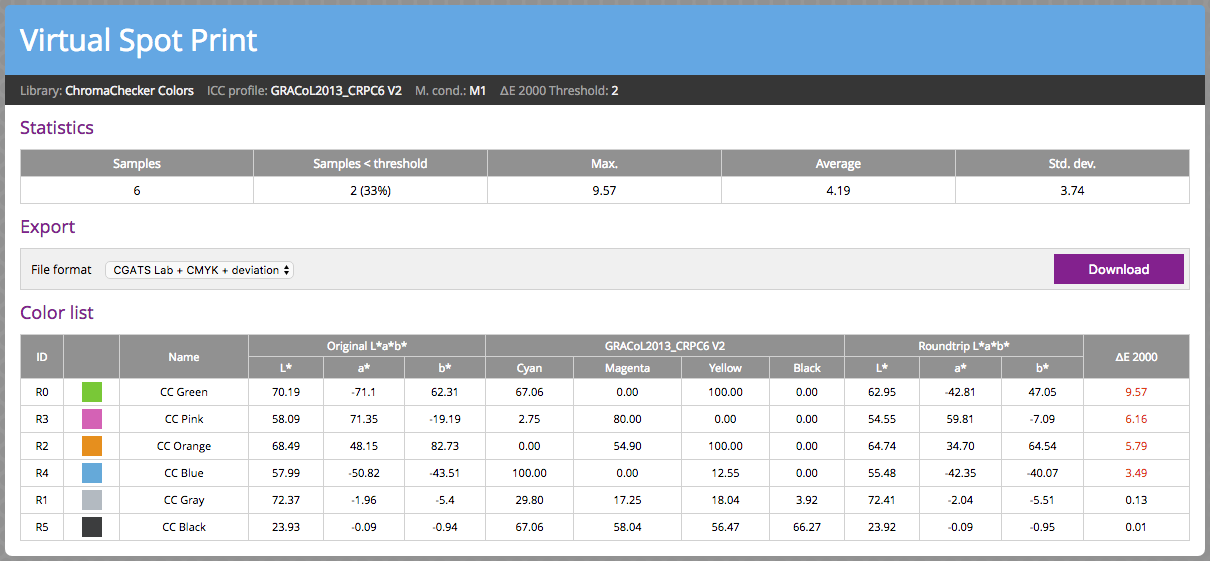 3. Exporting Lab / CMYK conversion lists for RIPs or Color Hubs
Some workflow doesn't handle CxF Color Libraries - You may "translate" your Library into Lab or CMYK values and export it to a text file that can be imported by your system. To get list select desired file format and click on "Download" button.
4. Custom Lighting condition
It might be useful to evaluate Brand colors in specific Lighting Condition. Lighting Inspector makes it possible to capture Lighting and see how Color Library - our set of Brand Color will be rendered in this particular visual environment.


5. Evaluating Tolerances
With our Spot Variator, it is possible to make a fast visual judgment of what is set as acceptable. The list of Lab coordinates makes it possible do create soft or/and hard proof examination.