SUPPORT - MANUALS & DOWNLOADS
Lighting Inspector
Capture Lighting
With revolutionary ChromaChecker™ Capture it takes less than a minute to verify Lighting, less than two to perform partial ISO3664:2009 audit, (partial due to the spectral range limitation of the i1 instrument).
To measure Lighting with Capture and X-Rite i1Pro 1 or 2 you will need:
The most recent version of Capture App launched on PC or Mac computer (Internet connection is required)
An Instrument: X-Rite i1Pro 1 or 2 with an ambient light diffuser
ChromaChecker Active Account
One time preparation steps
Go to Accountability Inspector and define the Operators that will be responsible for Measuring Lighting areas - assign each Viewing area to appropriate person enabling them to use ChromaChecker Capture
Go to Instrument Inspector — register Instrument (X-Rite i1Pro 1 or 2) and assign your Operators to them
Go To Lighting Inspector and define your Lighting Areas - select type of lighting source, verification and audit periods, choose right assessment criteria (P1 or P2)...
---
Lighting Measurements
Procedure Part 1 - Connecting Instrument to ChromaChecker Capture
Connect Instrument to USB and launch Capture App.
Enter ChromaChecker Account Name, Select i1Pro, click Connect Button


Enter Operator Credentials (defined in Accountability Inspector)




Select Lighting Inspector from Top of Menu — Click on the yellow icon.




Place the Instrument on its calibration cradle (make sure cradle has same serial number as instrument) and perform Calibration




Follow on Screen instruction - mount ambient diffusor on the instrument


Now your Instrument is ready to take measurements
Procedure Part 2 - Verification Measurement
Select Light booth (if more than one defined in the Lighting Inspector)
In template selector: select Single (verification)
Point Instrument to the Light source on the center of the working area, click measure button (on the Instrument or on the screen), wait at least 3 sec to take additional measurements
Review Quick Report:
Scenario A - Verification FAILED!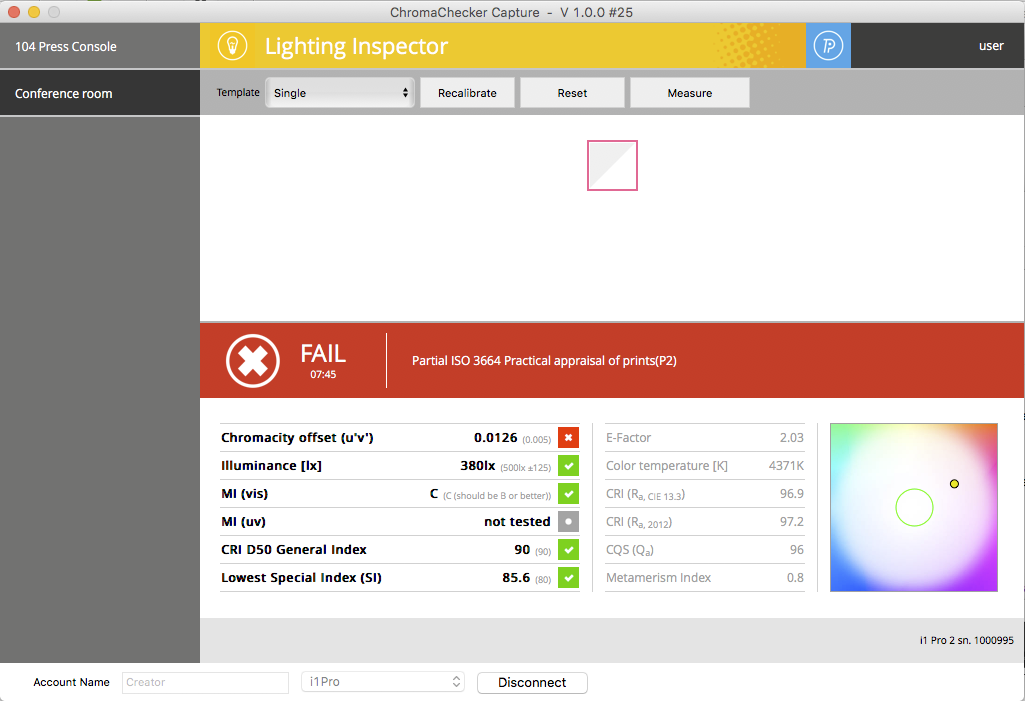 In this case, Chromaticity fails - light is too red.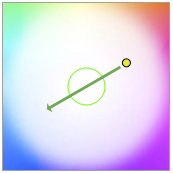 To fix this issue you may try to filter light with opposite (blue) conversion filter.
Scenario B - Verification PASSED!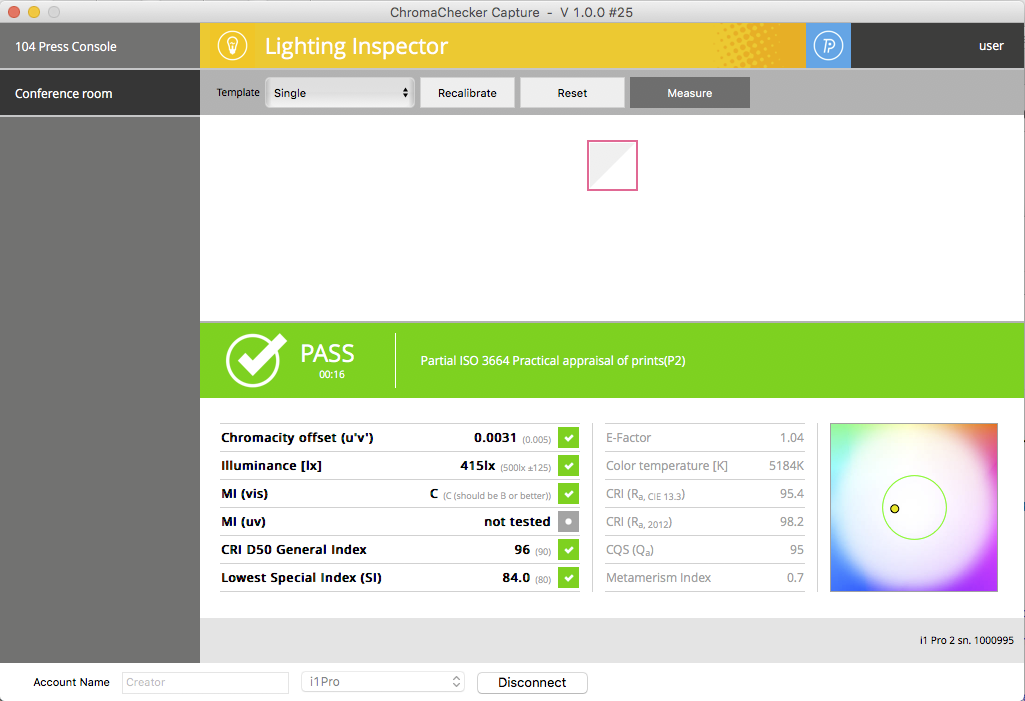 If light passed center point verification, it is a good time to perform a complete audit - that means measuring nine quadrants of the viewing area. Read on for more details.
** Notice, MI (uv) is not tested due to the limitation of the i1's spectral range. This is why an i1 doesn't qualify as a true ISO 3664 (2009) valid measurement device. Stay tuned, Capture is planning on supporting other measurement devices that will fully support the ISO 3664 (2009) requirements.
Procedure Part 3 - Lighting Audit
As mentioned above, to start an audit a single verification measurement should pass first. No sense taking nine measurements if your first measurement isn't passing. Fix the light, and then complete the audit.
For the audit we suggest measuring the top left, then top middle then top right; next measure the middle left, then center, to middle right, and finally bottom working left to right. Screen hints show the current position.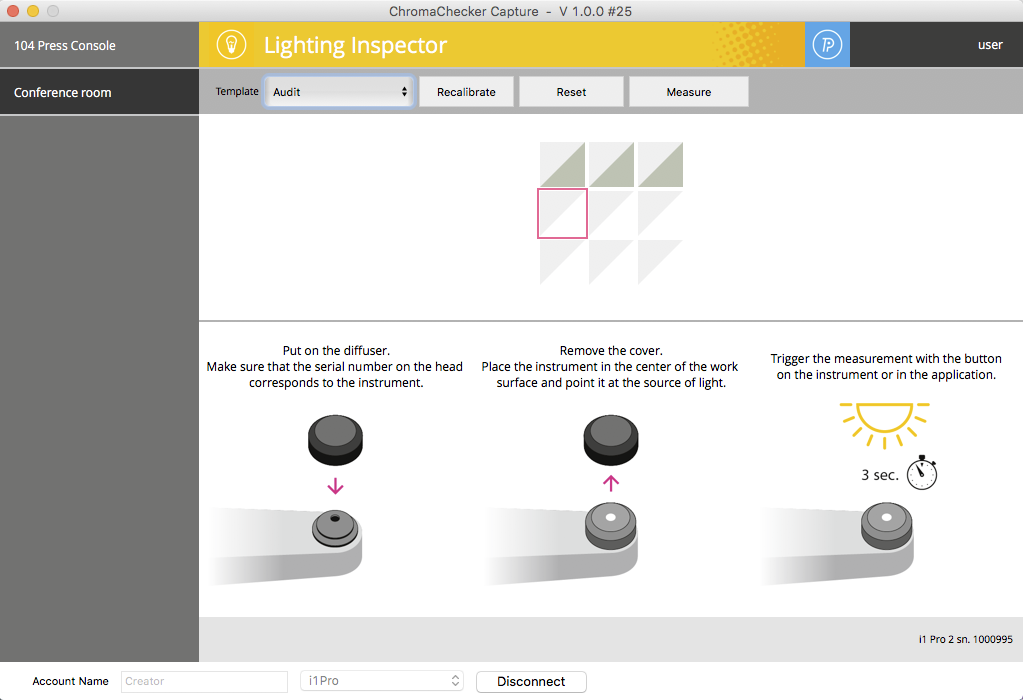 After nine measurements an audit report will be displayed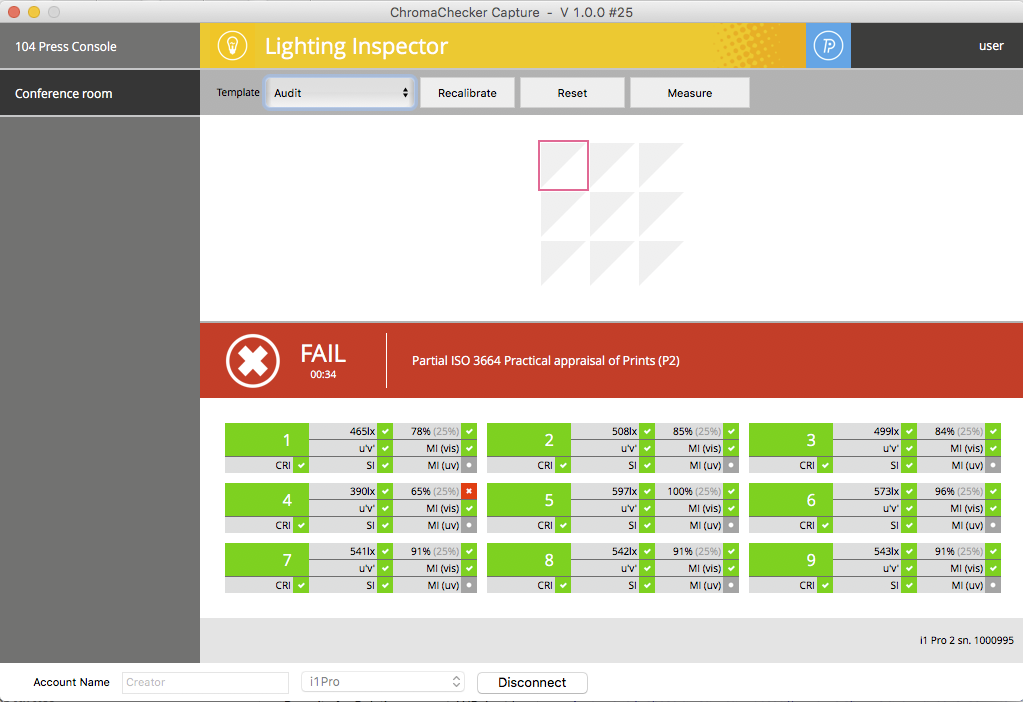 In this example, each measurement passed ISO conformance, but due to the within light booth comparison the audit failed. The middle left side (location 4) was not within ISO uniformity tolerance. In this case the error was caused by a dented reflector made of thin, polished aluminum sheet. After the reflector was replaced the booth passed conformance.