SUPPORT - MANUALS & DOWNLOADS
Environmental Inspector
Comet Data Loggers
Today ChromaChecker supports following Comet Data Loggers with Ethernet port:
T4511, T3511, T2514, T0510, T4511,T510 and T7510


To collect measurements, Comet Data Logger has to be connected to the Internet.
This device by default has IP address 192.168.1.213 – a web browser is required to set proper communication settings in order to work with ChromaChecker™ cloud.
If you need you can see a demo data logger working here.




There are 3 easy steps to go:
1. Click on Settings button, next go to Network Tab
Setup: new IP address, Default Gateway, and DNS server. You may want to obtain IP address automatically too.
2. Go to SOAP protocol tab and make it enabled.
Define SOAP server address: soap.chromachecker.com/datalogger
set port to: 80
and Sending interval to: 30 min
3. Login on ChromaChecker account and go to Environmental Inspector
On the top bar click on: Add new datalogger.
Specify device type (select model)
Device name (workflow name) ( the same as defined in device setup)
A serial number is required (available from device web page or label on the enclosure).
Set tolerance for temperature and humidity
Assign data logger to already defined printing device (optionally)
Optionally make description
Set up accountability (select responsible operator)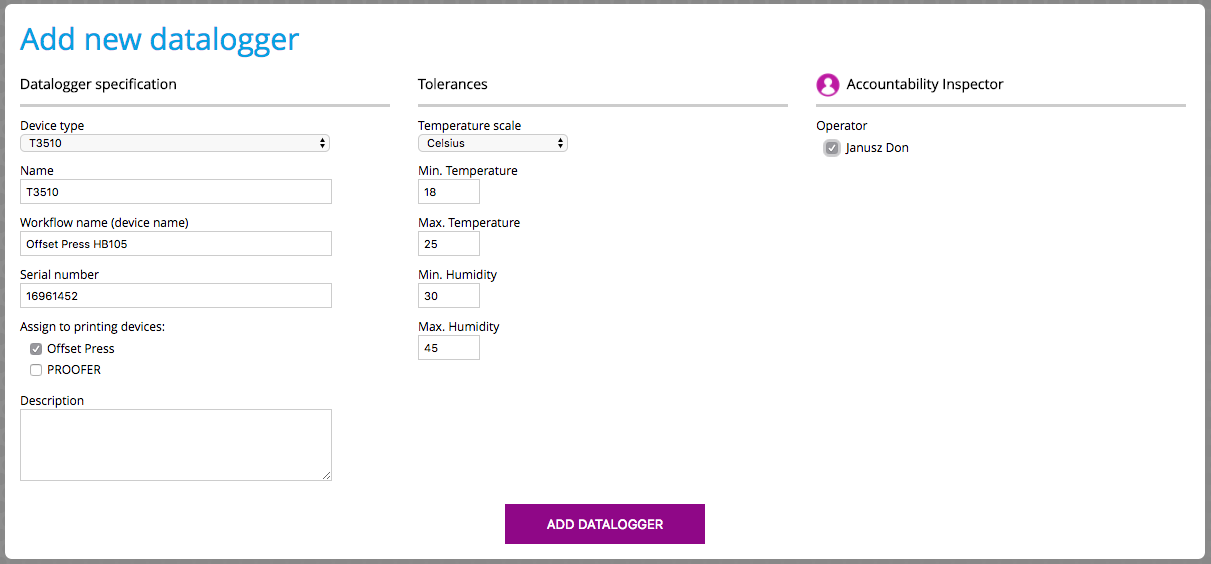 If your environmental conditions will be out of specified range a warning indicator will be displayed in Print Inspector Dashboard.