SUPPORT - MANUALS & DOWNLOADS
Supported Instruments
X-Rite eXact / eXact Scan
X-Rite eXact is supported by the limited software solutions on the market today.



APV / APS
To capture data we recommend Alwan Print Verifier. This software enables fast and efficient target scanning and automatic (FTP, up to 3 min. delayed) data upload.
To measure Instrument Inspector Targets you can download Job Templates dedicated to various Instrument Inspector Targets: B-42, X-42 or I-42
Alwan Print Verifier Job Templates for ChromaChecker Targets:
ChromaChecker™ II Target B-42 X-42.jobTemplate
ChromaChecker™ II Target I-42 Exact manual.jobTemplate
ChromaChecker™ II Target I-42 Exact Scan.jobTemplate
Quick Manual
Download related Job Templates
Launch Alwan Print Verifier
Import Job Template
Check if upload works correctly - remember - there is a delay in FTP connection ( up to 3 minutes)
Automatic Data Upload and recognition
To automate data upload the FTP account - consult how to setup FTP connection by clicking here
In Instrument Inspector go to Instrument/ Target Preferences and enter corresponding Press Name / Paper Name combination. Be sure that it is unique for all tracks and instrument/target pair in your workflow.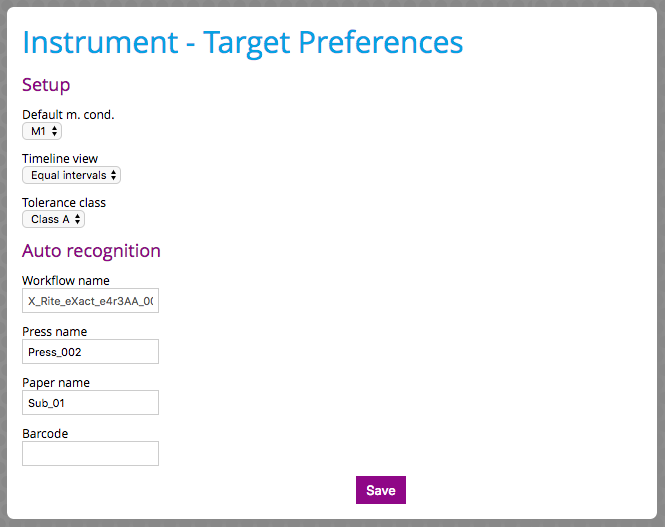 Calibration Plaque — how to measure
Instead of the normal way of triggering the measurement, press the small rod at the bottom of the instrument as shown below:


X-Rite Exact DataMeasure software
There is another possible (not recommended, but free) method to scan I-42 Instrument Inspector Target — to learn more click here.