SUPPORT - MANUALS & DOWNLOADS
Software that captures measurement data
Konica Minolta FD-S2W
Creating scanning template - Chart File
Connect your FD-9, launch Konica Minolta FD-S2W application


Go To Setting / Environment


select language, units ...

And in "Measurement Option Tab"


Define measurements Conditions (e.g. M0 and M1) + Spectral data (mandatory).
Specify Export Path and file format: select txt File (*.txt)!


From top menu select "Open Chart File"




Select file with patch list downloaded from ChromaChecker site:


select cgats File (*.txt) to filter proper kind of input file.
In this example, H-100_Standard_v.1_02.txt will be imported into the application.

To learn how to get patch list form ChromaChecker Website for any Control Strip defined in Public Library or any custom one click here.


The application will display patch grid:




Now right click on the list to edit Chart Definition - the purpose of this step is to set dimension for patch grid

The user has to define:


Page Size ( physical dimension of printed sheet) in selected units (mm in this example)
Position of left top corner of the control strip (mm)
Patch Size (mm)

Additionally, the user may want to rotate control strip or reorder patch list to match printout.

Remember that according to FD-9 specification bottom (33mm) and side (5 mm) margins are mandatory.


Save Chart Definition


Select checkbox to show the application that selected Chart is going to be measured


Insert printout into FD-9 - if everything is OK the process should start automatically


Go to Export Path (previously defined in Measurement Option Tab) and upload measurement files to ChromaChecker website.
Additional Tips
You may duplicate existing Chart File, edit it if necessary. For various chart locations, multiple chart files will be required.
User may want to increase accuracy by setting more readings per patch
But be sure to use the same settings all the time!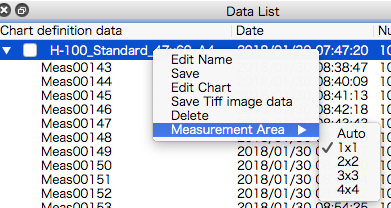 For example, If you are building H-100 harmonization target measurement area MUST be the same for H-100 and future production measurements. Never use different settings!
The fully automated system based on FD-9
The following description shows an advanced, automated solution allowing for fully automatic measurement and interpretation of data for virtually any number of machines and various printing substrates. The practical limit is the time needed to scan one sheet.
Sample case
The solution shown here is an example of a production hall with 3 digital machines and a Konica Minolta FD-9 scanning spectrophotometer equipped with an automatic feeder. Each machine can work on one of several print substrates from a list of four standard substrates.
The task of the system is to monitor the work of each machine, broken down into each of the substrates used in production.
Solution
For the monitoring, a test form VI-816 has been proposed, giving many analytical possibilities and creating calibration curves if required. Of course, VI-816 can be replaced with any test chart, common or custom.
In this case, 3 presses x 4 substrates provides 12 possible combinations
The preparation and queuing system must ensure that the test sheets always reach the right press and that the selection of the chimney corresponds to the substrate used. This is the most difficult component to automate because it depends on the used barcoder. The diversity of systems is great and the adopted solutions are very different.
Defining tasks
All 12 combinations must now be defined in the system.
The selected test form must first be defined in the FD-S2w program. The twelve possible combinations are 12 settings and the accompanying QR codes - just after the definition of the first one - copies can be saved under successive names - renaming will generate a different QR code - this code will cause FD-S2w to recognize the name and use it at the beginning of the file name. Now all you need to do is indicate the location where the program is to save the measurement results - each combination will have a different beginning of the name
ChromaChecker Print Inspector
Each of the 3 machines must be defined in the ChromaChecker system - each machine must be defined with 4 printing grounds - for each base, an individual ICC profile can be loaded or selected from the list of commonly used
ChromaChecker Uploader
The last stage is to build an automatic connection between FD-S2w.
Building a connection means defining 12 search tasks for the export directory - each task looks for another string of the initial name - sending only a file that meets the given condition to the corresponding track on the ChromaChecker server.
Once we have a duplicate task, we count as many times as the combination has been created - by editing only what differs the combinations between each other.
Operator's work
The operator's task is to provide test printouts to the FD-9 feeder. The tray has a capacity of up to 100 sheets - the machine operator's involvement ends.
Optionally, for information purposes, we can provide each operator with an iPad application or running on a desktop computer that will display the report immediately after the measurement. Each machine will have a report only for itself.
Technical limitations
In practice - one A4 or Letter size page with VI-818 requires about 4 minutes to be loaded, prescanned, recognized and finally measured by FD-9 - it means that during 1 hour 15 different test charts can be analyzed by one single FD-9 instrument. Of course, there is no problem increasing the amount of FD-9 and in this way increase the ability to perform measurements.
There may be limitations resulting from the width of substrates accepted by FD-9, but practical parameters in the thickness range even exceed the ones indicated by the manufacturer.
In some situations, such a solution may have the disadvantage of delaying printing time and measuring time - the system registers the date of measurement. If such a limitation is an obstacle to a correct assessment - please contact us - there is a possible solution to fix this error - but it adds additional costs and makes the system a bit more complicated
Benefits
FD-9 is a high-class solution. The instrument is very stable and predictable, the measurements are repeatable and the device itself is reliable. The optional feeder and ceramic patterns make the productivity and precision of measurements can be further increased. Network and Ethernet operation, a color screen with basic messages mean that the control computer can be placed outside the production hall.
ChromaChecker offers unprecedented analytics for such measurements, offering solutions not only analyzing errors but allowing proactively reducing errors and correcting them.
The combination of Konica-Minolta and ChromaChecker solutions is ultimately very simple to use, offering an unprecedented level of automation at a low cost. The system allows for remote monitoring of systems in which hundreds or even thousands of printing devices are monitored. On the one hand, technical corrections - eg - calibration correction or G7 curves, and on the other - statistical analysis in many possible shots.
It takes less than an hour to configure the system. We only require the printers to transfer the printout from the machine and place it in the feeder. We offer typical configurations - but the system can be tailored to individual needs to a large extent.
...and more
On individual request, we offer an even more advanced solution - when the analysis of production quality (with certain limitations) is carried out without a test company - based on a printout analysis. If the graphic of, for example, a printed label allows defining a sufficiently large homogeneous field, the system can use them instead of fields in dedicated measurement strips. It is possible to analyze not only CMYK colors but also in more complex models.
The ChromaChecker system can support many types of measurement patches not available in most other systems, including a collection of patches for very special measurements (registration, slurring, etc.)