SUPPORT - MANUALS & DOWNLOADS
Instrument Inspector Targets
ChromaChecker/ LUCIDEON CL-36
ChromaChecker/ LUCIDEON CL-36 is an enhanced set of BCRA ceramic Standards produced by LUCIDEON (formerly CERAM).
BCRA Standards are the accepted international color standards for instrument precision. These standards may be used to calibrate color spectrophotometers or to verify standardization. BCRA set consist of 12 tiles - CL-36 is enhanced to 35 ceramic tiles 12x7 mm + one synthetic OBA patch.
CL-36 Target is designed for both spot and scan modes. All tiles are aligned in a single row (12 x 254mm).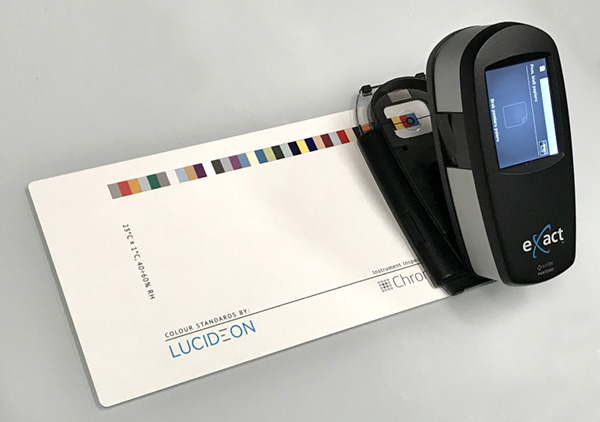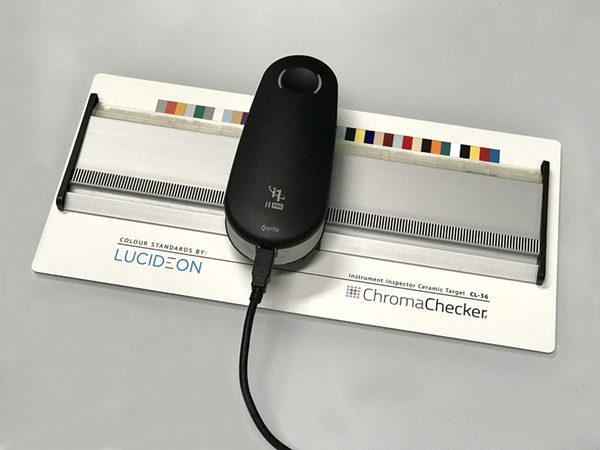 Physical dimensions of the Target are 350 x 170 x 2.25 mm – they are arranged on a flat surface for easy instrument movement (scan mode tested with i1Pro 2 and eXact Scan).
To scan CL-36 use following list of virtual CMYK references:
APV users can download CL-36 Job Template:
ChromaChecker LUCIDEON CL-36.jobTemplate
List of the ceramic tiles:
Cyan
Zandy
Muritan
Niarie
Fluor ( synthetic / non-ceramic)
Traffnic
Frolick
Aubergine
Groft
Concore
Carcite
Crop
Broga
Aquanos
Limoncello
Blosh
Anine
Carillion
Aquane
Sainted
Lampadas
Falkner
Dhanab
Dove Grey
Solus Esteban
Sloop
Purple Haze
White D
Perez
80% Blue Grey
Luxury
Murcia
Naraj
60% Blue Grey
Emerald
Lecram
CL-36 is the high end solution for tracking instrument precision. During measurements, keep ambient temperature 23+/- 1°C, 40-60% RH
Ambient conditions are critical for ceramic standards due to thermochromism.
For testing purpose, a printed mock-up may be useful. The user can print this target to check if any particular instrument/ software can be used. The thickness of actual Target is 2.25 mm