SUPPORT - MANUALS & DOWNLOADS
Print Inspector
iPad Printroom Dashboard App for the Managers
This software enables remote monitoring for many printing presses at the same time.
The machines can be located in different locations and an Internet connection allows you to view from any point. Current job name for each press will be displayed. Each measurement will be plotted on the graph.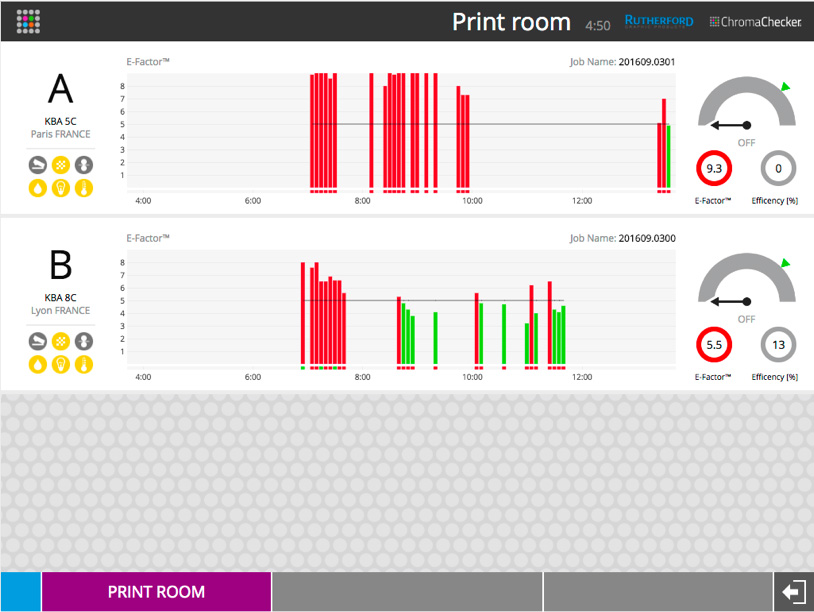 On this example: two presses in tho different locations (Paris and Lyon). Last 10 hours view. Each measurement is represented by a vertical bar. No bars - no measurements! Gray- Make ready sheet, Green – production and within tolerances, Red - Production and outside of tolerances. Horizontal axis represents a ten hour time period, vertical axis represents the E-Factor,
There are several requirements to use PrintRoom Dashboard:
A ChromaChecker™ account with active Print Inspector subscription plan.
Accountability Inspector's sub-users accounts with proper operators/ managers assignments have to be defined. A manager log in / password is required for the App.
Press side software configured for automatic data upload (FTP or SOAP protocol).
All presses have to be defined within ChromaChecker, with defined tracks for printing conditions.
We recommend to switch between make-ready/ production modes - system will recognize that difference.
Ideally an automatic track recognition feature should be configured within ChromaChecker.
We recommend to set-up Instrument Inspector, Setters, Nip Inspector, Lighting Inspector to correctly monitor system variables.
Dataloggers should be installed for on-line temperature/humidity and fountain solution pH/conductivity tracking.
To report productivity of press, operator should identify mode for each measurement file (make-ready or production).
We recommend using ChromaChecker Ready software (e.g. PrintMeasure) or minimally software that can automatically export measurement data so ChromaChecker Data Collector can upload automatically.