SUPPORT - MANUALS & DOWNLOADS
ChromaChecker Test Forms
Visual RGB Tests
Test Pages: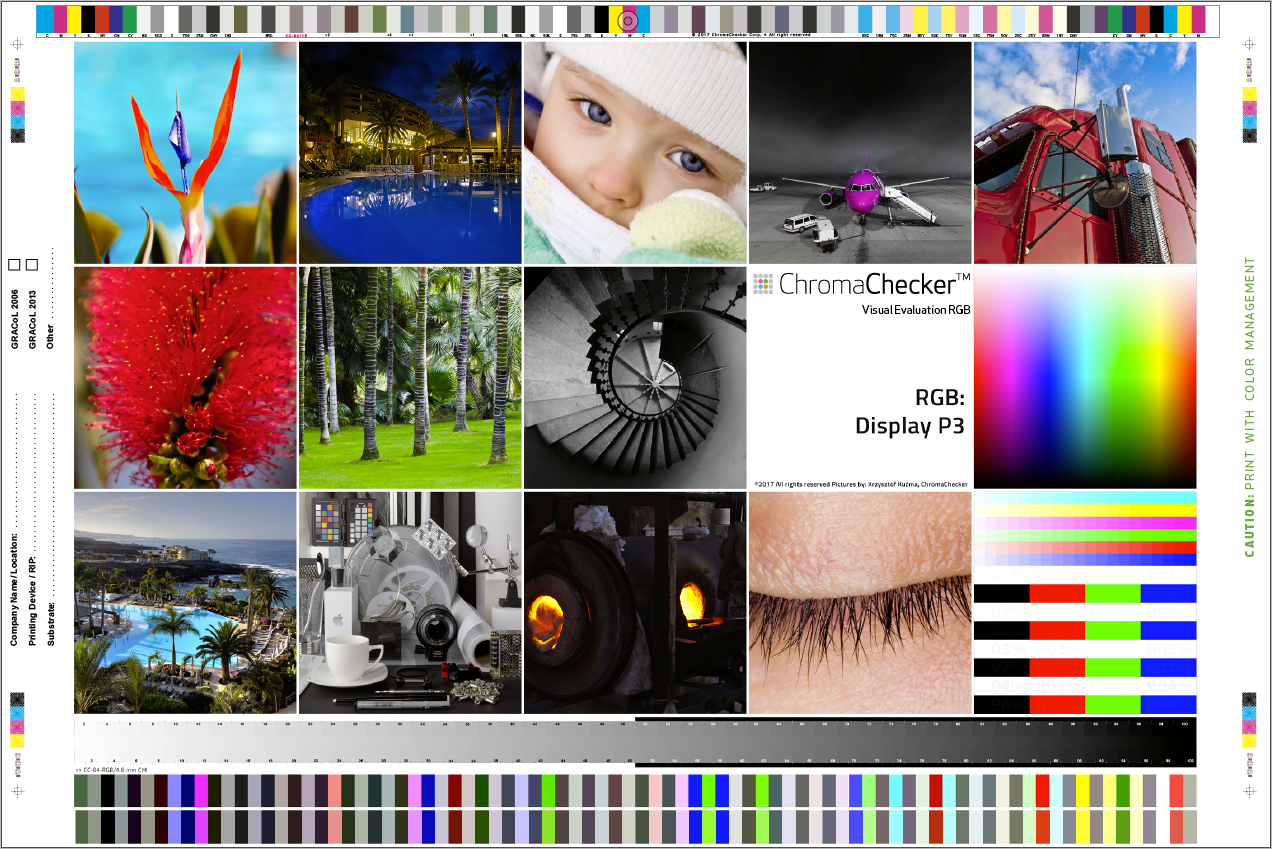 Several key RGB spaces were applied to create following test pages:

ChromaChecker™ Visual RGB / ROMM-RGB
ChromaChecker™ Visual RGB / ProPhotoRGB
ChromaChecker™ Visual RGB / image P3
ChromaChecker™ Visual RGB / eci RGB v.2
ChromaChecker™ Visual RGB / Display P3
ChromaChecker™ Visual RGB / DCI P3
ChromaChecker™ Visual RGB / Adobe RGB
Note:
All test forms are copyrighted. All right reserved.

All pages are 18x12" — it's safe to enlarge files up to 200% (original effective PPI=600) or reduced to 85% (due to patch size if has to be measured with 2 mm aperture instrument)

File size is about 30 MB – RGB images are 16-bit

On the top of the page, there is a CC-84 control-strip assigned to GRACoL 2013 - It is intended to be scanned with 2 mm aperture instrument (e.g. X-Rite eXact Scan)
Visual Tests Elements
Set of Pictures
A selection of wide-gamut pictures shows how hard is to manage color management when wide gamut space is applied. Original pictures were developed from HRD RAWs in ProPhoto RGB space. Retouching and color enhancement creates pictures hard to display on non-wide gamut monitors, print on mid-class devices.
But at the same time when printed on hi-end systems brings unique visual value.


Extreme Hi Saturated pictures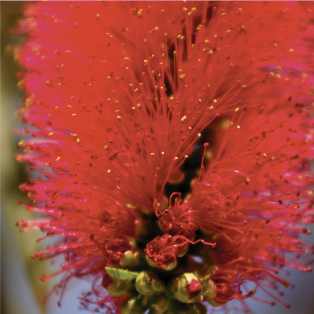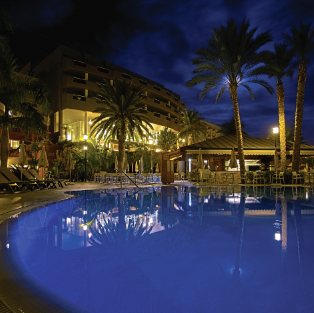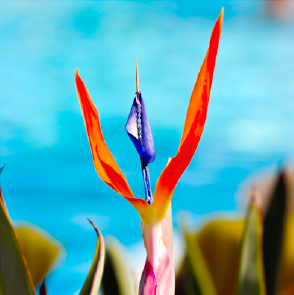 Observe how easy is to lose most of the details when doing ICC profile conversion. With those pictures, we can effectively compare different variants of ICC profiles even when based on same characterization data set.
Rubin vivid red Flower is out of most color spaces – only a few RGB spaces will address this sophisticated hue.
On the swimming pool bottom, there are visible tiles - you can see them and a reflection on the water at the same time. Sterlizia uses hues very hard to reproduce - the whole picture makes huge problems to convert.

High saturated Pictures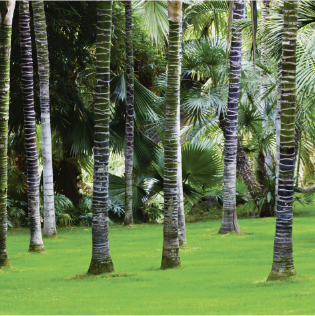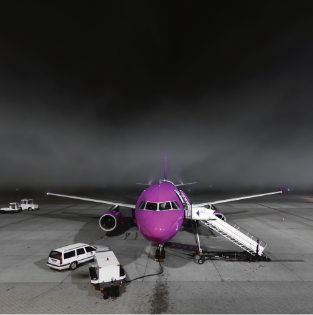 Red trucks are used for well-recognized soft-drink distribution worldwide — This is a good example of memory color. Everybody knows how sunny day blue-sky looks. Palm Forest represent hard to reproduce green colors.
Aircraft vivid magenta body has shading that during conversion might change how we perceive the shape of its nose.
Skintone Pictures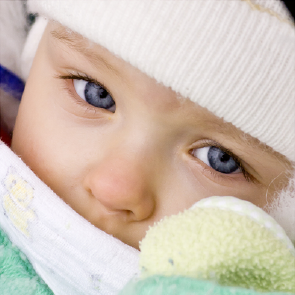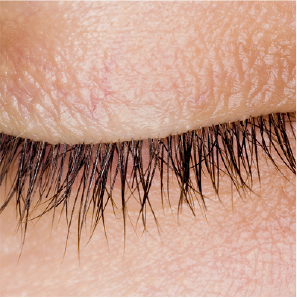 Another example of memory colors - we know what to expect ...
Neutral or near-neutral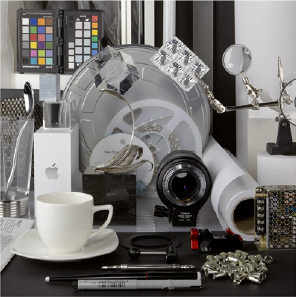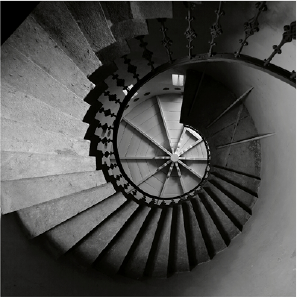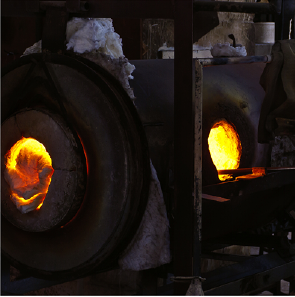 Still-life - on this picture there is a lot of well-recognizable materials like porcelain, various metals, tins, paper, aluminum foil, cardboard. A staircase is B&W picture. The last picture was taken in the glassworks, where we see the glass melting in the darkness. Look at details in deep shadows – you can see a lot before printing...
Synthetic Spectrum
Original file may be hard to display but it looks smooth and uniform: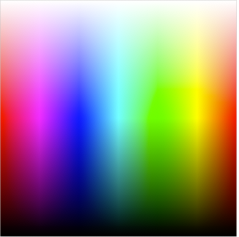 After conversion, space is distorted, the original homogeneity is disturbed, the artifacts appear in the image. Their shape and position show what colors are subjected to strong deviations, which areas cause loss of fidelity to reproduction: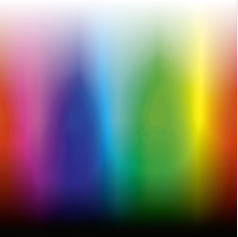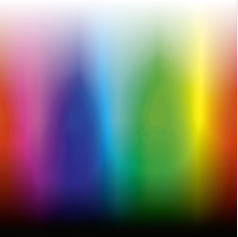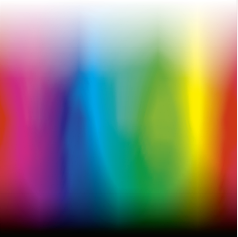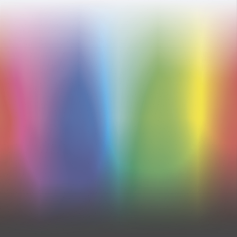 various examples of space distortion
Synthetic RGB Ramp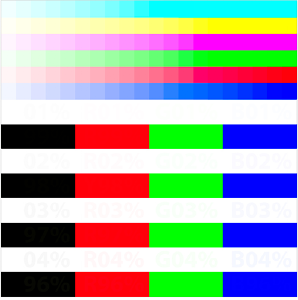 This element consist of two general parts :
20 step wedges for primaries and secondaries
Reproduction of G, G, and B for: in 1, 2, 3, 4, 96, 97, 98 and 99%
Synthetic Grey Ramp

This element helps to evaluate grey-balance, tonality, and tone-ramp.
It is 3-row composition:
upper row consists of 50 steps 2% each,
the second row is a continuous gradient,
last third row is built of 100 steps (every 1%)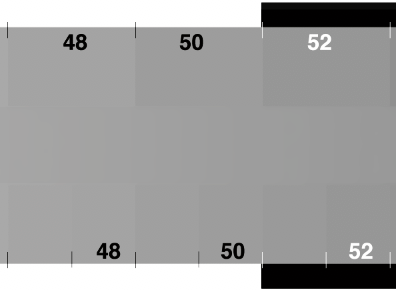 Close-up on a fragment of a scale showing three rows...
CC-84-RGB

This is a new RGB ChromaChecker Control strip. Software for RGB analysis is under development and will be available 2Q2018. It contains 84 key RGB addressed patches that helps deeper analysis of how RGB space is reproduced through the workflow.
CC-84-RGB is placed two times - upper strip is color managed, when lower not. It is to both visual and metrological purpose.
Typical Test Scenarios
Print with your printing device to evaluate how it manage pictures in RGB space.
Display on the monitor to see how your monitor can handle wide-gamut pictures as well as control grey balance
Use test pages to test ICC profile / Color Management Engines, Color Servers – compare various RI, variants of profiles based on same characterization dataset