SUPPORT - MANUALS & DOWNLOADS
Control Strips
VI-816 Variation Test Chart
Vi-816 is developed by ChromaChecker™ and is copyrighted. ChromaChecker™ users can use it as long as they have a valid Print Inspector subscrition.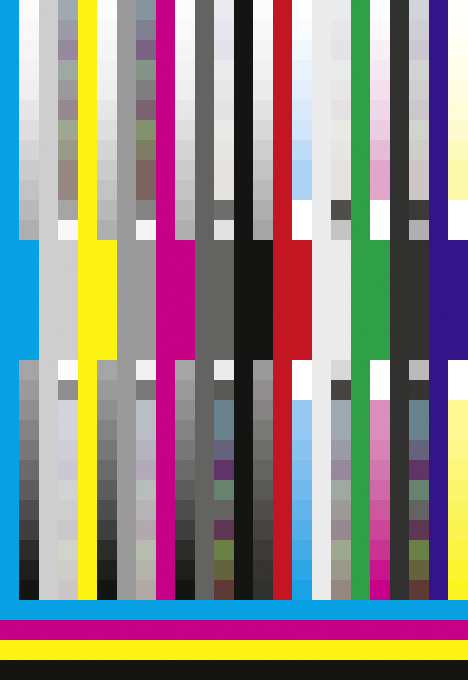 VI-816 is to calculate the variation of the patches of the same kind located in various locations on the sheet. Additionally test firm contains all patches required to analyze dot gain and grays including accurate G7® calibration. In order to measure variation, we strongly recommend selecting larger possible variant of this test chart. VI-816 is designed for digital presses, but it can be also used for any other output devices. If the output device has larger sheet it is recommended to print two or more copies to efficient cover as much as possible from whole device printing area.
The size of the Test Chart is determined by:
printing sheet size
a scanning device that has to measure it
Supported instruments:
X-Rite iSis ver. 1 or 2
X-Rite i1iO ver.1 or 2
X-Rite i1 Pro ver. 1 or 2
Konica-Minolta FD-9
As we are offering basICColor Catch 5 templates also other instruments have potential ( but not tested) ability to operate with this test form.
VI-816 has many version - dedicated for various instruments and prepared for a different size. If possible we recommend to use a version without separation bars, but for some instruments, there is no choice.

If you need very specific size try to re-edit existing i1Profiler templates. Be sure that general view of the chart is not lost (34x24).
VI-816 for X-Rite iSis ver. 1 or 2
All iSis test forms can be scanned with i1Profiler (demo version - free software) or basICColor Catch -commercial software with the automatic upload feature.
A3 (297x420mm)
patch size: 11,0 x 10,5 mm, large bar size: 267,5 x 6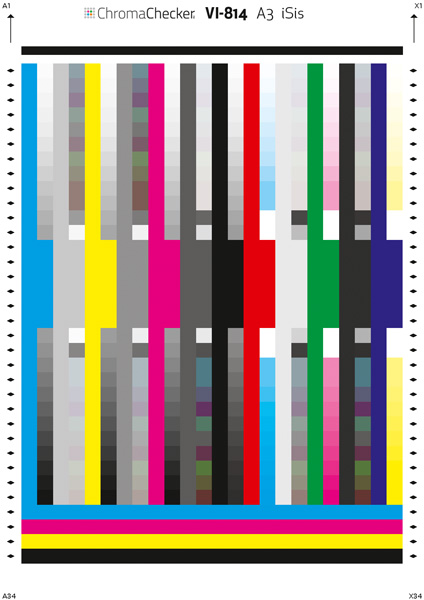 click to download test form + templates


Tabloid (279x432mm)
patch size: 10,5 x 10,7 mm, large bar size: 249,2 x 6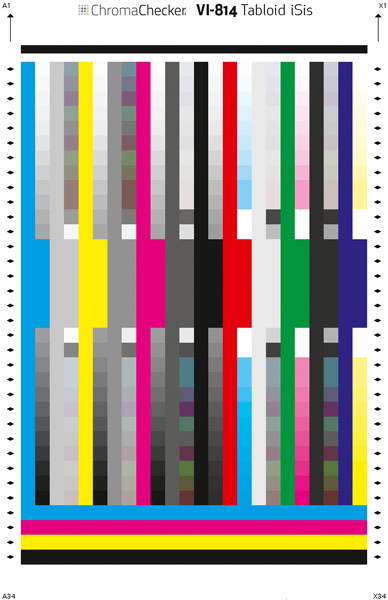 click to download test form + templates
Legal (216x357mm)
patch size: 7,7 x 8,2 mm, large bar size: 186,2 x 6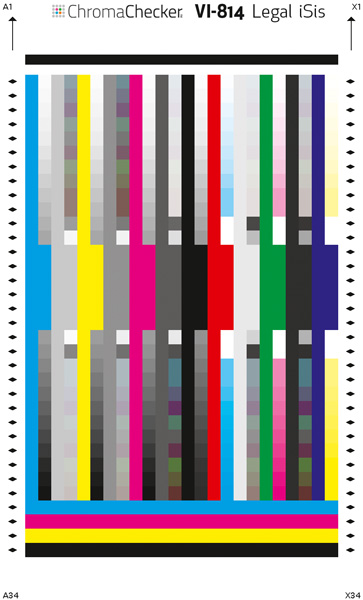 click to download test form + templates
Letter (216x 279mm)
patch size: 7,7 x 6,2 mm, large bar size: 186,2 x 6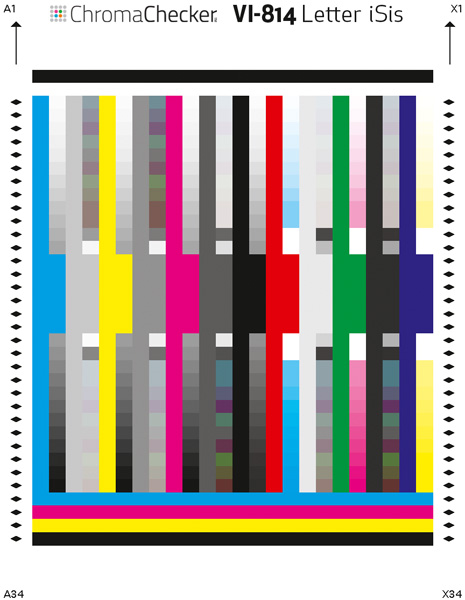 click to download test form + templates
A4 (210x297mm)
patch size: 7.5 x 6.5 mm, large bar size: 180 x 6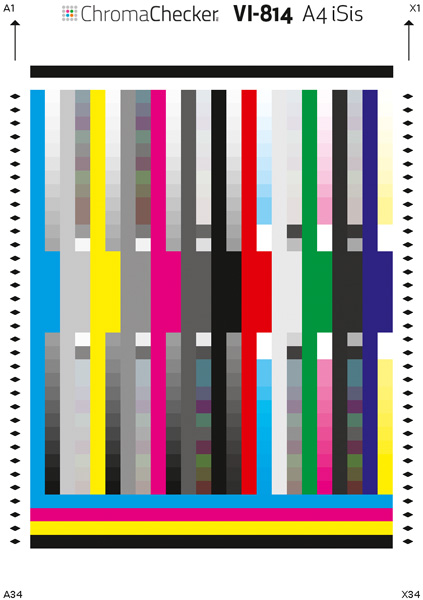 click to download test form + templates
X-Rite i1iO ver. 2
A3 (297x420mm) for ver. 2
patch size: 10,5 x 10,5 mm, separation bar size: 0,5 x 10,5 mm, 2 pages on one sheet
click to download test form + templates
Tabloid (279x432mm) for ver. 2
patch size: 9,7 x 11,0 mm, 2 pages on one sheet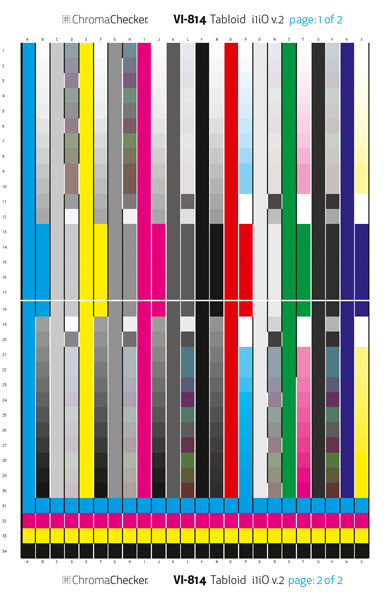 click to download test form + templates
A4 (210x297mm) for ver. 2
patch size: 7,5 x 7,7 mm, 2 pages on one sheet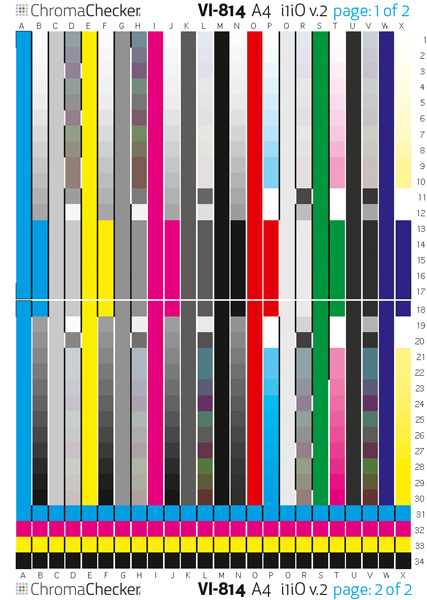 click to download test form + templates
X-Rite i1iO ver.1
Tabloid (279x432mm) for ver. 1
patch size: 10,5 x 11,7 mm, separation bar size: 0,5 x 11,7mm, 2 pages on one sheet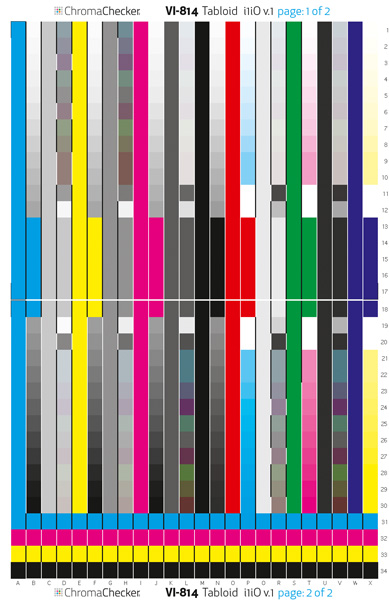 click to download test form + templates
X-Rite i1 Pro ver.1
Tabloid (279x432mm) for ver. 1 (separation bars)
patch size: 8,7 x 12 mm, separation bar size: 1,2 x 12mm

click to download test form + templates
X-Rite i1 Pro ver.2
Tabloid (279x432mm) for ver. 2 (no separation bars)
patch size: 10,0 x 11,7mm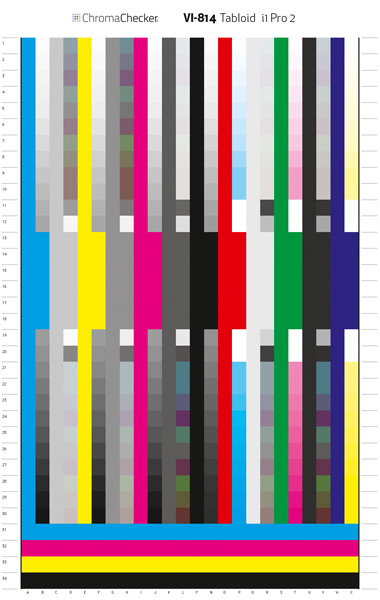 click to download test form + templates
basICColor Catch 5 users can download full VI-818 package
i1Profiler users may use Patch Set file to adjust page size parameters: