ChromaChecker – 5 steps to Color Conformance




for Brand Organizations

1. Standard

2. Benchmark

3. Adjust

4. Track

5. Integrate

Determine Brand's Production Standard based on visual results quantified as numeric values to hold the supply chain accountable to expectations.
Numeric value for process color production standard
Numeric value for spot color production standards which is 6 more precise than delta E

Image Exercise
Spot Exercise

Benchmark existing Suppliers

–

verify precision and accuracy
Learn which devices are most out of alignment,
May need to adjust the Production Standard number to be higher or lower based on how the majority of your printers are performing

Allow the Suppliers to access built in tools to help them keep their printers in alignment, supporting suppliers to render color to brands expectations

Iterate G7 Curves without performing dedicated press runs
Create ICC Profiles to control printers

Track and report how each supplier is performing on a daily, weekly and monthly basis,
Automatically send reports to management and each supplier to provide continuous improvement
Create customer Job reports on how a job ran on every supplier within the company, any where in the world

ChromaChecker benchmarks any new Supplier before they are brought on to ensure they can render color within the brands production standards.
Prevents serious loss of revenue due to suppliers not meeting expectations
Ensures Suppliers have sufficient capability to meet customer expectations.


Print Buyers are using ChromaChecker to provide a simple dashboard for reporting on color quality. This is about setting and monitoring your expectations for print production and having a centralized method for communication quality standards as Pass or Fail. The ChromaChecker platform tracks the precision and accuracy of all printing devices for consistency and accuracy to industry standards such as GRACoL and for even tighter tolerance, set custom targets based on specific work. The dashboard shows real-time pass/fail results regarding process and spot colors based on agreed-upon expectations. Image showing "Welcome Screen" Dashboard
ChromaChecker stands out due to its ability to add value for production by providing operator guidance as well as color experts to maintain consistent and accurate results. This approach makes the Print Buyer and Print Service Provider true partners in the design through the production process by achieving shared goals. Providing centralized libraries and analysis tools in the form of Inspectors for print devices, lighting, spot color, object color, environment, substrate, ICC Profiles, and G7 Curves streamlines the common variables in the print process.

Highest Quality Tolerances
When the highest level of tolerances is required, ChromaChecker helps production environments monitor results by reporting on all the aspects that need to be maintained including achieving the highest level of color tolerances. In addition, tools are available to provide efficient solutions for simple tasks such as iterating G7 curves, ICC Profiles, Control Strip design, and color lookup tables, to name just a few. While the highest standards are always a priority – the type of work being produced will define the appropriate tolerances. This is made simple using ChromaChecker by identifying the full capabilities of the printing device within known limitations. this coupled with the substrate and material specification provides the tolerances to match the job and pricing model.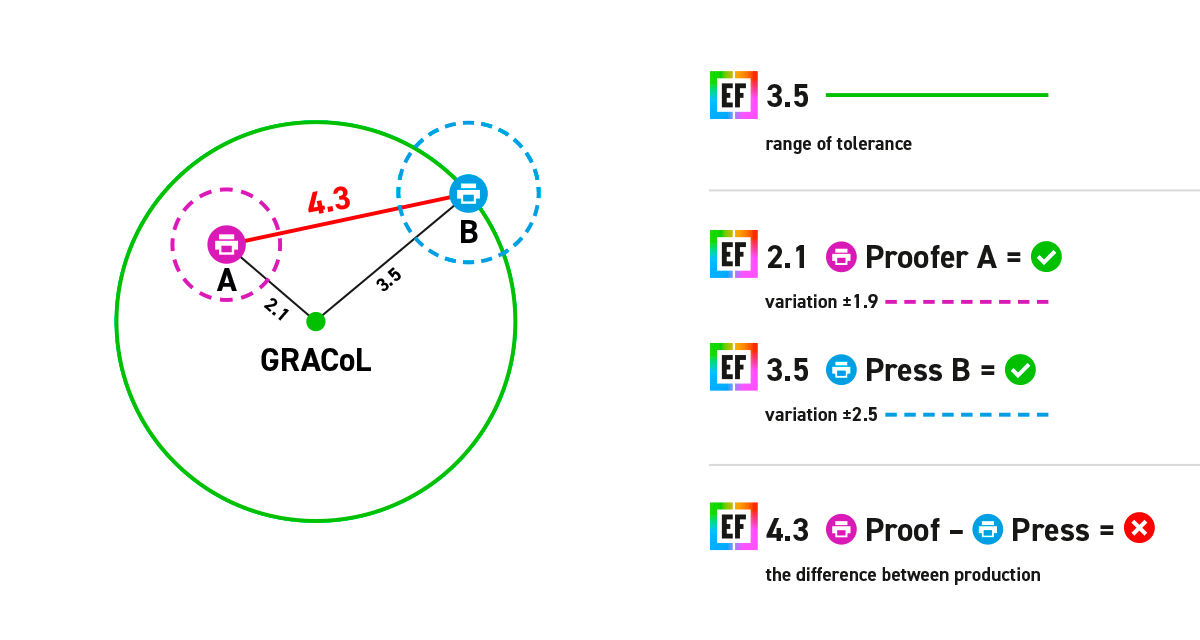 Tuning the Complex into Simple
In addition, new materials, lamination processes, specialty substrate, textile all have different capabilities that can be defined and set as an acceptable tolerance. Even physical products that are painted, injection molded, special surfaces can provide color measurement data as well as texture and surface characteristics.

E-Factor
E-Factor Definition
Exercise Online & Hardcopy
Print Inspector Reporting
Most Advanced Color Repository
Parallel Spectral Color Definition (simultaneous different color specification)
Full CxF/X-4 implementation (substrate, tints, and opacity)
Multilevel Tolerance
Process Control Integration - Print Inspector / Sharing Data / Reporting
Multi-instrument tracking
Surface and special effects support
Glosses a Roughness
Supplemental tools that help better manage corporate color:
Display Inspector - remote display and soft-proofing stations validations and verifications
Lighting Inspector - Lighting condition control
CC Capture Color Inspector
Fast and accurate color Library creation with a handheld instrument
Color tracking (QC) with sample autorecognition feature
Fast correction color palettes for spot OK sheet
IO table Virtual Control Strip technology
3rd-party unique integrations
Spot QC measurements with Barbieri LFP (Virtual Control Strip) for transmissive and reflectance measurements (e.g. flexo packagings printed on a transparent substrate).
ChromaChecker Nano
Color Appearance
Surface Structure

Define/Document Color Expectations
ChromaCheckers's Color Inspector allows brand companies to create the brand library in spectral CxF/X-4 format that provides the most flexibility when communicating colors to the supply chain. Color Inspector also allows the brand company to set tolerances using an intelligent visual tool that compensates for the non-linearity of delta E and can communicate it in a numeric metric which can be communicated to the entire supply chain.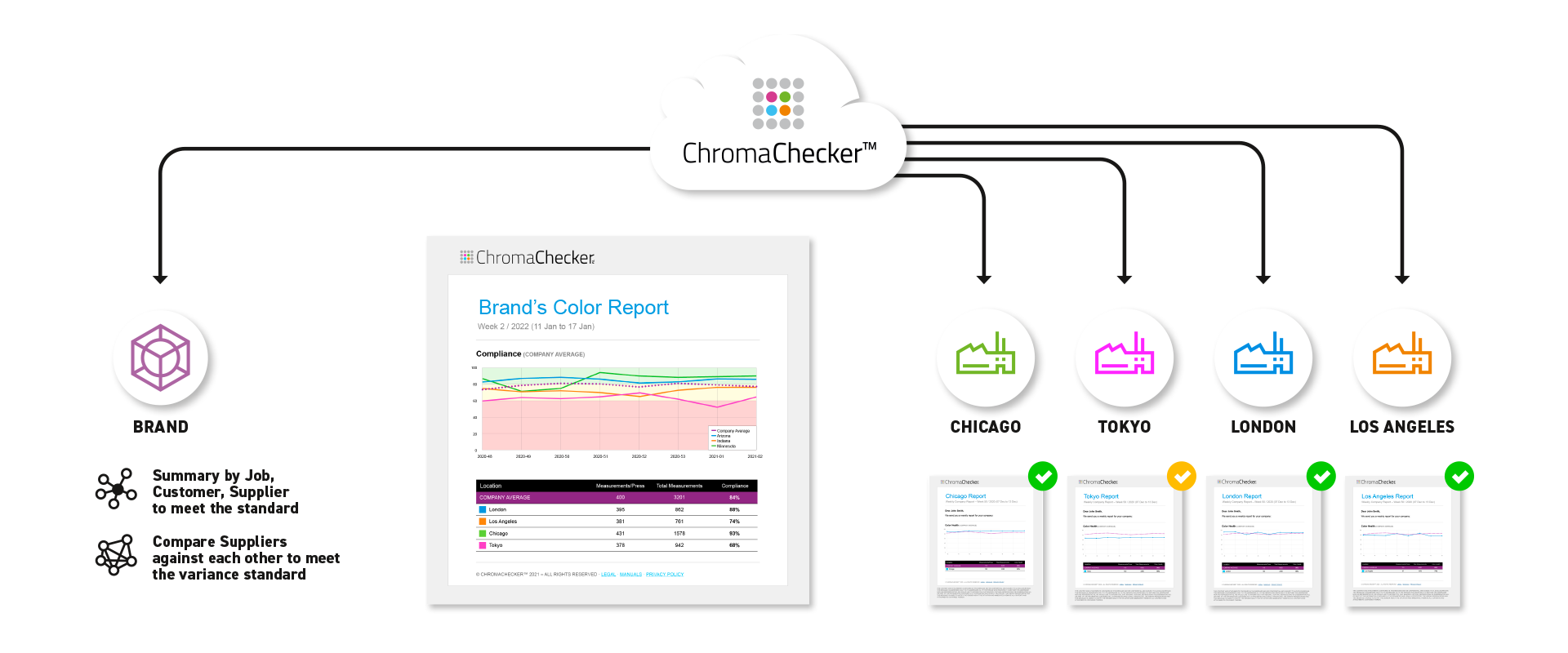 Collect data from suppliers (automatically)
ChromaChecker has multiple interfaces with suppliers workflow which will automatically select only the specific brand's jobs with no intervention from the supplier side. The supplier can use ChromaChecker Capture, HP ColorBeat, or CC Uploader to measure brand jobs which will automatically be uploaded to the brands ChromaChecker account. This eliminates extra time and energy on the supplier side to prove to the brand that they are printing jobs correctly while giving the brand company all the details required to ensure brand conformance to expectations.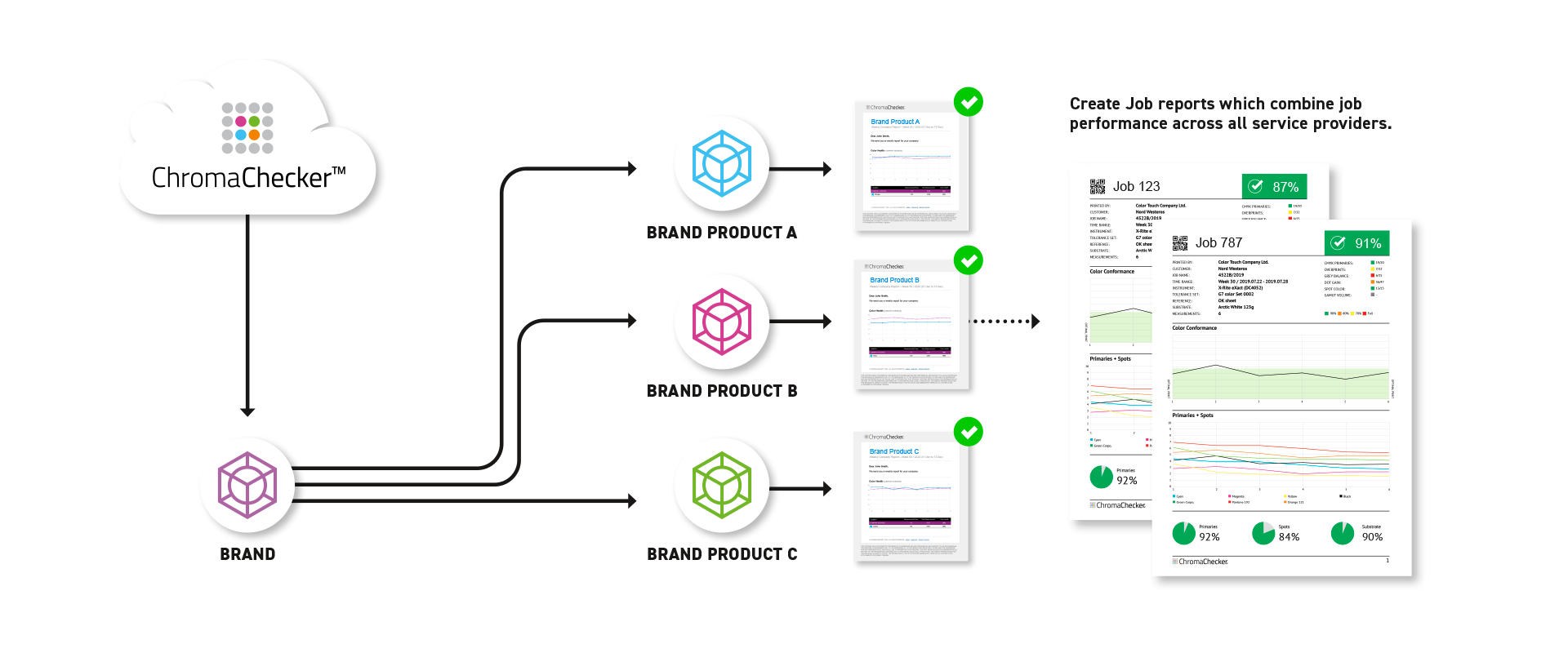 Color Inspector
Works with physical products that have to complement the print.

ChromaChecker creates reports showing suppliers performance to brand reference and to one another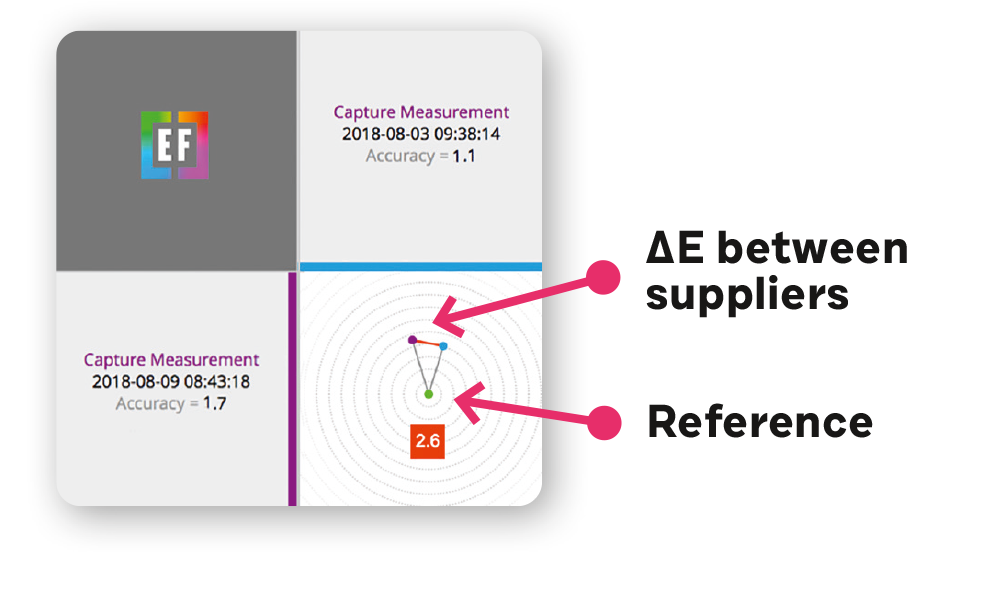 ChromaChecker — visual tolerance defined via numbers

ChromaChecker — Central repository for ICC profiles, color bars and CxF libraries

Provide supplier with Capture — Virtual Control strip: measuring actual colors on print job