April 28, 2022
Collections
Color Inspector allows users to set up and organize their color data in two ways, product view, or collection view.
| | | |
| --- | --- | --- |
| Product view | | Collection view |
| | | |
| Product view provides a hierarchal view of the data, by Group, within each group are Products, within Product are Objects, and within each Object are Tracks. | | The Collection view allows the user to configure which Tracks are visible no matter the grouping of them. Most users use this function to visualize the most important tracks at any one time, versus having to migrate through the hierarchal tree structure to find the important tracks. |
Note.
In Product view, all tracks are listed, and each track has a unique position in a hierarchal structure. In the Collection view, one track can be a part of more than one collection and only a portion of data can be visible. Most of the tracks can be hidden in Collection view. That is a way to get easier access to selected tracks only.
How To?
To create a new Collection Click on Collection (top menu bar)

then click on + New Collection
When Collection is defined, go to Track preferences (click on the icon in Product View)

next, add selected Track to one or more Collection from the list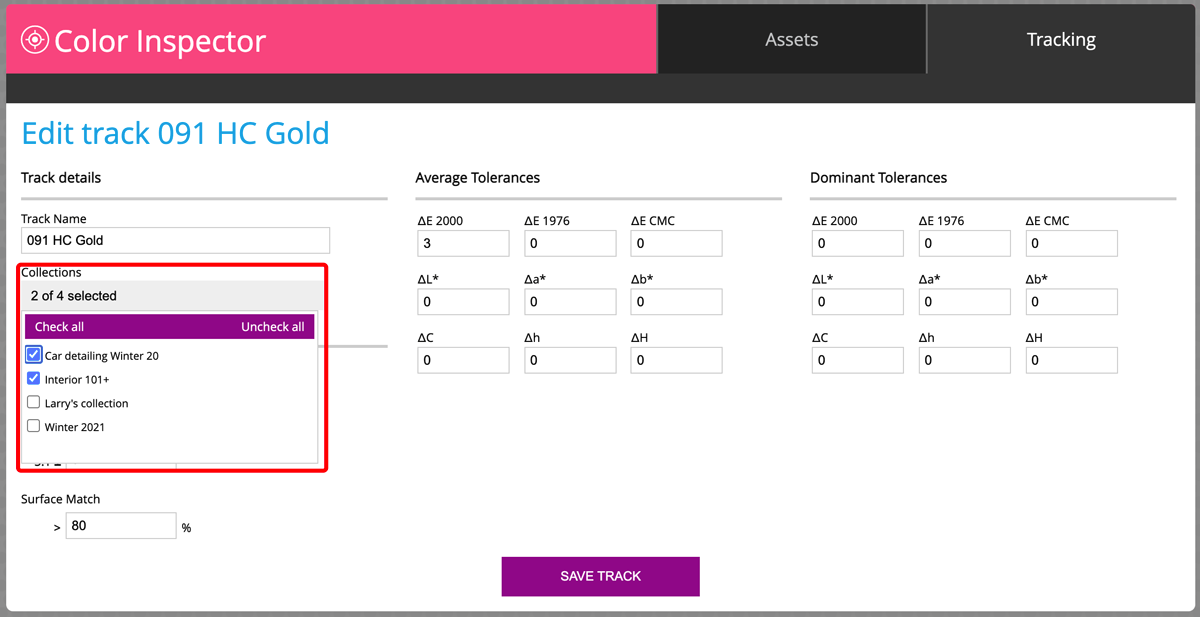 Remember that Collections can be assigned to users allowing for certain managers or operators to only see specific groups or collections which is very powerful when allowing users to see the status of manufacturing color that relates to their specific responsibilities.

The instrument configuration of the structure is limited to creating products, objects, and tracks. Groups and Collections can only be configured from the cloud admin account. Hierarchy and tree structure defined within instrument software allows for the creation of Product, then Object is a subset of Product, then Track which is a subset of Object.
From the ChromaChecker cloud admin account, Groups and Collections can be created and users can be granted access, and products can be assigned to Groups, and Tracks can be assigned to Collections. If the user wants to track unique tracks (maybe important tracks) they can build Collections (made from specific tracks) to organize and view data that is not part of the tree structure.
Contact ChromaChecker Support
Additional information and Support Form is available for logged users.