September 21, 2022
Event Manager
Event management is a tool that allows operators to enter maintenance event information which will layer over the measurement timeline.
General information about Events
If the current list doesn't support a common maintenance event that your company would like to track, please email us and we will add it to the system.
Print Inspector Events
1. Events list.
It is important to define a default list of events that are accessible to the operator. To do that go to Print Inspector and on the top menu bar click on Devices. Select the device to edit it. Scroll down to the list of active events and select according to your needs, and confirm with the "Save" button.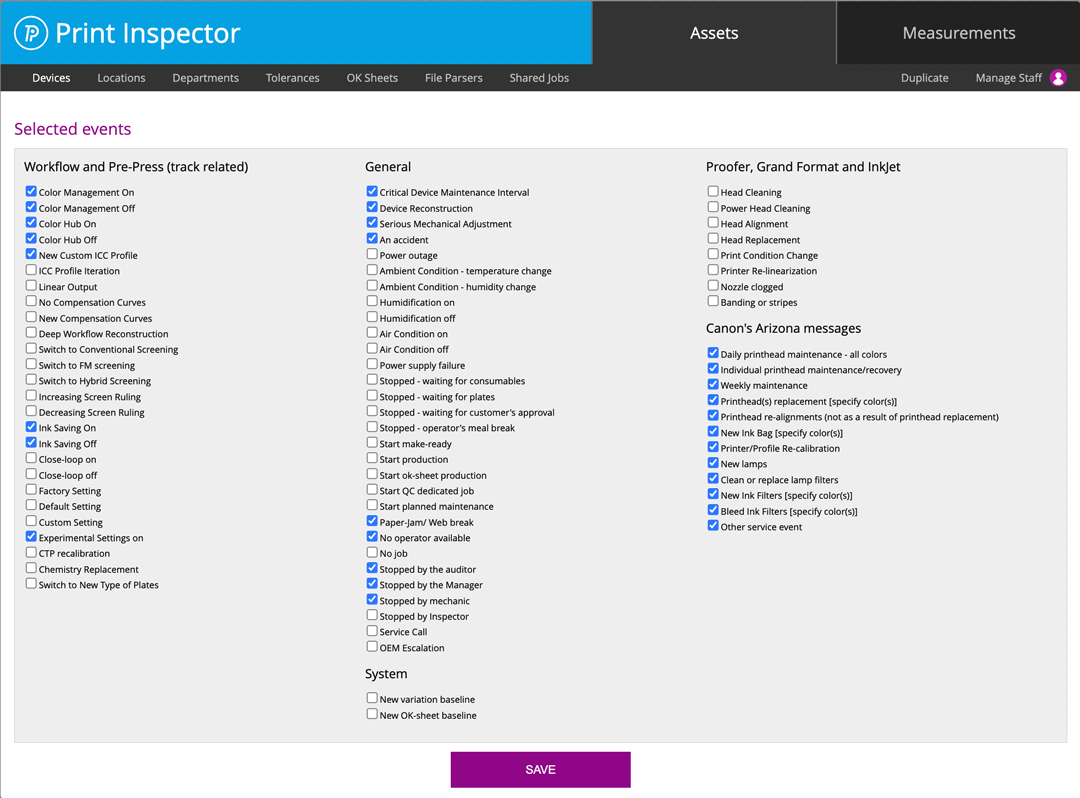 Note:
Repeat the same for all your printing devices. Please note that list is different based on type of Printer selected!
2. Website CC interface
The website interface makes it possible to enter and see all Events in both list and timeline views:
The easy-mode (list) view
(in this example: Heidelberg offset press with AxisControl connected via Uploader)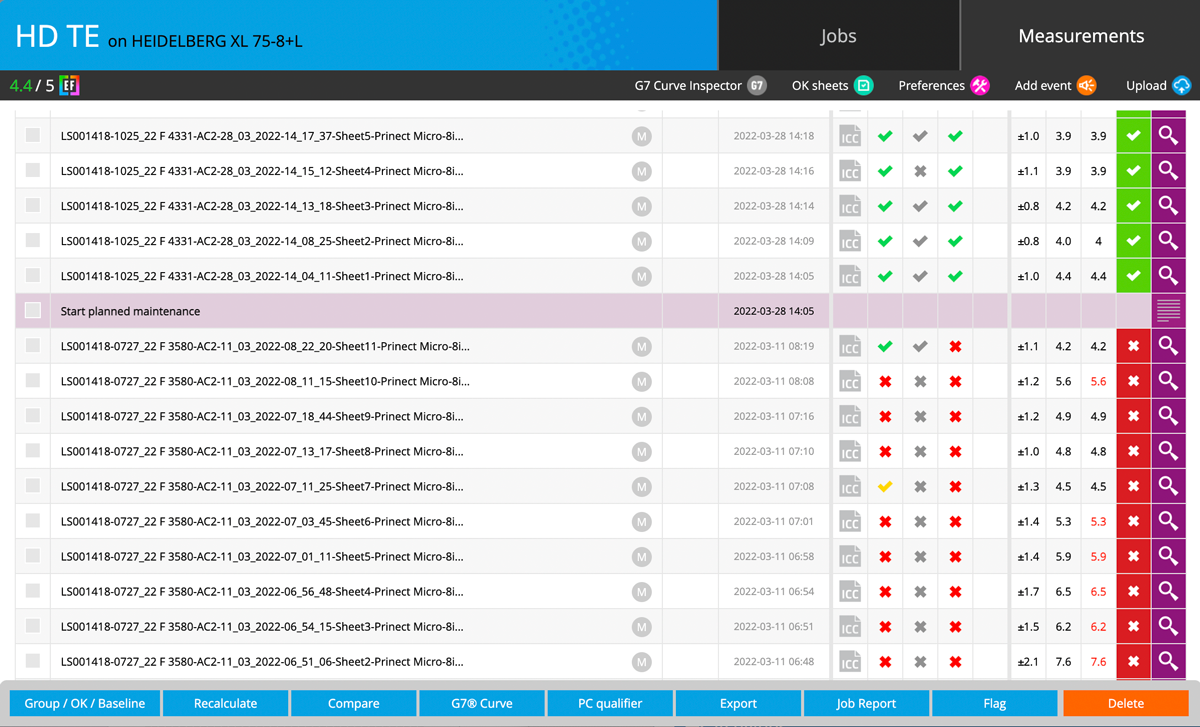 The timeline view
(in this example: the digital press after calibration and ICC Profile reiteration)

Hover the mouse over the event's vertical line (top or bottom half circle) to read the Event title.
3. CC Capture
The Operator when using CC Capture in Print Inspector can register an event by clicking on the dedicated icon located in the bottom right corner. The list of all available events for selected press events is displayed. It is reasonable to keep this list short and easy for the operator!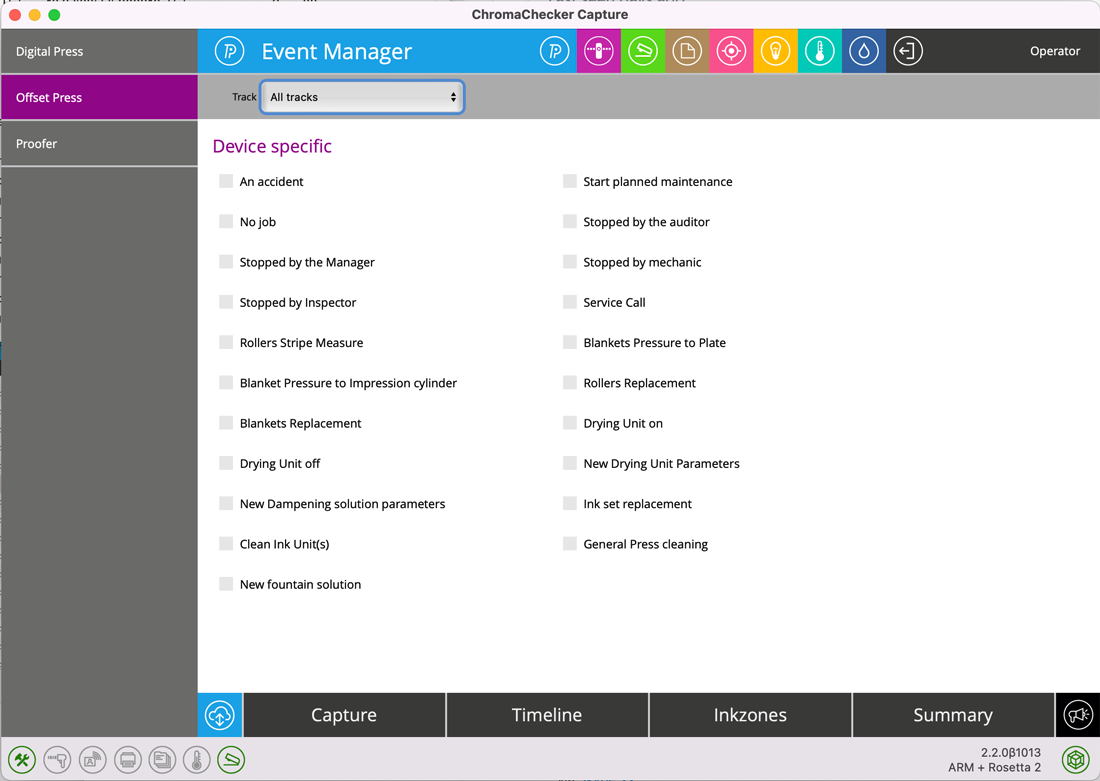 The operator can assign an event to a selected track or to all tracks if the event is related to press in general ( e.g. maintenance).
Instrument Inspector Events
Website CC interface
Go to the Instrument tab and select details on your registered Target. On the top menu bar, there is a "Add event" button

The list is fixed for all the Instruments.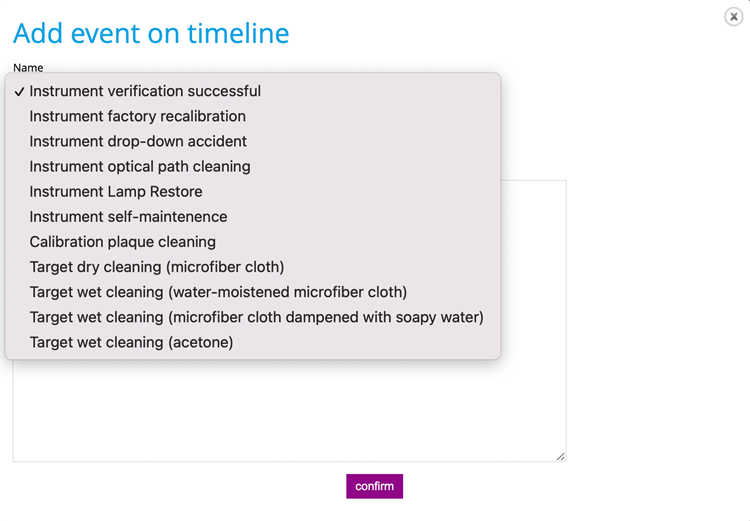 If for any reason something important is missed - please let us know. The operator can enter a detailed event description.
Contact ChromaChecker Support
Additional information and Support Form is available for logged users.