October 4, 2022
Grid - Spot Color Matching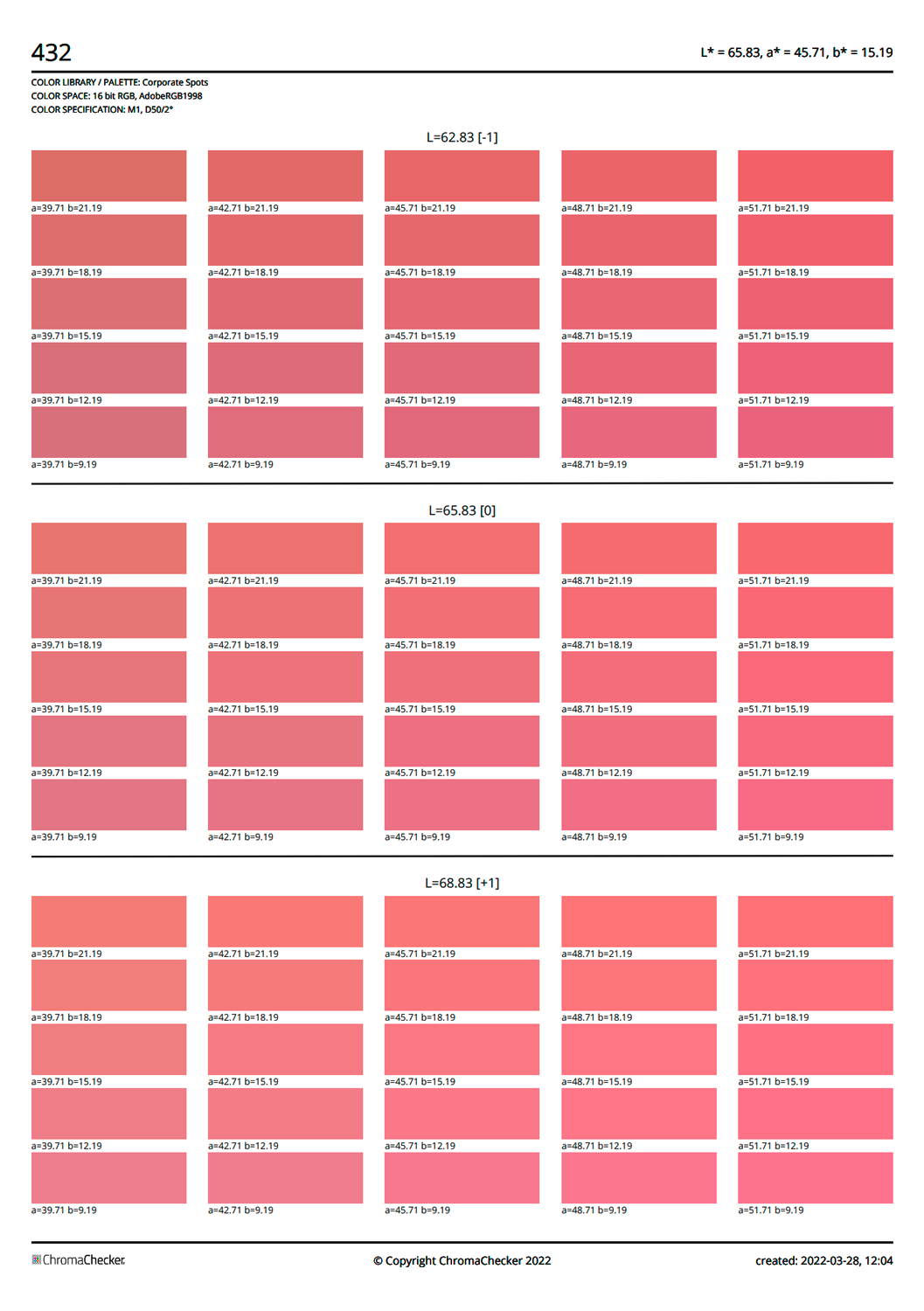 This tool can be used to supplement or replace the need for Spot Color LUTs. The user should start by using Spot Color LUTs and their iterations. These are dependent on an accurate ICC Profile representing the printer/substrate condition being used to render spot color simulations. If the profile is not accurate to the output device, or if the user isn't using a profile, then the user should be using this Spot Color Matching process to fine-tune important spot/brand colors on any printing process. When using this visual grid, it is important to define the correct Lighting Condition (lighting where the color match will be judged). The user should also understand that metamerism can be an issue that can adversely impact the visual comparison of the print to the desired reference.
A variety of media sizes is available
Choose the size most relevant to your substrate loaded in the printer needing to match your desired colors.
ANSI A (8.5". x 11"), (215.9 mm x 279.4 mm)
ANSI B (11 x 17"), (279.4 mm x 431.8 mm)
ANSI C (17 x 22"), (432 mm x 559 mm)
ANSI D (22" x 34"), (559 mm x 864 mm)
ANSI E (34 in. x 44"), (1118 mm x 864 mm)
Digital (13 X 19"), (330 mm x 482 mm)

A4 (8.3 x 11.7"), (210mm x 297mm)
A3 (11.7 x 16.5), (297 x 420mm)
A2 (16.5 x 23.4") (420 x 594mm)
A1 (23.4". x 33.1"), (594 mm x 841 mm)

B4 (9.8 x 13.9"), (250 x 353 mm)
B3 (13.9 x 19,7"), (353 x 500mm)
B2 (19.7 x 27.8), (500 x 707mm)
B1 (27.8 x 39.4"), (707 x 1000 mm
PDF with samples addressed using various color spaces
ChromaChecker can create PDF Grids and Snowflake graphics in virtually any color space. This provides extreme flexibility to accommodate your workflow on how you will be printing the customer work with the important brand colors. You will want to use the color space that most correlates to your production workflow for this type of customer's work. For instance, if you have large-format printers without RIPs and you print all your files in RGB, you will want to use the RGB workflow for the Grid and Snowflake PDFS.
Lab
RGB (requires RGB ICC Profile - device profile is recommended)
CMYK (requires CMYK ICC Profile - device profile is recommended)

nCLR (requires device nCLR ICC Profile) - coming soon
Measurements - Manual spot mode
Color Inspector Tracking option provides a fast and flexible way to measure selected samples in a spot (one at a time) mode. The user may select only a few important patches rather than measuring all patches (from 27 to 2197 depending on the selected range).
This method is especially useful in situations where you are using instruments that can only measure one patch at a time and are not capable of scan mode. Many instruments (like spherical) can use only measure in spot mode.
The methodology is simple - the user has to create in CC Capture a Color Inspector track for the selected color samples. This provides the ability to create a label report that can be printed and stuck to the sheet, which makes the process faster and fully documented.
Scan-mode measurements (coming soon)
The optional function is printing a scanning template for one of the supported instruments:
X-Rite i1 Pro

X-Rite i1iO

X-Rte eXact Scan

Konica-Minolta Myiro-1

Techkon SpectroDens
Three levels of accuracy
Fast — 28 patches, single row, range +/-1

Optimal —126 patches, 4-rows, range +/-2

Accurate — 344 patches, 13-rows, range +/-3
Please note, that thanks to the data interpolation system can use fewer patches to get better accuracy. ControlStrip is generated with separation bars - fixed patch size 8x10 mm - which makes it compatible with most of the scanning instruments on the market.
Barcode automatization, temporary Scanning Templates.
The system is generating a short-term temporary scanning template that is valid for 72 hours with a unique code and corresponding DataMatrix. This makes it very easy to scan and send data to CC Cloud and assign results to the task. The user can enter code manually or use a CC-2D barcode reader to avoid any mistakes (highly recommended). Grid if regenerated get new code, DataMatrix, and time-stamp.
The following tool might be complementary:
Related Topics
Contact ChromaChecker Support
Additional information and Support Form is available for logged users.