ChromaChecker – 5 steps to Color Conformance




for Printing Organizations

1. Standard

2. Benchmark

3. Adjust

4. Track

5. Integrate

Determine the shop's Production Standard, very customizable
Numeric value based on visual expectations
Works for both process color and spot color
Image Exercise
Spot Exercise

Benchmark existing printing devices – verify precision and accuracy
Learn which devices are most out of alignment,
May need to adjust the Production Standard number to be higher or lower based on how the majority of your printers are performing

Adjust the printing devices that are out of alignment using G7 Curves and or ICC Profiles to bring the device into alignment
Iterate G7 Curves without performing dedicated press runs
Create ICC Profiles to control printers

Track and report how each printer and operator is performing on a daily, weekly, and monthly basis
Automatically sending reports to management and operators to provide continuous improvement
Create customer Job reports on how a job ran on every printer within the company, anywhere in the world

ChromaChecker benchmarks any new printer before it is bought to ensure it can integrate with the existing printing devices within the shop
Prevents serious problems due to printers not meeting expectations
Ensures printer has sufficient gamut and throughput to meet customer expectations

Color Conformance Platform

ChromaChecker centralizes all color communication and empowers Print Manufacturing. This platform is unmatched by adopting industry standards to achieve predictable, consistent, and accurate results; monitoring process, and eliminates waste which improves companies profitability in today's market.

Assessing print to a Production Standard using Pass/Fail criteria directs operators and management to keep the press running when it's within expectations and stop the press if the output is failing. Using a number based visual expectations allows the organization to ensure jobs are salable.

Establish the printer's color quality capabilities, and communicate to entire organization: operators, sales, management, customers
Know when "color match" production is salable

Meets customer's expectations the first time, every time

Provides print operator with Production Standard pass or fail
Easy for operators to know if Job is salable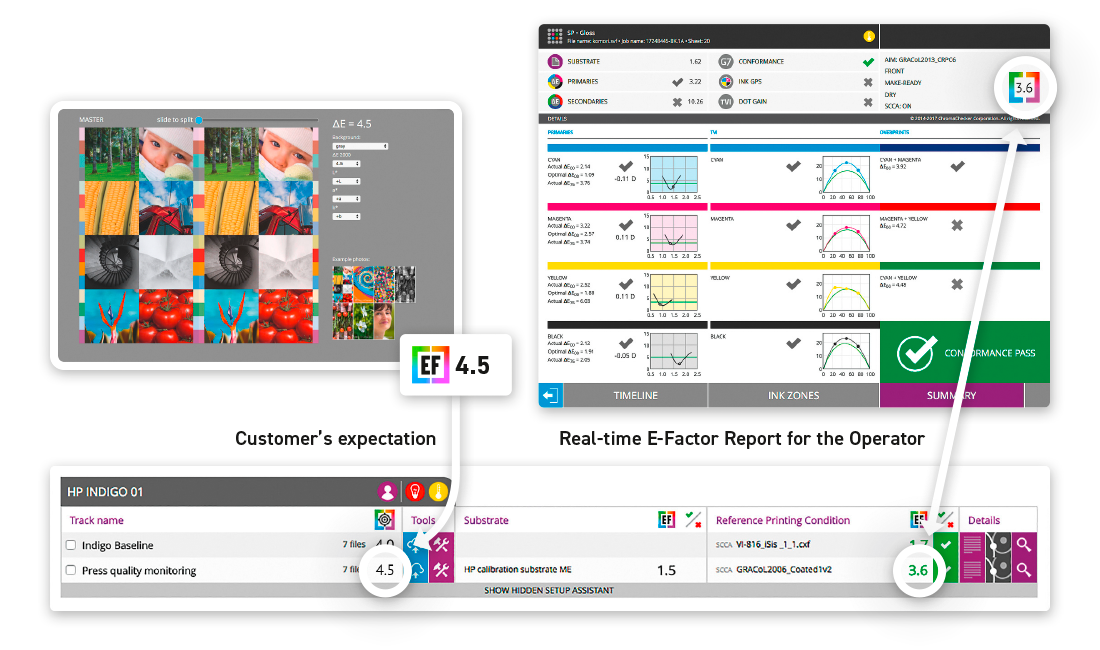 ChromaChecker serves production by providing tools to quickly pinpoint errors and generate G7 curves and ICC profiles to fix accuracy between substrates and align devices. It also centralizing libraries for substrate, instrument performance, spot color libraries, lighting, and displays. In addition, ChromaChecker provides custom targets allowing for the tightest and flexible tolerances possible. Chromachecker is the most advanced platform for manufacturing jobs that are color critical.
Control of the conformity of production between printing devices/production departments

Centralized Color Platform that ingests color data and exports reports and analysis which includes:
color variation and deviation
creating press calibration curves - (TVI or G7 Inspectors)
creating ICC Profiles
process-control
performance and salability
Supplemental tools provide a more accurate picture of the production process.
Plate Inspector - traces plates production
Lighting Inspector helps to keep standardized lighting on press consoles and QC departments
Environmental Inspector is monitoring RHT parameters
NIP Inspector documents NIPs
Accountability Inspector grants access to the system for operators and managers
Performance Inspector helps to create a birds eye view of the entire Organization