January 24, 2023
G7 Calibration Closed Loop
We have tested a couple of solutions where G7 calibration curves are implemented into the production workflow.
1. Digital Press + CC Capture + Alwan Color Hub
In this scenario, the Operator is scanning CC-84 (using any supported Instrument). For digital presses it is very practical to use iSiS - one Instrument on the production floor can handle dozens of printers and integrated barcodes can make it errorless.
All printers are using Alwan Color Hub - this Color Server can fix all potential PDF -incompatibility issues, optimize input files and standardize them. One of the Alwan features is calibration which can be applied on the fly. ACH uses the supported by ChromaChecker Plist file format.
Color Expert has to set this file format as export for G7 Calibration purposes.
In the Print Inspector Track Preferences go to the Curves section, then select enable Automatic Curves and select .plist file format.

The location of the file has to be in the local network - preferably on the computer when CC Capture connected to Instrument is launched.
Using a fixed name we can point ACH to use the file that can be updated by CC Capture. To close the loop CC Captur have to automatically upload a file to the designed folder - using the Export Folder CC Capture feature.
In Alvan Color Hub open Task Setting, then select TRC Adjustmen (TRCA) section. Switch mode to Synchronized and select the local folder.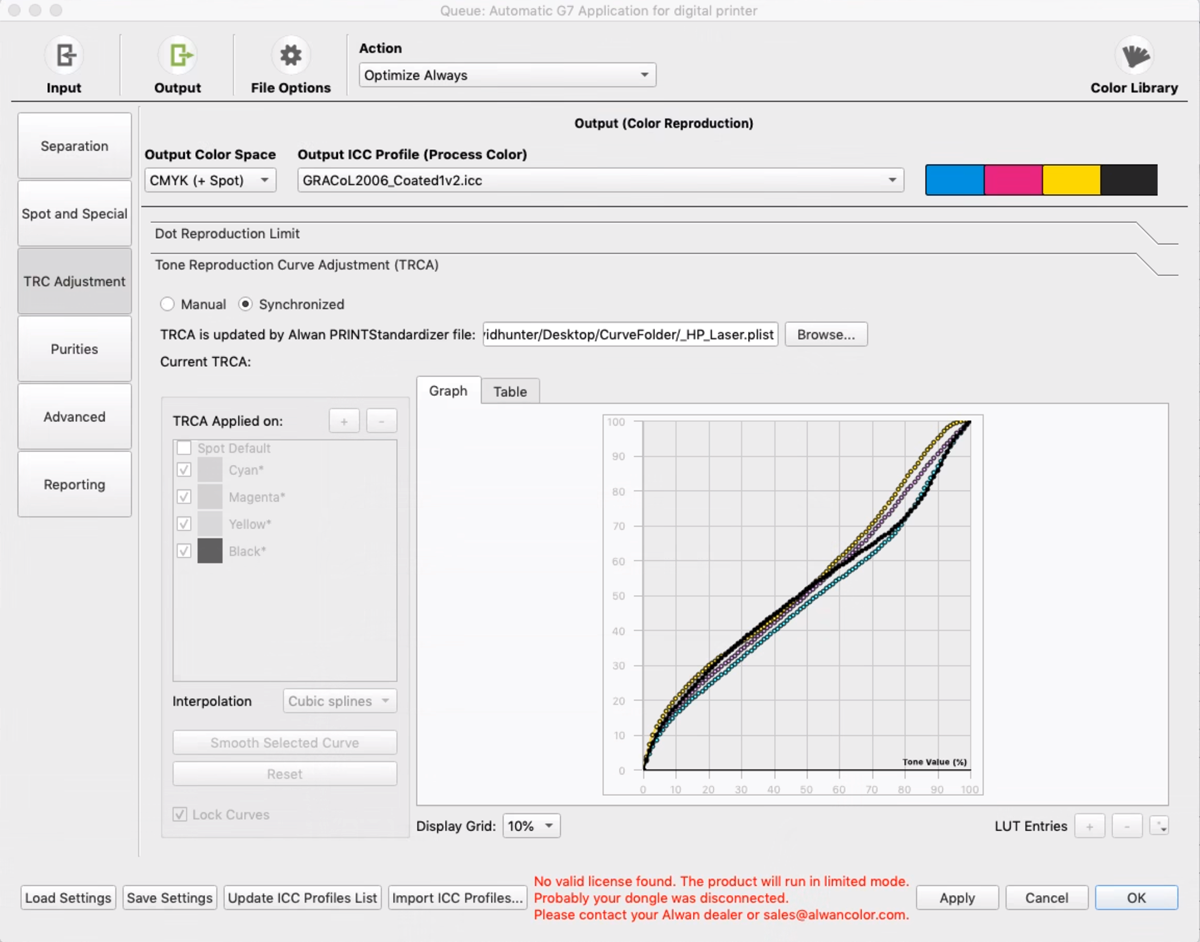 Now point to the same folder in CC Capture.
To define it use Export Folder - click on the dedicated Icon (bottom menu of the CC Capture)

Then select a local folder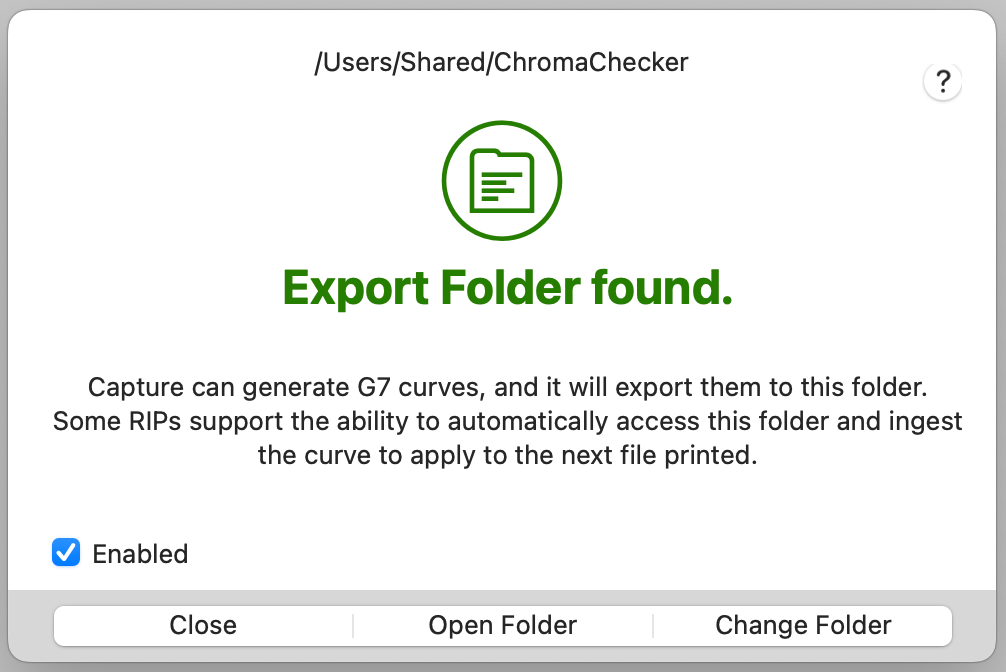 Done! Test it.
Now every time the Operator measures the G7 calibration compatible control strip he can hit on G7 calibration button - the system will export calibration curves to the local folder, the old file will be overwritten and ACH will process new production files with updated calibration curves. ChromaChecker has the ability to correct existing calibration - so no need to run raw mode. All on a single G7 Icon Click!
Print and Measure CC-84 w. CC Capture
if OK
→ continue production
if Fails
→ click on the G7 icon
wait two minutes or so until the calibration process is complete, then
→ Print to verify if calibration is properly applied;
if OK continue production.
Troubleshooting
Check manually if each step is working. Verify if the timestamp of the .plist file is updating - check if names and folders are defined properly.
Please note that a similar schema can be applied using other than ACH software. For example, solutions based on Enfocus Switch can offer integrations based on different file formats used for Curve Calibration. Please note that CHromaChecker is offering a lot of output file formats
---
2. EFI Fiery + Inline Printer Instrument (ILS) — semi-automated integration
If the user has Epson SureColor printers or Proofer with the ILS (internal built-in instrument) it is possible to substitute one of the default targets with the ChromaChecker CC-84 which allows the target to be measured, automatically uploaded to ChromaChecker, create a G7 correction curve on the fly, and download an EFI .VCC file which can be easily be loaded into the EFI RIP by the Operator to correct for G7 compliance. Please contact us for more details.
---
3. Xeikon Printer G7 Calibration
Some Xeikon presses include an inline measurement device and the ChromaChecker CC84 can be configured as the measurement target. In this way, the inline measurement device measures the CC84 and automatically uploads to the ChromaChecker track where a Xeikon compatible TRC (tone reproduction curve) is created and downloaded into a specific directory on the Xeikon RIP. The next time a file is run through the Xeikon RIP this correction curve will be used and applied to the printed job. No operator intervention is required. A different G7 curve can be applied on every substrate with no operator intervention. Please contact us for more details
Contact ChromaChecker Support
Additional information and Support Form is available for logged users.