August 23, 2023
Print Inspector
Print Inspector provides a dashboard to display the condition of your presses and drill down into the results for analysis. When you first log in to ChromaChecker it steps you through creating initial printers using default parameters. At any time you can go into a printer and provide additional detail and configure the target and tolerances for the printing device.
2) Select "Add Device Wizard"
ChromaChecker tracks the consistency and accuracy of any Printing device. Every printing device to be tracked has to be registered in Print Inspector. The system has to know the printing technology and some additional hardware information that makes the setup easier. ChromaChecker offers features that are available for specific hardware configurations.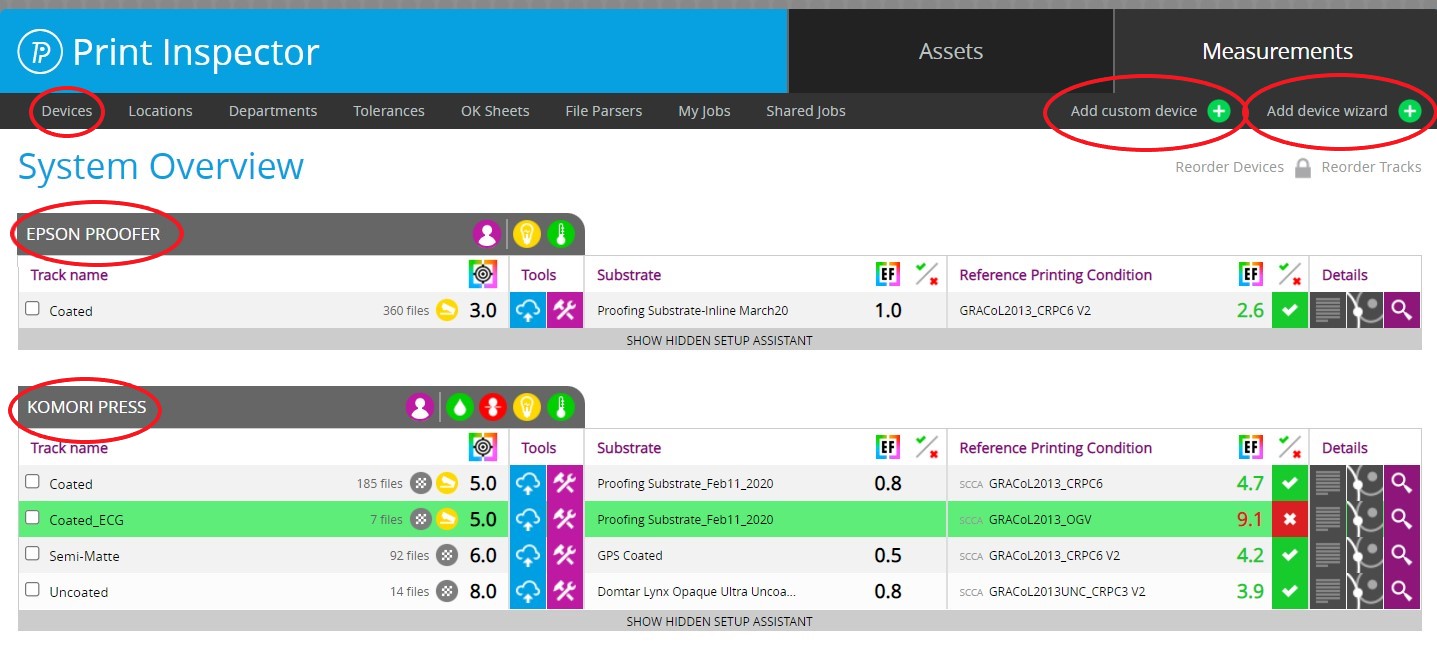 The system allows users to define the type of printer, specific vendor, and model. This information allows intelligent options related to configuring specific maintenance events and operator suggestions when the printer starts failing color requirements.
Ink zones are dedicated to conventional presses only.
You can use the "Manual Upload" button to quickly load spectral data collected with your spectrophotometer
The Quick Start Guide provides an example configuration that works well for an efficient quality control check and provides a configuration that will allow you to iterate G7 curves. For creating icc profiles this can be achieved using standard targets such as a P2P or TC1617 target.
The Quick Start Guide provides step-by-step instructions to perform a check for accuracy and precision of a printing device using a default operator login provided during registration, and CC84 target. Determine the instrument in use for the printing device you would like to evaluate.
During your initial setup if you need guidance, please set up a time with your coach to review the configuration by completing the request below.
Video
This tutorial is to show how to configure ChromaChecker for Getting Started with a new account after registration.

This tutorial shows you how easy it is to measure color bars using Chromachecker Capture software using an i1 instrument. ChromaChecker supports all color bars, all presses, and all instruments making it the optimal system for color quality control checking, correction, and reporting.

The starter kit provides the target and white/black backing for ensuring the instrumentation is ISO compliant and the environment is within manufactures specifications. Also included in the kit is an E-Factor printed exercise for establishing an appropriate tolerance for acceptable color shift for your production environment.

This tutorial demonstrates how to configure ChromaChecker Uploader to use ChromaChecker Print Inspector for analysis

This tutorial covers the use of Chromachecker Capture to operate an x-Rite iSis spectrophotometer.

Chromachecker empowers the entire organization by communicating an Expectation Fator (E-Factor) reporting the consistency of the printing process.

The Virtual Control STrip allows you to define placeholder patches for spot colors. This allows you to have one control strip for indefinite named spot colors that get selected press side based on the spot color running for the job. If not spot color, it represents a blank substrate patch.

This tutorial shows how Chromachecker Capture scans control strips that include spot colors as part of your overall color quality control program.
Related Topics
Contact ChromaChecker Support
Additional information and Support Form is available for logged users.