January 28, 2023
Scratchpad fast evaluation
Compare to the sample from Scratchpad is one of the most useful functions of the QuickChecker. It is very fast and easy.
It provides a detailed report and for most of the Instruments, the user may change Color Specifications without repeating measurements.
Steps to compare
Measure one or more samples - just by triggering the "Measure" button(in the Application or hardware button if exist)
In the Compare Window select "Compare to Scratchpad", then select any of the existing measurements to be a Reference.

DONE! - The report will be displayed automatically adopting changes of Reference or Color Specification
Options
If you need Optimal Ink Density - before you start - Measure the Substrate in advance.
That will provide a "Minus Paper" Density/∆E Error simulation (Ink GPS)


If you want to create a more representative Reference - use the "Start Variation" function to average a series of measurements with advanced statistical analysis. This is very important if the specimen is not perfectly homogenous - what happens in most print scenarios.
Example:
1. Measure substrate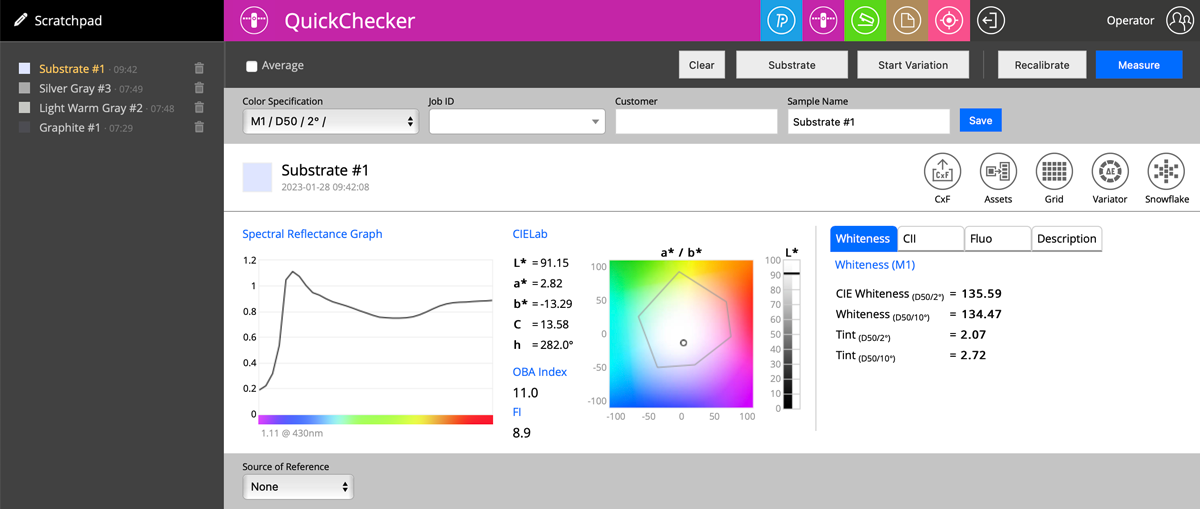 Please note that we have here a paper that contains a lot of OBAs - OBA Index = 11.0 ( Fluorescence Index = 8,9).
For the Substrate, we have tabs adapted to that kind of measurement! A Whiteness Tab is one that is available only for Substrates and reports a couple of paper-specific metrics.
2. Measure the first Sample.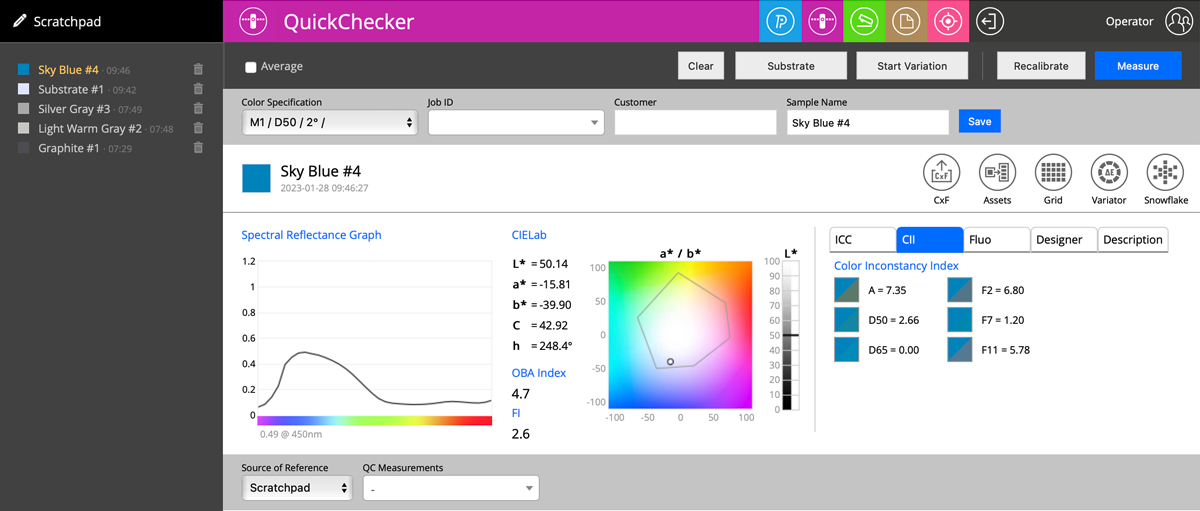 On this screenshot, we see Color Inconstancy Idexs (Reference Illuminant D65 can be changed in Global Preferences)
Switching tabs brings more types of Measurement Reports:
Lab coordinates compared to closest CMYK/nCLR and RGB
ICC Profiles (defined in Global Preferences)

Fluorescencent Effect
Compares M1 and M2 data to see how UV component of the light changes spectral readings

Search for the closest sample in:

ChromaSpot
Custom Library (may require a vendor license)
RAL Design notation

Report ∆E error

The description that the Operator may create as an option.
3. Next measurement - referred to the first Sample.
In this case, the Source of the Reference points to the first sample measured a minute ago.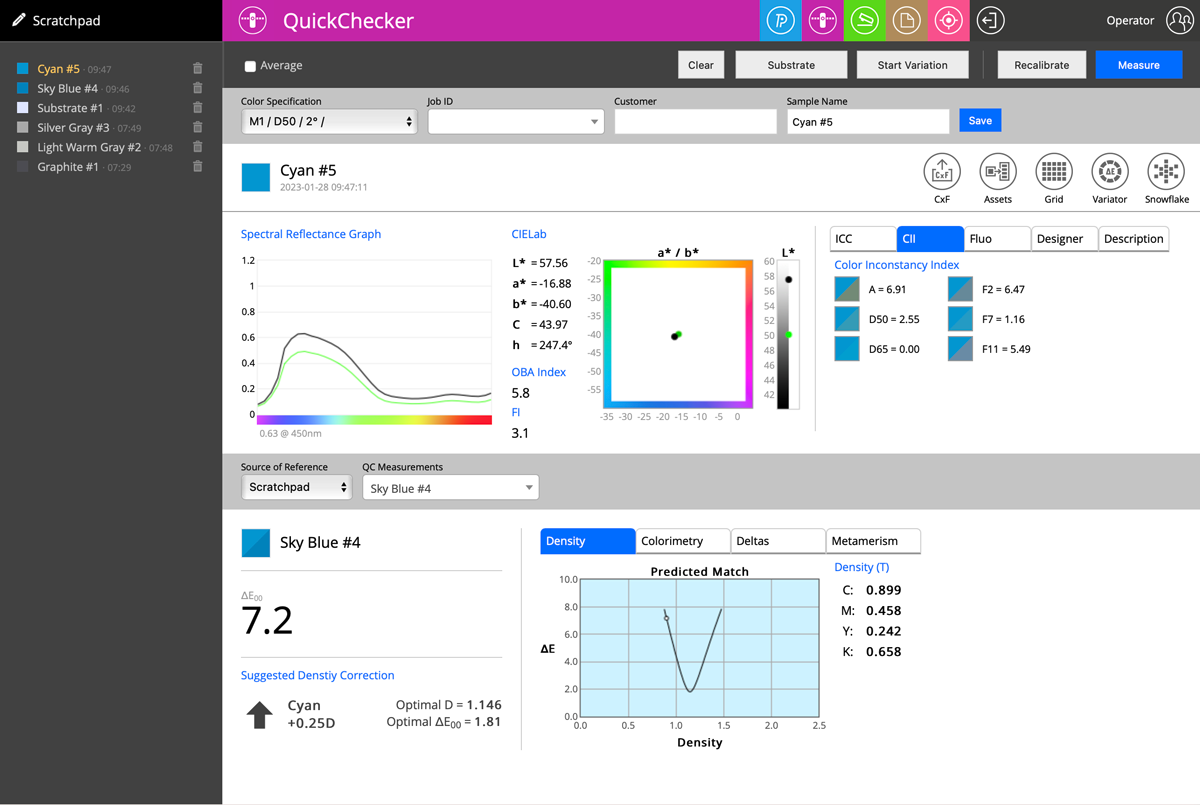 Density Tab - is showing prediction on how changing density (amount of ink) can reduce error - Optimal values are created by this simulation.
Additional tabs/reports:
Colorimetry

Deltas

and Metamerism

Please note
Most of the Instruments can measure all M-condition at once - for all instruments, it is possible to create custom Color Specifications - for example, replace typical D50 with Custom Lighting. Once the measurement is performed the Operator can select different Color Specification - and all parameters will be instantly recalculated.
No other application on the market offers that can of sample evaluation. It takes seconds to make it.
Contact ChromaChecker Support
Additional information and Support Form is available for logged users.