June 2, 2023
CC Sphere Portable Spectrophotometer
CC Sphere fully implemented in CC Capture.
The CC Sphere is a high-end spherical measuring instrument that exceeds the technologies and patents in most competing products. Designed for vertical operation, it has a measuring foot equipped with interchangeable measuring apertures and a touch display in the upper part of the device.
Basic areas of usage: Plastic, Painting, Coating, Textile Industry, Print, and more
Instrument in the docking station.
Magnets are used for stabilizing positions and keeping the instrument safe. An additional self-adhesive plate improves mechanical stability.

The docking Station charges the internal battery. The white calibration tile is located on the bottom. Two USB sockets are in the docking station and instrument.

3.5" Touch-screen with an intuitive menu makes all operations easy for the Operator. Wireless Bluetooth connections and battery capacity meet the user's expectations.
Key Instrument Features
1. SCI+SCE
The instrument can measure SCI Specular Component Included or/and SCE Specular Component Excluded. These two measurement methods allow you to measure surfaces with any surface structure - including metallic surfaces. Read more about the measurement geometry of spherical instruments here.
2. Level I metrology
The instrument meets Level 1 metrology requirements.
3. Three exchangeable apertures 11mm/6mm/1x3mm.
| | |
| --- | --- |
| | |
| Instrument "shoe" | 11 mm 6 mm 1x3 mm |
Three apertures as standard accessories; no tools are needed and apertures can be replaced at any time to meet different sample measurement requirements. CC Sphere Spectrophotometer has three apertures 11mm/6mm/1x3mm.
Note that using a larger aperture gives more accurate measurements, but sometimes object limitations prevent the use of larger ones. It is also worth reviewing that aperture size is dependent on the print line screen, there are significant dependencies on line screen rulings.
4. 360-700nm Full Wavelength Balanced LED+UV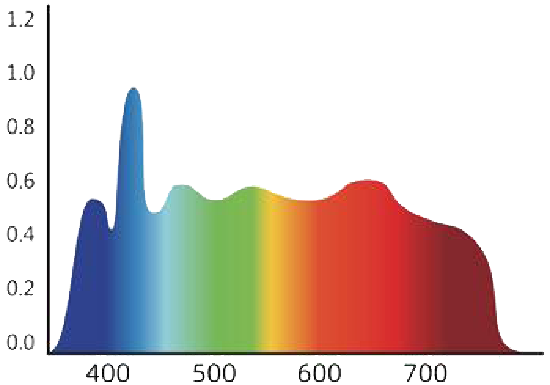 The instrument adopts a full wavelength balanced LED and UV as the illuminant, ensuring sufficient spectral distribution in the visible and ultraviolet bands, and materials with fluorescent can also be measured. UV component is on/off switchable.
5. Built-in Viewing Camera
| | |
| --- | --- |
| | |
| Proper positioning | Wrong positioning |
The internal camera helps to target objects. The operator can be sure that they are measuring the sample correctly.
6. Dual optical path array sensor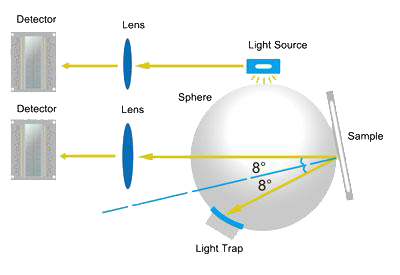 The dual optical path design monitors the energy fluctuation of the light source while measuring the sample signal, reduces interference during the measurement, and obtains better measurement repeatability. The usage of large-area dual-array sensors provides higher spectral response sensitivity and ensures fast measurement speed, accuracy, stability, and consistency between multiple devices.
7. Intelligent auto-calibration
White tile is made by ZrO2 with a reflectance of more than 90%, with no need for frequent white calibration.
The instrument is placed on the intelligent calibration base, and the instrument can be automatically calibrated without manual intervention through the white tile on the base. It has improved the current situation that the instrument must be manually calibrated with white tile. The white tile is made by ZrO2 with a reflectance of more than 90%, which ensures excellent mechanical strength and weather resistance and can not be scratched or discolored after long-term use.
8. Wired USB or wireless communication
9. Self-adhesive positioning plate
The positioning plate is equipped with magnets enabling a safe placement for the docking station.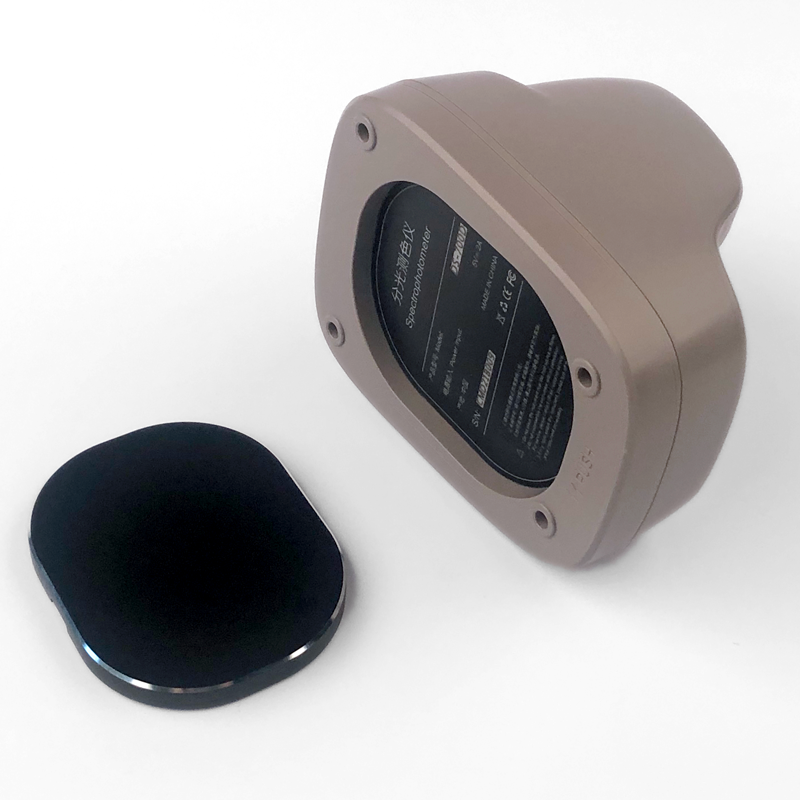 10. Carrying case
| | | |
| --- | --- | --- |
| | | |
| Carrying case | Standard package content | |
Model
CC Sphere Spetrophotometer

Geometry

d/8°, SCI+SCE (diffused illumination, 8° viewing, Specular Component Included, Specular Component Excluded)
Repeatability

Chromaticity value:

Standard deviation within ΔE*ab ≤ 0.025
Average :dE*ab< 0.025
Max. :dE*ab≤ 0.04 (when a white tile is measured 30 times at 5-seconds intervals)
Reflectance: Standard deviation < 0.08%

Inter-instrument agreement

ΔE*ab<0.25 (BCRA Series Ⅱ, average measurement of 12 tiles)

Display Resolution
0.01
Illumination Area/Aperture

MAV:Φ8mm/Φ11mm

SAV:Φ4mm/Φ6mm

MINI:1*3mm

Color Spaces and Indices
Reflectance, CIE-Lab, CIE-LCh, HunterLab, CIE Luv, XYZ, Yxy, RGB, Color difference(ΔE*ab, ΔE*cmc, ΔE*94,ΔE*00), WI (ASTM E313-00, ASTM E313-73, CIE/ISO, AATCC, Hunter, Taube Berger Stensby), YI(ASTM D1925, ASTM E313-00, ASTM E313-73), Blackness(My, dM), Color Fastness, Tint, (ASTM E313-00), Color Density CMYK(A, T, E, M), Milm, Munsell, Opacity, Color Strength
Illuminants

A, B, C, D50, D55, D65, D75, F1, F2, F3, F4, F5, F6, F7, F8, F9, F10, F11, F12, CWF, U30, U35, DLF, NBF, TL83, TL84, ID50, ID65, LED-B1, LED-B2

LED-B3, LED-B4, LED-B5, LED-BH1, LED-RGB1, LED-V1, LED-V2

Light Source
LED(Full wavelength balanced LED) + UV
Wavelength Range
400-700nm
Camera preview
Yes
Calibration
Intelligent auto-calibration
Software
Android, IOS, Windows
Observer Angles
2°,10°
Sphere Size
40mm
Standards
Conform to CIE No.15, GB/T 3978, GB 2893, GB/T 18833, ISO7724-1, ASTM E1164, DIN5033 Teil7
Spectroscopic method
Grating spectroscopy
Sensor
Dual array sensor
Wavelength Interval
10nm
Wavelength Range
0-200%
Reflectance Resolution
0.01%
Measurement Time
< 2s
Interface
USB, Bluetooth
Screen
IPS Full Color Screen,3.5 inches
Battery
Rechargeable, 8000 times continuous tests, 3.7V/3000mAh
Lamp Lifetime
10 years, 1 million tests
Language
Chinese and English
Instrument Size
95 x 129 x 231mm (L x W x H)
Instrument Weight
about 750g
Storage Memory

APP Mass Storage — 100 pcs of targets from the instrument

Related Topics
Contact ChromaChecker Support
Additional information and Support Form is available for logged users.