January 19, 2022
Environmental Inspector
This tool helps users to track the relationship between the printing process and the Environmental Conditions: Relative Humidity and Temperature. One or more dataloggers can measure RHT data and send them to CC Cloud.
General view - last week readings from both defined dataloggers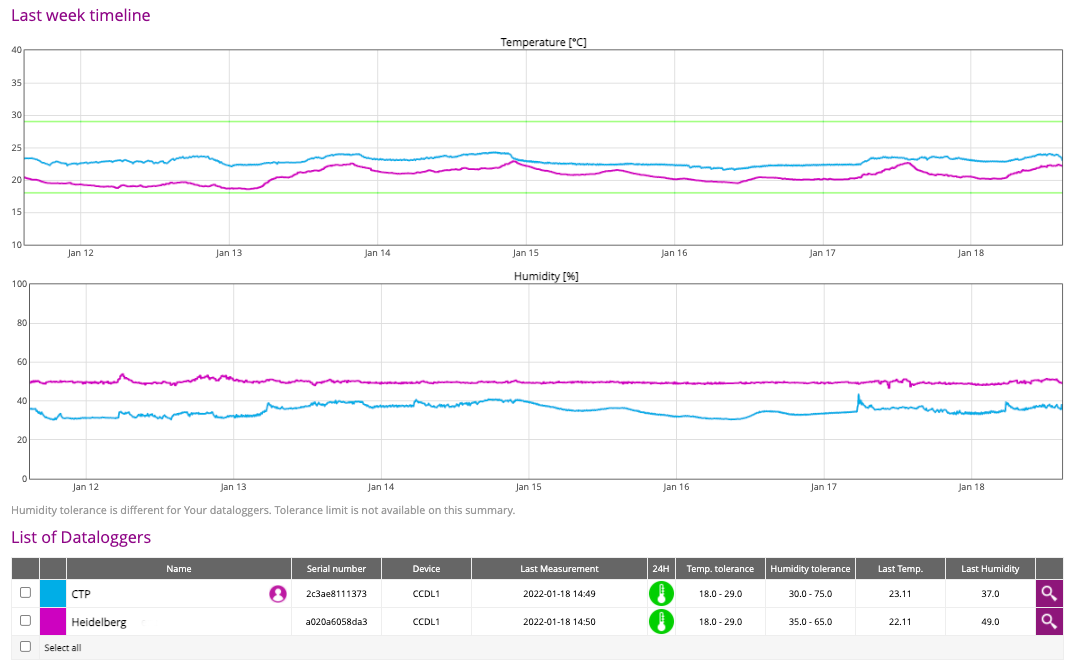 Detailed information from the past

Data-Logger is an automatic device that captures temperature and relative humidity in your production environment and transmits this information to the Cloud for further analysis. ChromaChecker Environmental Inspector controls data loggers in your plant and combines that information with other measurements (print Inspector/ Instrument Inspector). Data-Logger operates 24/7 and does not require maintenance.
CC RHT USB Sensor
CC RHT Cloud Data-Logger
3-d party data-loggers
Manual entry mode

Driven by CC Capture
Modes: sensor and/or datalogger

Requires Wi-Fi 2.4 GHz
USB socket for power supply

Required support for the
SOAP protocol.
CC Capture or
Operator's Interface
Download
CC Capture
→ Setup Assitant
→ Setup Assitant
→ How-to user manual
→ How-to user manual
Related Topics
Contact ChromaChecker Support
Additional information and Support Form is available for logged users.