March 31, 2022
Corporate Spots on the Display
This workflow is an example of a task, where a display is evaluated based on the list of spot color samples. In this example, we are using a sample color library called "Corporate Colors", but Display Inspector can use any color library created by direct measurements, imported from the file, or created by manual color coordinates input.
The following screenshot list all samples and workflow settings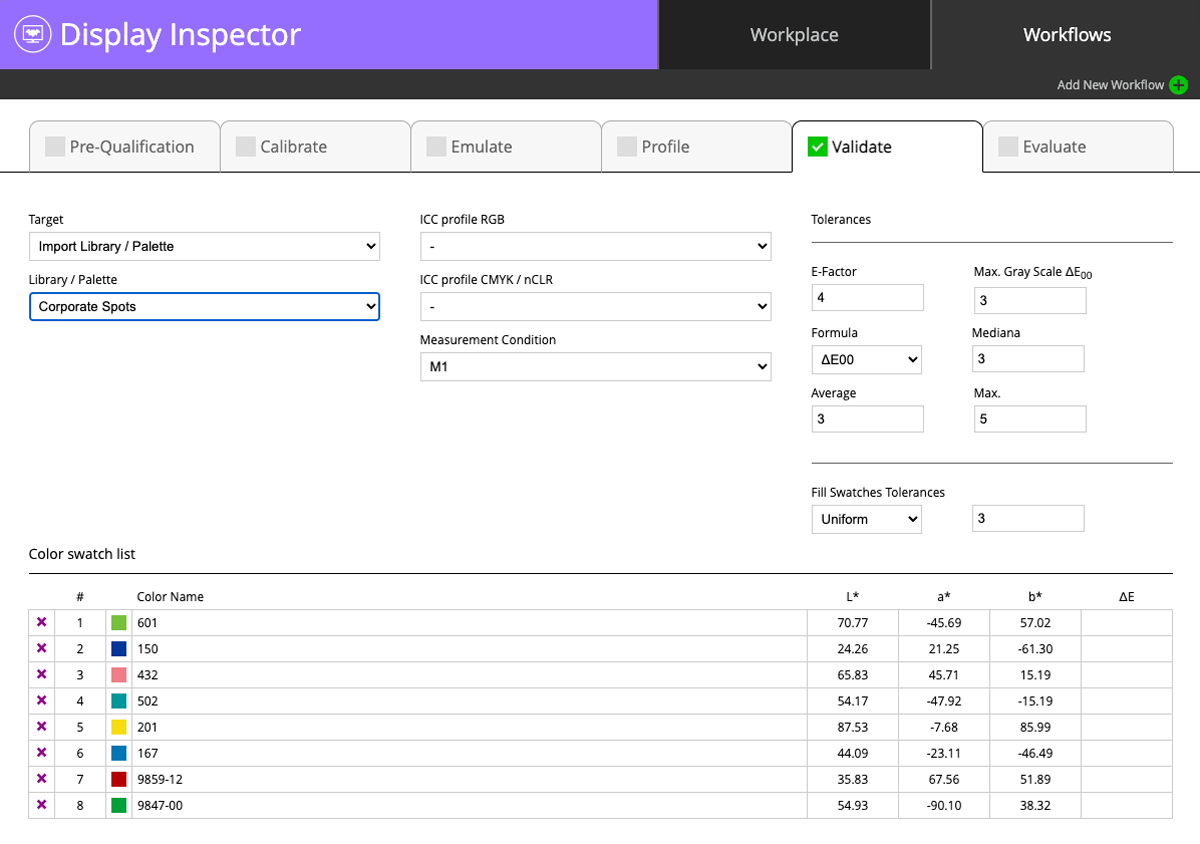 The flat uniform tolerance of 3∆E is applied to all samples.
Be realistic with your expectations
Before you evaluate your Display learn how this color library can be rendered by some common color spaces. We have created this library to show that some colors might be high to reproduce even if they are not extremely saturated like fluorescent colors. Understanding limits is a key - current technology still has boundaries that we can learn and accept only.
If your Display is not capable to render properly - calibrate and profile it. Even the best wide gamut monitor can be set up incorrectly or has assigned the wrong profile in the system.
Comparing physical specimens to render on the Display?
Take into account that your monitor is in ambient light - that have an influence on perceiving colors on the screen. Luminocity and color temperature are very important, but if you want to compare physical specimens to render on the Display this is much more complex. It is mandatory to use controlled lighting conditions to expose specimens. Not only luminance but spectral characteristic of the Light is critical.
| | | | | |
| --- | --- | --- | --- | --- |
| | | Compare at Lighting | | Learn about Metamerism |
A very special kind of such scenario we have when we are comparing prints or proofs to the rendered pictures on the screen. So-called Softproofing is a standardized workplace where Monitor and Lighting Booth are combined and ambient light is controlled. To make it work Display Inspector with a compatible Instrument is required.
| | | | |
| --- | --- | --- | --- |
| | | | |
| | Monitor | Light Booth | Ambient |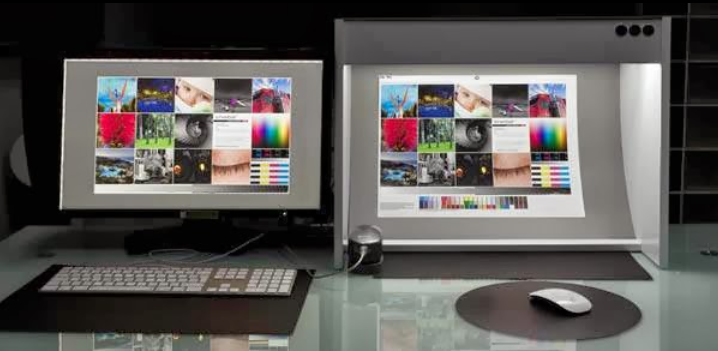 Display Inspector Standard can calibrate and profile Displays, Pro version offers sophisticated additional features for hi-demanding users:
Remote control of the supported Light Booth
Fine-tuning for Individual Observer Metamerizm
Instrument correlation
Contact ChromaChecker Support
Additional information and Support Form is available for logged users.