May 29, 2023
Myiro-1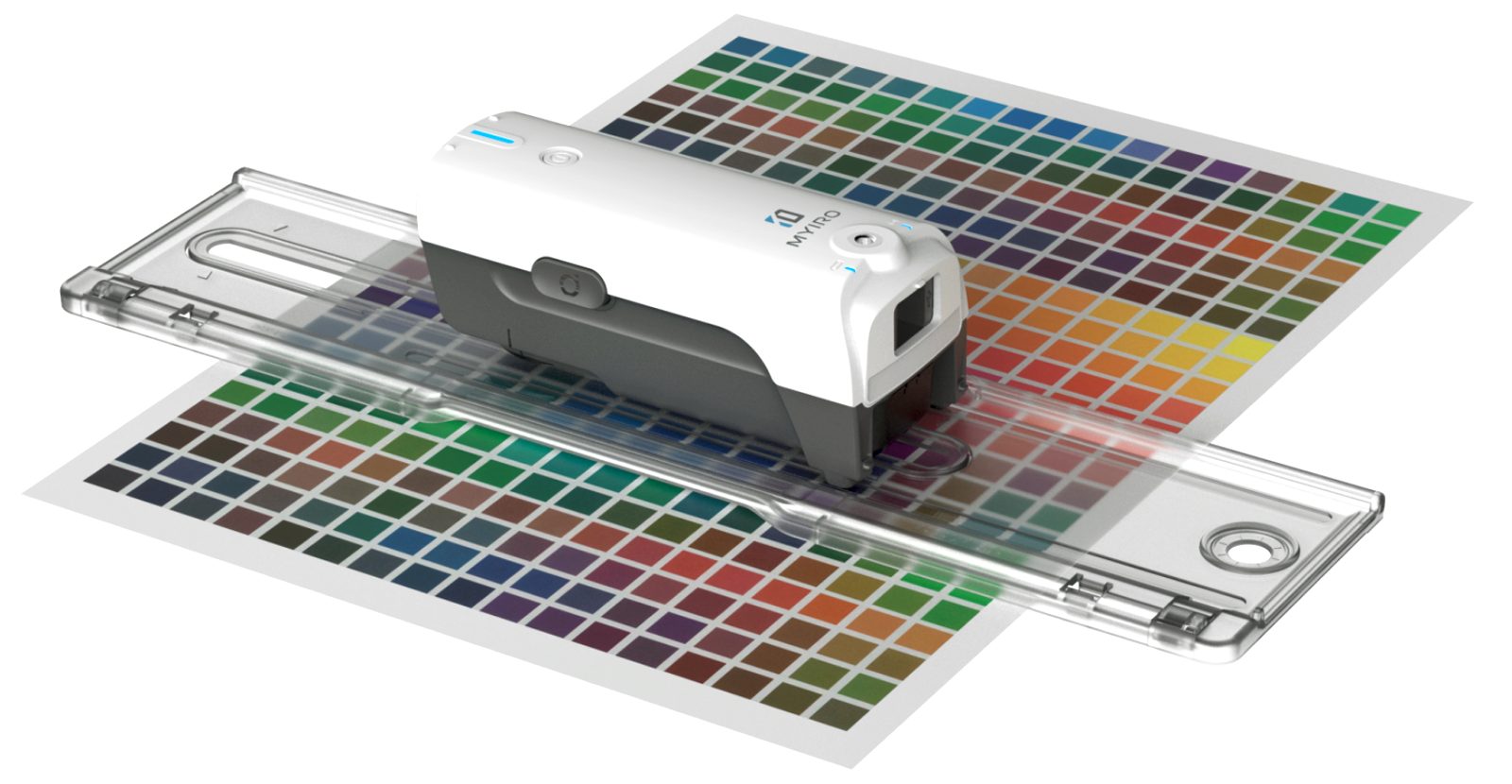 Modes: Spot, Scan

M-Condition supported: M0, M1, M2, M3 (depending on the instrument)

Wire (USB cable) or wireless (WiFi) connection options for more flexibility

Inspectors: Print, Instrument, Lighting Inspector,

Inspector, Substrate Inspector
Features and unique benefits:
Any Direction - the user may start scanning the target from either direction

Using CC Capture, Myiro supports control strips created with multiple color spaces RGB, CMYK, Hi-Fi, ECG, Lab, Spot.

With CC Capture, Myiro supports special patches such as slurring/doubling assessment and DUDs.

Spot Color placeholders in Print Inspector control strips provides the user with flexibility to have one control strip which assesses any process plus up to 4 variable spot colors. Color from library can be dynamically assigned by the operator (up to 4 different spots placeholders in a single control strip)

Two spot references can be assigned at same time using color palette and color library making it possible to define the spot reference based on customer demand. This allows a brand color to be assessed to a given substrate limitation, or assessed to the absolute brand definition, which does not override reference.

With substrate Black&White backer the Myiro supports advanced substrate measurements including opacity, OBA Index, Fluorescent Index, and more. Substrate Libraries and Substrate tracking options provide the highest level of process control on raw materials.

Color Inspector offers full support for Color Assets (Libraries, Palettes with Snowflake, Variator, and other unique features) and Tracking (with sample auto-recognition feature)

Full CxF/X-4 support (advanced Ink characterization)

Compatible with T-42 and CL-36 (Chromachecker/Lucideon Ceramic extended BRCA) targets
Lighting measurements are captured at 5 nm resolution which is one of the ISO-3664 requirements not supported by i1 Pro.
RHT data (CC RHT USB Sensor is required) can be assigned to the measurements
Additional note
Please note that Myiro-1 is also supported by CC Display software and the user can use this instrument with Display Inspector and Lighting Inspector. We strongly advise using Myiro-1 as Master Instrument for Instrument correlation purposes.
Model
MYIRO-1

Illumination/viewing system

45°/0° (annular illumination)*1

Spectral separation device

Concave grating

Wavelength range

Spectral reflectance: 380 to 730 nm




Spectral irradiance: 360 to 730 nm

Wavelength pitch

10 nm (5 nm - irradiance)

Half bandwidth

appr. 10 nm

Measurement area

ø 3.5 mm

Light source

LED

Measurement range

Reflectance: 0 to 150% / Density: 0.0 D to 2.5D

Repeatability

Colorimetric: Within ∆E00 0.05




(When the white calibration plate is measured 30 times in 10-second intervals after white calibration has been performed)

Inter-instrument agreement

Within ∆E00 0.3

(Average of 12 BCRA Series II color tiles compared to values measured with a master body under manufacturer's standard conditions)

Measurement time

(single-point)

Appr. 1s

Measurement conditions *2

M0, M1, M2, User-defined illuminant

Observers

2° Standard Observer, 10° Standard Observer

Status indicator

LED to indicate instruments status

Interface

Wireless LAN (802.11 b/g/n); USB 2.0

Scanning measurements

Scanning of color charts under all measurement conditions in one single scan

Power

USB bus power; Rechargeable internal battery

Dimensions (WxDxH)

73 mm x 171 mm x 71 mm

Operating temperature/humidity range

10° to 35°C, 30% to 85% relative humidity with no condensation

Storage temperature/humidity range

0° to 45°C, 0% to 85% relative humidity with no condensation

*1

Illumination for wavelengths under 400 nm is unidirectional

*2

M0, M1, M2: Illumination conditions defined in ISO 13655
Wi-Fi connection
To enable a Wi-Fi connection, please install MYIRO-1 Configuration Tool Installer.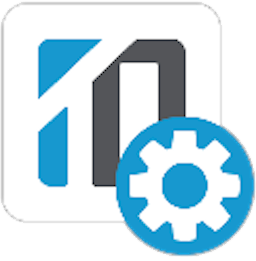 Wi-FI SSID and password must be uploaded to the instrument, and a wireless connection must be enabled.
Network tab: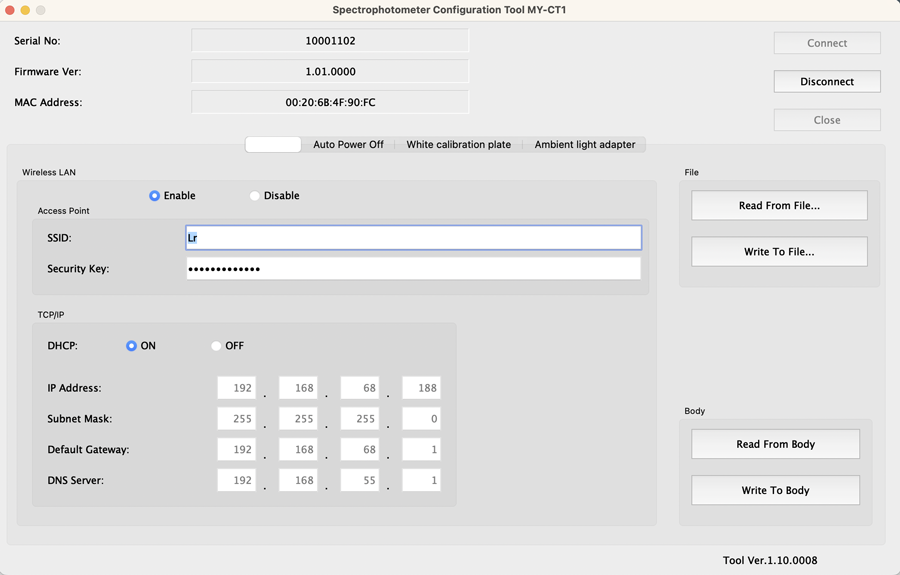 Please note that your computer and Instrument must use the identical SSID.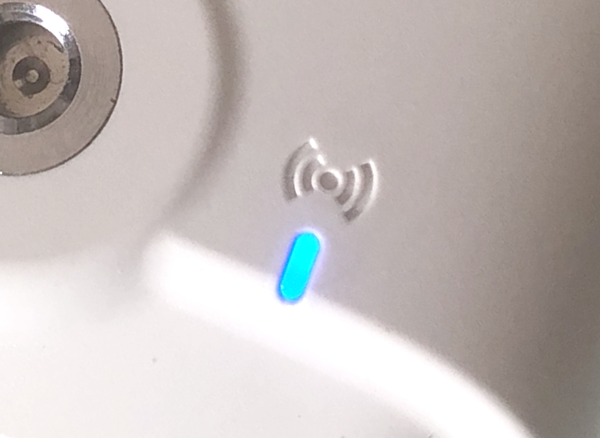 A blue LED indicates a successful Wi-Fi connection.
Ambient Light Measurements
To measure Lighting Conditions, an optional Ambient Light adapter is required. Before the first usage, it has to be registered using MYIRO-1 Configuration Tool Installer. The user needs to upload the adapter calibration data into the instrument memory.
Ambient Light Adapter tab: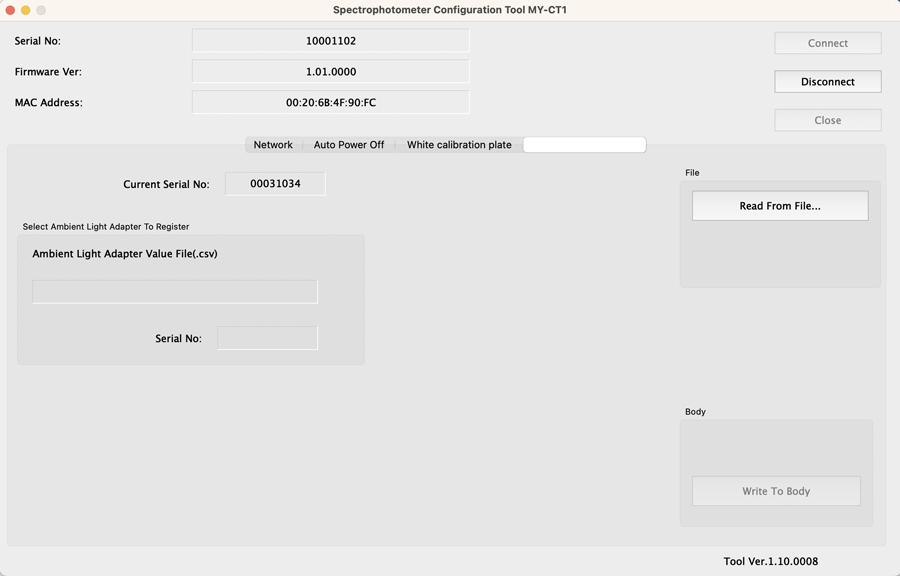 "Current Serial No:" will report the related number when properly installed.
Contact ChromaChecker Support
Additional information and Support Form is available for logged users.