Techkon Instruments in spot mode (via Techkon SpectraConnect)

---
Connect Instrument to PC, launch Techkon™ Spectro Connect software,
select Device, then go to Export module (icon menu on the bottom).
---

Download

settings file and load it ("Load settings..." button) - this will format data for future transmission.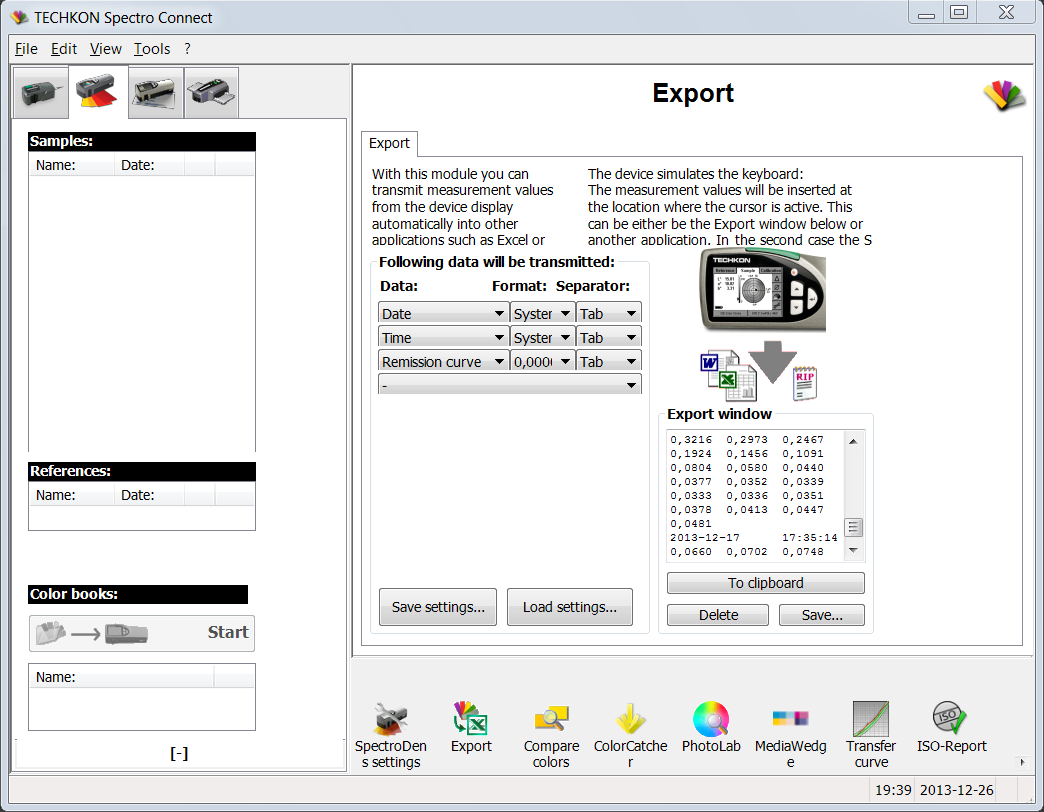 From instrument menu select one of the following functions: CIE L*a*b*, Remission Curve or CIE Color Circle as shown bellow:

Techkon™ SpectraDens with CIE Color Circle function selected.
---

Optionally switch instrument to average mode (3-8 measurements preferred). It is not mandatory to use this option, but for better accuracy either built-in averaging option or ChromaChecker merging function has to be used. With average mode switched off several files have to be prepared and uploaded to ChromaChecker account. For Baseline creation we recommend not to use average option, but use it in routine instrument examination - suggested value 4-5


Average measurements menu Measurements counter

Check if calibration standard (reference white ceramic tile) is clean!

Remember to properly setup measurement condition (M0, M1, M2) for both: instrument and upload settings!
---

ChromaChecker Target consists of 42 coloured patches used for future analysis. For different instruments running in autoscanning mode there are also additional control elements (black bars, diamonds, separation bars and additional white and black patches) not important in manual mode.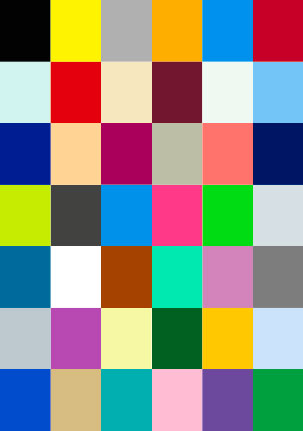 The 42 patches of ChromaChecker Target important for manual data capturing. Numbers show expected patch order.
Calibrate instrument (on white ceramic standard) and capture data starting fromblack patch (number 1 on diagram bellow) , next yellow and other patches from the first row, then continue row by row up to the last green patch (42).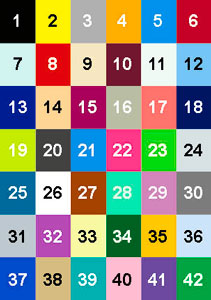 Patch capturing order for the Techkon™ instruments connected with PC via Spectra Connect software.
---

Watch the video and see how to scan X-42 Target with Techkon SpectroDens:
---

When measurement completed successfully save .txt file on your hard drive. Your data are ready for upload. Use naming convention with target serial number.
---

Upload data to your ChromaChecker account.
---

TIPS:
Techkon™ Spectro Connect software enables to update an instrument firmware - we recommend performing this procedure and keep instrument's software UpToDate.
Instrument Inspector Manual
To use Instrument Inspector one of ChromaChecker™ Instrument Inspector
Targets is required. To buy visit to IDEAlliance

Instrument Inspector – How does it work?
Why use Instrument Inspector?
Instrument Inspector Target
Baselines and data averaging
How to start-up?
Instrument Inspector menus - how to navigate?
Easy mode / Expert mode
Data sharing
Instrument's comparison
Instrument's compatibility list
General rules
FAQ
Tricks and Tips
Supported Instruments – manuals
X-Rite i1 Pro 1
X-Ritei1 Pro 2
X-Rite i1iO
X-Rite iSis
X-Rite DTP-70
X-Rite Intelitrax
X-Rite eXact – manual mode
X-Rite eXact – scan mode
X-Rite 530
X-Rite 939
X-Rite SpectroEye & other from X-Rite
Techkon Instruments
Barbieri instruments
---